5 Dazzling Summer Bouquets
Colorful and charming summer bouquets from 5 floral designers.
Even though Oscar Wilde said, "a flower blossoms for its own joy," these summertime bouquets sure have us fooled! With bright colors and effortless beauty, summer blooms add a layer of joy to hot summer days. We talked to five floral designers about their current favorite eye-catching summer combinations.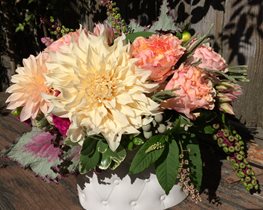 Photo by: Fiori Floral Design.
What does Fiori Floral Design in Seattle love about this arrangement? "The drama and scale of the 'Café Au Lait' dahlia, the beauty of the Campanella garden roses, and the whimsy of the pokeberry! The way the colors of the dahlias and fragrant garden roses work together makes you want to sit with a glass of iced tea on the porch and enjoy the summer," says Fiori's owner Miles Johnson. Making up the rest of this arrangement is Blushing Bride protea and Rex begonia leaves.
Photo by: Michelle Madonna Designs.
This bouquet of dahlias, white cosmos, feverfew, and Cleome—was inspired by the flower farms of the Hamptons and what is blooming right now near floral designer Michelle, of Michelle Madonna Designs, in New York. "With many dahlia farms in the Hamptons with hundreds of varieties, dahlias are always a popular choice for the summer!" says Michelle. The wild look of it is also inspired by the beauty of the flower fields surrounding the area.
Photo by: Dandelion Ranch.
For designers at Dandelion Ranch in Los Angeles, it's all about the blooming herbs. A lot of oregano, mint, dried flowers, and pods are being used right now. And they're obsessed with dahlias and scabiosa. This arrangement titled "Ballet Girl" features dahlias, peonies, calla lilies, olive leaf, veronica, lamb's ear flower, oregano, and garden roses.
Photo by: Cavin Elizabeth.
Bespoke in San Diego believes for each arrangement, finding the one plant that makes you giddy with excitement is the key to creating a great design. "Even if no one else finds that flower particularly noteworthy, it feels like a little secret that no one knows about, except for me," says Leah Winetz.
This bouquet is about color, texture, and fun. Using foraged bougainvillea (helpful hint: dip the stems in boiling water to keep them from wilting as a cut flower) and pokeweed that volunteers itself in her yard to accent standard coral roses, a dose of the Southern California sunshine was added. Astrantia lends the most delicate texture, and Tillandsia xerographica give a little bit of the creepy/cool touch. Fragrant bay leaf keeps the whole composition natural and relaxed.
Photo by: Kris Kan Photography.
Eddie Zaratsian Custom Florals and Lifestyle
Inspired by France and Italy, Los Angeles floral designer Eddie Zaratsian puts together flowers and cut plants including lavender, sunflowers, maiden fern, blue thistle, foxtail, millet, coleus, and Euonymus scrub for this European-style beauty.