Rob Plattel: Dutch Master
In a sunny, flower-strewn studio in East Manhattan, Dutch master florist Rob Plattel demonstrates his unconventional method of floral design to a handful of students. "You must be aware of the gestalt of the flower," he says, gently coaxing a stem of fiery red Aranda orchids into a bouquet of pink hydrangeas, seeded eucalyptus, and miniature anthurium. "Understand the way it wants to be seen," he adds as he weaves in long strands of bear grass, wired together to resemble whips, and elegant French tulips. "I like using a mixture of vegetative and decorative plants. Don't be limited by flowers. I use all parts of the plant: bark, stems, leaves."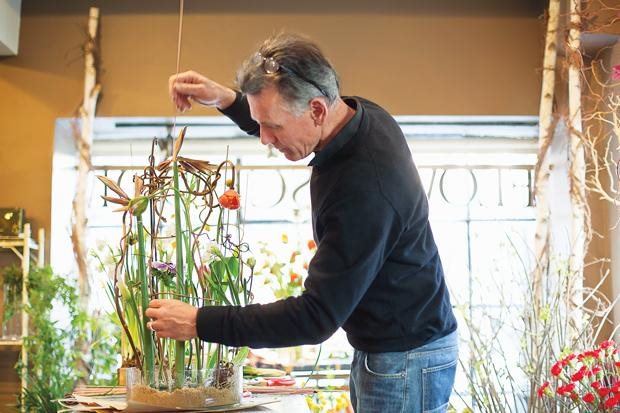 Rob Plattel shows seminar students at Flower School New York how to employ normally unused parts of plants to support an arrangement. Photo by: Cal Crary, courtesy of New York Flower School.
One of Holland's most progressive floral designers, the 53-year-old Plattel is a bit of an anomaly. He doesn't own a flower shop, he doesn't do weddings, and he doesn't like to design his work in advance. Instead, he takes his inspiration directly from nature, making large-scale installations from foraged blossoms, branches, seeds, vegetables, and even driftwood.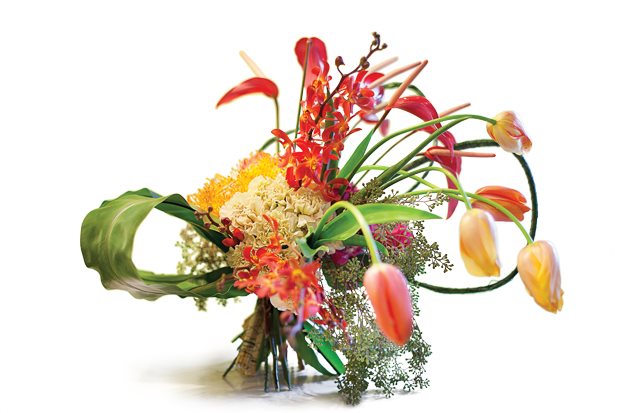 Plattel's brilliantly colored bouquet includes Aranda orchids, red miniature anthurium, seeded eucalyptus, and Dutch tulips. Photo by: Cal Crary, courtesy of New York Flower School.
Plattel is trained in taking cues from nature's serendipity. A graduate (cum laude) from the intensive master florist program at Tuinbouwvakschool in Vught in the southern Netherlands, he did his master's thesis on "strewing"—organic designs created on the ground when leaves or petals fall from a tree — and how this concept translates into floral design.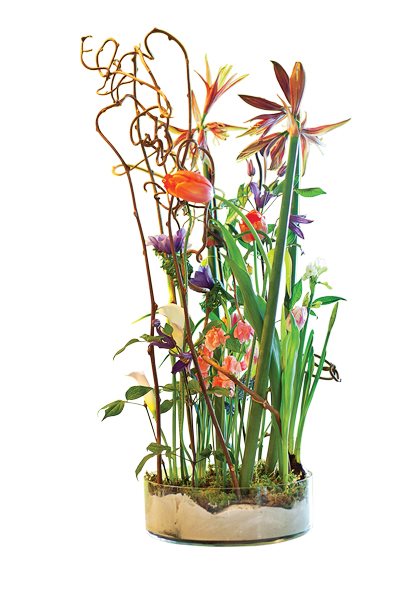 A student's indoor garden at Plattel's seminar in New York, created with calla lily, purple anemone, sweet peas, paperwhites, French tulips, and kiwi vine lattice. Photo by Cal Crary, courtesy of New York Flower School.
During a recent five-hour session titled "The Synthesis of Natural Art and Design" at Flower School New York, the prestigious floral design center, Plattel guided students in creating their own "indoor fantasy gardens." Starting with a base of sand and moss, Plattel encouraged the students to pay attention to the structure and natural growing patterns of the amaryllis, paperwhites, sweet peas, calla lilies, and kiwi vine lattice on the tables in front of them. At the same time, he advised them not to be afraid to add a personal touch. "I think we in modern life are looking for contact with nature," reflects Plattel. "Flowers are such a fun way to do that."
Plattel gives seminars around the world, from Iceland to Israel, but the best place to catch him is in his native land. In late April, Plattel will escort Flower School New York students on a behind-the-scenes tour of the Netherlands' famed Aalsmeer Flower Auction and teach a special "Natural Rhythms" workshop. In early September in Venlo, he will create a large-scale installation for Floriade, a horticultural festival held in a different Dutch city every 10 years. Though not one to plan his work in advance, he already has a rough idea. "I'm thinking dahlias and berries," he says.