I Love This Plant: Sharkskin Agave
The majestic Agave 'Sharkskin' is a spectacular plant, either by itself as a striking accent or focal point, or planted en masse on a hillside.
During a trip to Puerto Escondido in Southern Mexico, I rediscovered the majestic agave, and ever since then they have occupied my conscious thoughts as well as sticking, or poking, into my dreams. At San Marcos Wholesale Growers in Santa Barbara, I recently found one I had never seen before: Agave 'Sharkskin'. For me, this is a spectacular plant, either by itself as a striking accent or focal point, or planted en masse on a hillside. It provides strength and drama while enduring drought, as well as temperatures between 20 and 25 degrees. I love the way the shadows of the leaves fall across one another. And depending on the light, they may be a ghostly, silvery presence or alive as bold, slashing strokes.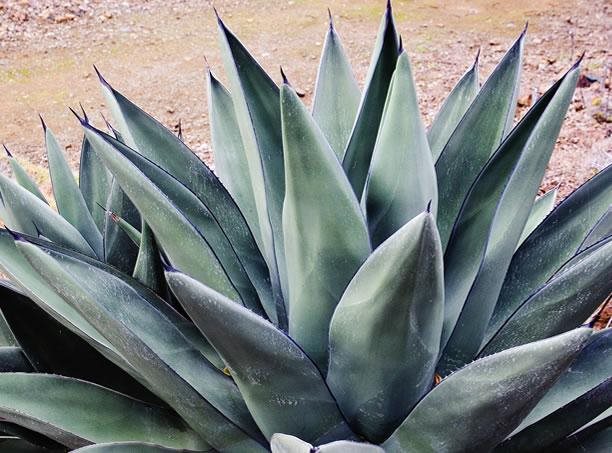 This sharkskin agave was photographed at the Ruth Bancroft Garden, a public garden in Walnut Creek, California, which has a diverse collection of agaves and other drought-tolerant plants. Photo by: Barb Ries.
The sharkskin is a robust, stout plant that is not susceptible to pests, will grow up to 3 feet tall, and is easy to maintain. Its muscular, shark-like appearance contrasts with the plum and maroon sheen of its leaf margins. General manager Randy Baldwin at San Marcos considers the plant a hybrid between A. victoriae-reginae and A. scabra.
The sharkskin agave is well named, with a fascinating muscular texture like the skin of a shark. Photo by: Barb Ries.
Because of their self-sufficiency, agaves are often spread about a garden haphazardly. This does not do justice to their ability to make a dramatic statement when grouped together. And don't underestimate the impact of their color. At Lotusland in Santa Barbara, Madame Ganna Walska used agaves in a blue garden as a primary visual statement, emphasizing their steel-blue tinge.
Pamela Burton. Photo by: Victoria Pearson.
I admire the fact that while appearing humble, the agave is really a noble plant, enduring longer than others that initially seem more showy. The sharkskin agave is a wonderful exemplar of the genus-uncompromising, adaptable, ageless, a rare blend of subtle and stunning.
Looking for a rare plant? Try one of these mail-order nurseries.