Succulent Groundcovers
Succulents suited for use as groundcover: Senecio and Sedum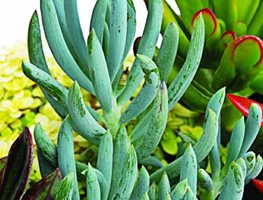 Photo courtesy Great Garden Plants
Senecio mandraliscae
Landscape designer Stephen Suzman likes the groundcover species Senecio mandraliscae for its fast growth and distinctive chalky-blue fleshy foliage. A native of South Africa, it grows 12 to 18 inches tall with masses of 3- to 4-inch pencil-like leaves.
Photo courtesy Great Garden Plants
Sedum x rubrotinctum
Often called pork and beans or jellybean plant, Sedum x rubrotinctum is a 6- to 8-inch low-mounding groundcover with fat little leaves that go from bright green to red. Suzman calls it "very easy and reliable." The glowing hues of Sedum rupestre 'Angelina' have made it a must-have for containers and perennial borders, with needlelike chartreuse to bright-gold leaves usually tipped with orange.