Fall for Succulents
11 Ideas for Fresh + Long-Lasting Autumn Décor
A hot cup of cider and a slice of pumpkin pie beckon as the blooms of summer fade and the turning of the leaves welcome fall. Whether you're planning a Thanksgiving feast or just getting in the autumn mood, we've found the season's freshest ideas for decorating with ever-popular succulents for centerpieces, wreaths, and even hostess gifts. The rich color, texture and contrast of succulents turn traditional arrangements into artistic conversation pieces. Plus, they require little water, minimal care and provide long-lasting color for the season. Get inspired by our succulent favorites here, and stock up on more great ideas with our curated list of resources.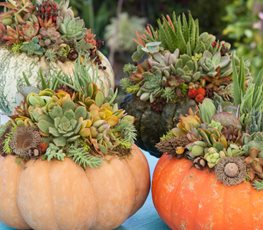 Photo by: Design for Serenity.
1. Succulent-Topped Pumpkins
Let the succulents entertain atop pumpkins for an incredibly unique fall display. "It's possible to use succulents in ways unthinkable with other plants. Just wait 'til you see Laura Eubanks's moss-and-glue method," says Debra Lee Baldwin in her book Succulents Simplified (Timber Press). The technique, originated by designer Laura Eubanks of Design for Serenity in San Diego, takes advantage of the way succulent cuttings conserve water in their leaves by gluing cuttings that will root into moss set atop any bowl-shaped object, such as pumpkins. For a step-by-step guide to creating your own succulent-topped pumpkin and other creative ideas with succulents, Baldwin's book is a must-have reference, or watch Eubanks's video tutorial.
Photo by: Succulent Solutions.
2. Living Succulent Wreath
Welcome guests at the front door with a living wreath of sculptural, geometric succulents in eye-catching colors. From heart-shaped, square, or traditional round, these low-water wreaths are anything but typical for an entry that shows off a unique love of plants. Get one fresh from Etsy.
Photo by: Dandelion Ranch.
3. Table Centerpieces with Modern Succulent Style
Put a modern spin on traditional table centerpieces by combining succulents into floral arrangements. "Succulents have an added bonus that after the arrangement has died, the recipient has something to remember it by planting them in the garden" says Clover Chadwick of Dandelion Ranch in Los Angeles. Clover shares her list of go-to succulents for arrangements and why she likes them:
"Green rosette" (Echeveria) because it looks like a flower
"Green fuzzy" (Echeveria coccinea) for elegance because its rich color and soft leafy texture soften a stiff arrangement with a little movement
"Panda plant" (Kalanchoe tomentosa) for its color contrast. Its silver leaves with black studded edges pop an otherwise bland arrangement into something interesting.
For a useful reference of various types of succulents, check out Armstrong Garden's plant library.
Photo by: Restoration Hardware.
4. Creative Containers
From $115 at Restoration Hardware
Take a cue from Restoration Hardware to know what's hot in tablescapes this season, and you'll find their 18th C. French Rocaille Clamshell adorning many of their in-store table displays. Inspired by the shell motifs of 18th-century decorative arts and architecture, the natural beauty of the container complements succulents for an autumn-inspired statement piece. Help your plants last as long as possible with this guide to growing succulents in containers from Gardener's Supply Company.
Photo by: Terrain.
5. Turn Heads with Succulent Terrariums
$148 at Terrain
Modernize your fall accents with the Wired Drop Terrarium from Terrain. We like its curved wire frame and hand-blown detail that shares a pumpkin-inspired shape. It's the perfect accent piece that subtly welcomes autumn but also easily transitions from season to season. Group a trio filled with bright green, rusty red, orange and gray succulents for a favorite living display.
Photo by: The Sweetest Occasion.
6. Tiny Details: Succulent Place Settings
Delight your guests with a succulent place card holder reserving a special spot at the table just for them. These super simple but high on style place settings add just the right extra touch to your table, plus they make a great take-home gift for your guests or hostess. Follow the handy DIY tutorial available from The Sweetest Occasion.
Photo by: Flora Grubb Gardens.
7. Family Gathering: Initial Planters
From $59 at Flora Grubb Gardens
While fall means warm coats and leaf peeping travels, it also means Thanksgiving feasts and family gatherings for many. Surprise relatives with a living monogram perfect for hanging on the wall or propping up for an articulate vertical garden. Flora Grubb Gardens offers letter (and number) forms handcrafted from reclaimed fence boards by a California artist, ready to plant with your favorite succulent species.
Photo by: Grace Design Associates.
8. Awesome Autumn Color
Be inspired by the plantings of Margie Grace of Santa Barbara-based Grace Design Associates. Her signature style stands out in the warm orange and red hues of succulents that she mixes in creative containers. According to Margie, "Containers are great for adding height and color, plus they are fairly easy to maintain." Check out her interview on LandscapingNetwork.com where she offers these tips when selecting succulents for containers:
Select plants that will grow up and out of the container as well as spill over its rim.
Try combining Sticks on Fire (Euphorbia tirucalli) and a cascading succulent such as donkey's tail, string of pearls or string of buttons.
When growing succulents in pots make sure they have good drainage. The soil must be fast-draining and the container needs to have a hole at the bottom.
You can also find more great container ideas in the LandscapingNetwork's gallery of container gardens.
Photo by: Save-On-Crafts.
9. Wine and Dine with this Succulent Bottle Stopper
$5 at Save-On-Crafts
Pop the cork this season and carry on succulent flair with a succulent bottle stopper. The faux Echeveria sits on a natural cork base for a discreet detail that preserves wine and lasts indefinitely. They also make great gifts.
Photo by: Pixel Whisk.
10. Decadent, Succulent Cupcakes
Adorable and edible, who says succulents have to be real to be enjoyed. These delicious delights combine chocolate cake, graham cracker crumbs and fondant icing for a design so real you have to taste it to be convinced! Pixel Whisk offers a detailed how-to guide with step-by-step photos for creating these mini masterpieces.
Photo by: Tipton & Hurst.
11. A Harvest Vibe Tablescape
The floral designers at Tipton & Hurst in Little Rock, Arkansas know how to make a visual statement. Get inspired by one of their idea boards from Pinterest for a Fresh and Modern Thanksgiving Tablescape where elegant succulents are incorporated with the unexpected such as organic kale, metallic birds, and bundles of wheat sheaves. "A fabulous table setting doesn't have to be conventional. If you blend vintage patterns, fresh greens, and stunning textures, you can create a modern table with smart new twists," says Chris Norwood, design expert and vice president of Tipton & Hurst.
More Succulent Resources
Get Pin Happy: Let the pinning begin! One of the largest idea boards about succulents on Pinterest serves up 2,000 pins. Start here for gathering creative ways to use succulents, cactus and terrariums in the fall and throughout the year.
Shop Succulents: All across America, specialty nurseries and online retailers provide succulent cuttings, succulent gifts and décor. Here's a partial list derived from top reviews on Yelp and from well-known succulent bloggers referring their favorite shops both online and locally. Find a retailer near you to save on shipping, or plan to visit one of the shops for creative succulent displays and ideas.
Pacific Northwest
West Coast
Southeast
Northeast
Central Plains