David Austin's Garden Roses
The British rose breeder David Austin has been breeding old-rose plants since 1961. These gorgeous and profusely petaled flowers had fallen out of fashion as cut flowers because of their short vase life, but in 2004, David Austin introduced eight varieties of old-fashioned roses that will last as cut flowers for a week to ten days. We take a look at the history of breeding these very romanitc flowers.
The naturalistic look and seductive fragrance of old garden roses are the stuff of poetry, but they have never done well off the vine. The blooms of these temperamental dowagers of old Europe appear only briefly, and if you cut them, they last a bare three days in a vase. Since World War II, the old rose has been increasingly replaced in gardens and bouquets by the upstart hybrid tea rose, the denizen of Valentine's Day deliveries that sacrifices the old rose's cabbage head and powerful scent for consistent and frequent blooms.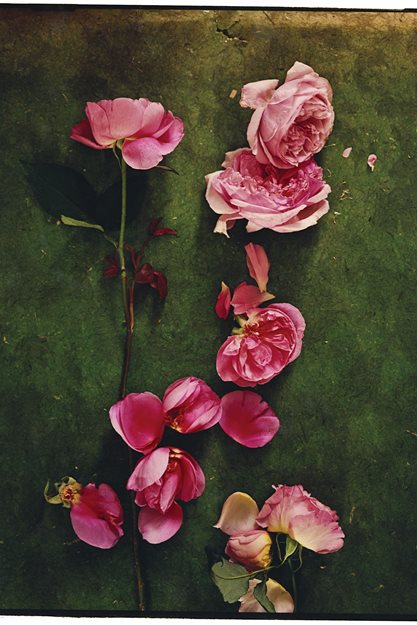 A mix of David Austin's pinks-from top left, 'Emily', 'Rosalind', 'Miranda', 'Keira'—makes for a beautifully layered, monochromatic centerpiece or bouquet. Scroll down for more varieties. (Photo by: Maria Robledo)
British rose breeder David Austin has long fought for old roses. Since 1961, Austin has bred old-rose plants for the garden, restoring the deep perfume and broad petals that first made the rose the queen of flowers. Nineteen years ago, Austin gave his hybridizers the challenge of developing a classic rose that smelled like his English roses with dense, profusely petaled flowers but that bloomed and cut as well as hybrid teas. Since 2004, Austin has introduced eight varieties of round-headed, deeply fragrant roses ('Miranda', 'Juliet', 'Patience', 'Rosalind', 'Emily', 'Darcey', 'Keira', and 'Phoebe'), in white, apricot, shades of pink, and rich red. All last from a week to ten days in a vase. A ninth rose, 'Kate' (as in the princess Kate Middleton), a deep magenta pink with a rich scent, will also join the list.
Tips for long-lasting roses:
Recut the stems under warm tap water with a clean, sharp knife or pruner. Cut on a 45-degree angle to produce as much surface area as possible, making it easier for the flower to take in water.
Use a clean vase. Bacteria can shorten cut roses' life by blocking the stems. Fill with lukewarm water, and add the floral food that's provided. Keep out of direct sun and in a cool room, if possible.
Change the water and recut the stems every couple of days to promote water uptake.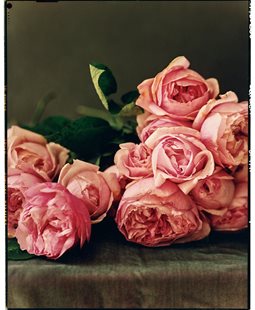 Maria Robledo
'Rosalind', one of eight David Austin rose varieties available as a cut flower, has a fruity fragrance and a bluish-pink hue. The bloom is known for its dense, round head, similar to that of a peony. Its romance peaks as it starts to fade.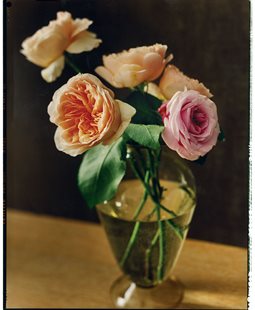 Maria Robledo
'Juliet', is a sophisticated pale-apricot color with the lightest fragrance of David Austin's roses. The pink of 'Miranda', lightens from the center to the outermost petals.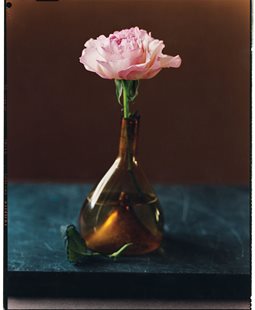 Maria Robledo
'Keira', one of the newest David Austin breeds, has a delicate, light-pink petal tipped in a darker hue.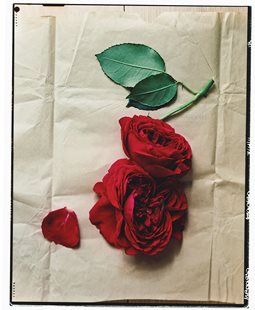 Maria Robledo
'Darcey' is a rich, velvety red that fades to purple. Its dark-green leaves can also be used as a bold element in arrangements.