I Love This Plant: Thermopsis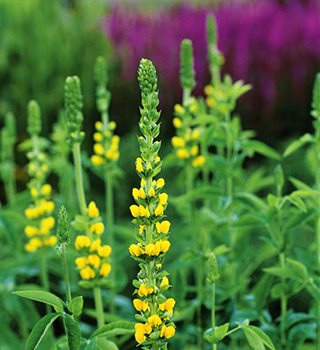 Butter-yellow pea flowers of thermopsis are a favorite of Allen Bush, manager of the North American office of Jelitto Perennial Seeds. Photo by: Marianne Majerus.
I love the pea family, from the edible to the ornamental. Ever since I started bush beans in a milk carton in Miss Goodwin's first-grade class, I've been hooked, and thermopsis is one of my favorites. I cut my teeth on the eastern native Thermopsis villosa (Carolina false lupine), which partially assuaged my longing for the summer lupines that look so lovely in European gardens. I've seen the dark-flowered T. barbata in Sichuan at 8,000 feet in the cool September mist, but there's no way to mimic that here in Kentucky. But I'm very partial to another Chinese species that I've grown successfully for years, T. chinensis. Even the buds are attractive, emerging grayish-purple in mid-March, coinciding with the blooms of galanthus, species crocus, and hamamelis. Then slowly they unfurl alongside blooms of hellebores, epimediums, Primula kisoana, Cardamine diphylla, Iberis sempervirens, and Veronica umbrosa 'Georgia Blue'. The frost-resistant soft-yellow spires of flowers above 20-inch stems and small grayish leaves will be fully open a week or two before redbuds and dogwoods, lending brightness and verticality to the perennial border. Miss Goodwin would be pleased.