Botanic Notables: The Bodhi Tree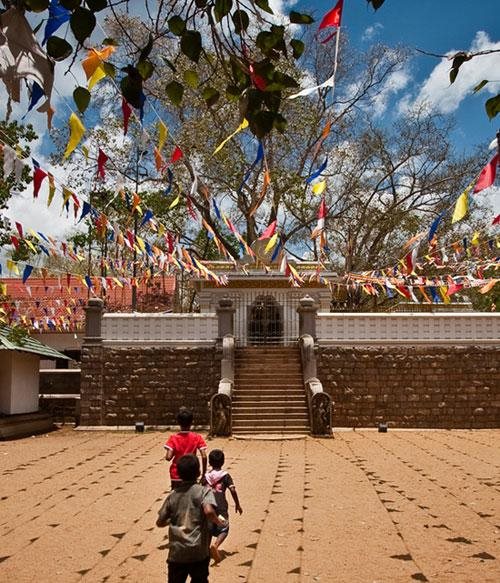 In the 3rd-century BC, with the planting of a single tree, the city of Anuradhapura, Sri Lanka, became a sacred place. The tree was grown from a cutting from a holy tree in Bodh Gaya, under which Buddha had found enlightenment.
These two trees—in Anuradhapura and Bodh Gaya, India—and other Ficus religiosa are called religious fig trees, or, most famously, bodhi trees. And, after Buddha was believed to have sat under its canopy and found enlightenment, the trees would become sacred emblems, representing wisdom and beckoning others to be calm beneath its leaves.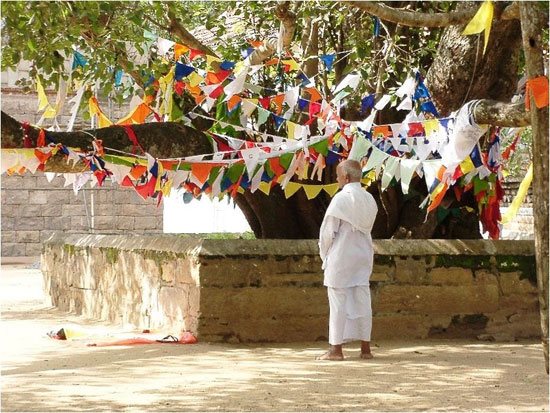 Anuradhapura's bodhi tree; photo credit: hu9423, Wikipedia
Anuradhapura's bodhi tree (called Sri Maha Bodhi) is said to have arrived around 250 BC, in the hands of a Buddhist princess who hoped to spread Buddha's teachings to Sri Lanka. Today, the bodhi tree is very large and very old—at more than 2,000 years old, it is believed to be the oldest known tree planted by human hand, and the oldest historically authenticated tree in the world (this means that its age is verified by a continuous procession of guardians, since it was first planted).
And it is still tended today, by streams of devotees who make a pilgrimage to the bodhi tree for offerings and prayers. A golden railing surrounds the ancient trunk, and prayer flags flutter on its branches.
Ficus religiosa is a species of banyan fig native to India, Bangladesh, Nepal, Pakistan, Sri Lanka, southwest China, and Indochina. The leaves are 4 inches to 6.5 inches long, 3 inches to almost 5 inches wide, and distinctively cordate, or heart-shaped. The tree grows up to 100 feet tall and, the trunk, up to 10 feet wide.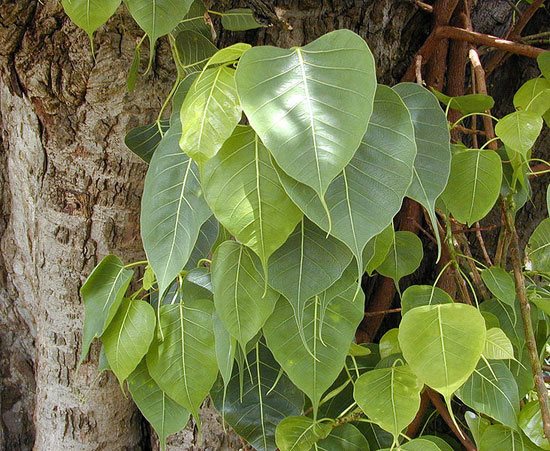 Leaves from the Ficus religiosa; photo credit Eric Guinther.
Anna Laurent is a writer and producer of educational botanical media. Photographs from her forthcoming field guide to Los Angeles are available for exhibition and purchase at the author's shop.