I Love This Plant: Drimiopsis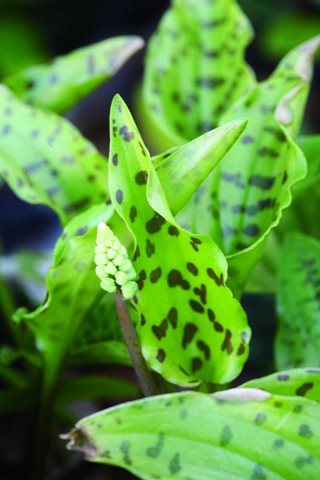 Photo by: Chelsea Stickel.
It is an electric moment to be shaken from musing over the usual offerings at a local garden center by a plant I've never heard of before. It's like hiking in familiar woods and having the compass needle go haywire. In this case, the plant tag combined the words "succulent," "African" and "hosta" — I had to have it.
Though neither a succulent nor a hosta but a scilla relative from South Africa, Drimiopsis maculata has become one of the treasures of my little plant collection. Its subtle charm, quirky schedule and simple needs have endeared it to me over that past few years, tucked in a low pot by the front porch. Forming a clump about a foot wide and tall, the spoon-shaped, fleshy leaves are speckled with brown spots when new, changing to green in summer, and a little forest of 6- to 12-inch-tall, white-flowered spikes appear in late winter/early spring (one common name is little white soldiers).
Hardy to Zone 9, it's a nice size for a container, so it can be grown as a houseplant or greenhouse plant farther north. It has proved quite durable in my Florida garden, helped by its natural winter dormancy, though I move it indoors if the weather gets close to freezing, just to be safe. Partial to light shade, it can tolerate a range of light situations, and laughs at heat, humidity and drought.
My first thought when I brought it home was "fussy collector's plant, maybe it will be a good learning experience." But it has proved itself a risk worth taking.