Hydrangea Arborescens - A Growing Guide for Smooth Hydrangeas
Showy blooms and a compact habit make this reliable shrub a valuable addition to home gardens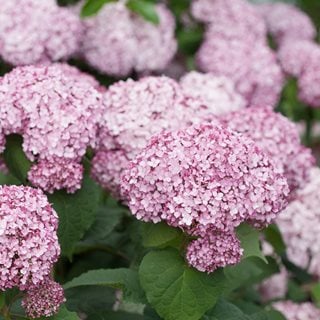 Incrediball® Blush smooth hydrangea. Photo by: Proven Winners.
Gardeners love hydrangeas for their spectacular mid to late season blooms. Smooth hydrangea is grown for the large globe-shaped flowers that make a stunning statement in the landscape. This reliable deciduous shrub is exceptionally hardy, making it a good substitute for bigleaf hydrangea (H. macrophylla) in colder climates.
Also known as wild hydrangea or sevenbark, this eastern U.S. native needs little care once established. The compact size is suitable for small spaces, containers, and mass plantings. Here's how to grow smooth hydrangea, along with ways to use it in your landscape.
On this page: Basics | Planting | Care | Pictures | FAQs| Landscaping Ideas
On this page:
SMOOTH HYDRANGEA OVERVIEW
Botanical name:
Hydrangea arborescens
Zones:
3-9
Exposure:
Filtered sun to partial shade
Height/Spread:
1 to 5 feet tall, 1 to 6 feet wide
Bloom time:
Early summer to fall
Plant type and growth habit:
Hydrangea arborescens is a fast-growing deciduous shrub with a dense branching habit and suckering roots that spread. Plants may die back to the ground in colder winters.
Flowers:
Garden cultivars produce oversized ball-shaped flower heads up to 12 inches wide comprised of smaller florets. The white, green, or pink blooms attract bees, butterflies, and other insect pollinators. Flowers can be cut and used in fresh or dried arrangements.
Wild native shrubs, which are seldom seen in cultivation, produce lacecap flower heads with mostly fertile flowers and a few sterile flowers around the edges.
Foliage:
Dark green leaves 2 to 7 inches long have paler green undersides. Leaves are oval-shaped with pointed ends and toothed edges. Foliage turns yellow in fall.
Other attributes:
Mature branches produce attractive peeling bark that provides winter interest in the landscape.
PLANTING SMOOTH HYDRANGEAS
When to plant:
Plant smooth hydrangea during milder months in spring or fall to avoid transplant shock from extreme cold or summer heat.
Where to plant:
Place in a sheltered site that receives partial shade or dappled sunlight and protect from desiccating winds. Plants will flower best with at least 4 to 6 hours of direct sunlight.
How to plant:
Loosen soil in the planting area and amend with compost or other rich organic matter. Dig a hole twice as wide and slightly deeper than the root ball. Remove plant from the nursery container and loosen roots if potbound. Place in the hole so the top of the root ball is level with the surrounding soil. Fill in the hole with soil, tamp down gently and water thoroughly to remove air pockets. Provide regular water until plants are established.
SMOOTH HYDRANGEA CARE
Soil:
Hydrangea arborescens is tolerant of poor soil conditions but does best in amended well drained soils and a slightly acidic to neutral soil pH of 6.0-7.5.
Amendments and fertilizer:
In early spring, apply a balanced slow-release fertilizer that's formulated for trees and shrubs. Avoid over-fertilizing to prevent leaf burn or yellow foliage. Using a fertilizer high in nitrogen can result in excessive foliar growth at the expense of flowers. Learn more about how to fertilize hydrangeas.
Water:
Smooth hydrangea performs best with regular water. Mulch around the base with organic matter to help retain moisture and keep roots cool. Water more frequently during heat or prolonged dry spells. Container plants will need more frequent watering than those in the ground. Don't allow plants to dry out, as smooth hydrangea is not drought tolerant.
How to prune smooth hydrangeas:
Hydrangea arborescens bloom on new wood. In late winter or early spring, cut out any damaged or dead branches and lightly shape as needed. Plants can also be cut back to the ground before new growth emerges in spring to rejuvenate plants and encourage vigorous stem growth.
Pests and diseases:
When grown in the right conditions, smooth hydrangea is free of most pests and diseases. Pests can include spider mites, aphids, scale and Japanese beetles. Diseases can include powdery mildew, leaf spots, bud blight, mold, rust, bacterial wilt, botrytis, or root rot.
SMOOTH HYDRANGEA VARIETIES
FREQUENTLY ASKED QUESTIONS
Do smooth hydrangeas spread?
Smooth hydrangeas spread through suckering roots, making them a good choice for soil erosion control.
Should you deadhead smooth hydrangeas?
Removing spent flowers from smooth hydrangea is largely a matter of personal choice. Plants will look neater if older flowers are removed. Cut off spent flowers just above the first set of leaves. Some gardeners prefer to leave flower heads for dried arrangements or winter interest.
Can Hydrangea arborescens take full sun?
Smooth hydrangea can tolerate full sun if soil is kept consistently moist. Provide protection from afternoon sun in hotter climates to prevent stress and foliage burn. Ideal light conditions are partial shade or dappled sunlight.
Can smooth hydrangeas change color?
Unlike bigleaf hydrangea (H. macrophylla), the flower color of smooth hydrangea is not sensitive to soil pH.
Are smooth hydrangeas deer resistant?
Deer love to graze on the foliage, flowers and tender new branch tips of smooth hydrangea. If you live in an area with deer, protect plants, use repellant or substitute smooth hydrangea with other deer-resistant shrubs.
Are smooth hydrangeas poisonous?
Hydrangeas contain hydrangin, a compound that is toxic to pets and children if any part of the plant is ingested. If you suspect your pet or child has ingested any part of the plant, contact your doctor, veterinarian, or poison control center. Avoid bringing freshly cut or dried hydrangea flowers indoors if your pet is prone to chewing on plants.See more Common Poisonous Plants for Dogs and Cats.
LANDSCAPING WITH SMOOTH HYDRANGEAS
There are many ways to use smooth hydrangeas in your landscape.
For borders and landscapes: Grow in a mixed border, woodland setting, foundation planting, as hedging, or in mass plantings.
For slopes and hillsides: Mass along a slope, hillside or steep bank to help stem erosion.
For containers: A smaller specimen can be featured in a container as an accent on a deck or patio, or as a focal point in the landscape. Learn more about growing hydrangeas in pots.
Here are more ideas for including Hydrangea arborescens in your garden:
Mass along a hillside or slope to help stabilize the soil.
Plant in a row along a property line as a privacy hedge.
Use as an attractive buffer to divide garden rooms.
Include in a foundation planting alongside other flowering shrubs that bloom at different times for season-long color.
Plant in a woodland garden to brighten up shady areas.
Add to a rain garden along with other moisture-loving plants.
Include smooth hydrangea in a pollinator or native garden to support beneficial insects and other wildlife.
Plant a smaller specimen in a container on a patio or deck where you can enjoy the showy blooms up close.
Use a dwarf variety as edging along a pathway or at the front of a border.
MORE ON HYDRANGEAS
RELATED READING