Bigleaf Hydrangeas - A Growing Guide for Hydrangea Macrophylla
Add this beautiful versatile shrub to your landscape for summer-long color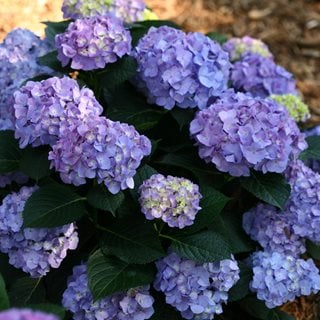 Let's Dance® Blue Jangles® mophead bigleaf hydrangea. Photo by: Proven Winners.
Bigleaf hydrangea is one of the most beloved landscape shrubs, revered for the romantic oversized flower heads. The blooms occur during summer and fall in a wide range of colors, from deep purple to white.
Also known as mophead, Japanese, French, snowball, or lacecap hydrangea, this deciduous shrub is native to Japan. The flowers have the unique trait of changing color, depending on the soil pH. Bigleaf hydrangea is durable and relatively carefree when given the proper growing conditions. Here's how to grow and care for this popular shrub.
On this page: Basics | Types | Planting | Care | Pictures | Landscaping Ideas
On this page:
BIGLEAF HYDRANGEA OVERVIEW
Botanical name:
Hydrangea macrophylla
Zones:
6-9, with some varieties hardy to Zones 4-5 with winter protection
Height/Spread:
Bushy, compact, or dwarf habit; 1 to 10 feet tall, 2 to 10 feet wide, depending on the variety
Exposure:
Full sun to partial shade
Bloom time:
Early summer to fall, depending on the variety
Growth habit:
Bigleaf hydrangea is a multi-stemmed deciduous shrub with a bushy or compact growing habit.
Flowers:
Large showy flower heads are comprised of clusters of smaller florets and have a rounded or flat appearance. Flower colors come in pink or blue, also occurring in white, purple, or red. Hydrangea macrophylla blooms can be solid, bicolored or multi-colored, with single or double florets. Flowers are long lasting in fresh or dried arrangements. Most varieties bloom on the previous year's growth, though newer reblooming varieties flower on both old and new wood.
Foliage:
Green or variegated foliage is oval and pointed, with pronounced veining and serrated edges. Fall color is insignificant.
Are bigleaf hydrangeas poisonous?
Hydrangeas contain hydrangin, a cyanogenic glycoside that is toxic to pets and children if any part of the plant is ingested. If you suspect your pet or child has ingested any part of the plant, contact your doctor, veterinarian, or poison control center. Avoid bringing freshly cut or dried hydrangea flowers indoors if your pet is prone to chewing on plants.See more Common Poisonous Plants for Dogs and Cats.
Are bigleaf hydrangeas deer resistant?
Bigleaf hydrangea is susceptible to deer damage, with the delectable flower buds and blooms especially at risk. Provide protection, use repellant or substitute bigleaf hydrangea shrubs with other more deer-resistant plants.
TYPES OF BIGLEAF HYDRANGEAS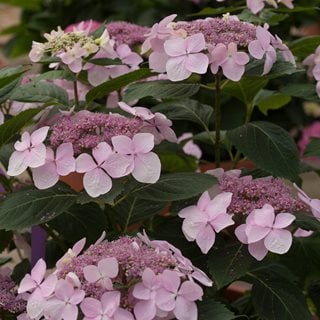 Let's Dance Diva® lacecap bigleaf hydrangea. Photo by: Proven Winners.
Mophead hydrangea, also known as hortensia, is characterized by large rounded flower heads comprised of clusters of smaller uniform florets.
Lacecap hydrangea produces flat topped blooms, with clusters of tiny fertile flowers surrounded by larger sterile sepals.
PLANTING BIGLEAF HYDRANGEAS
When to plant:
Plant bigleaf hydrangea during milder weather in spring or fall to avoid shock from extreme heat or cold.
Where to plant:
Plant in a site that receives full sun to part shade. Morning sun and some afternoon shade is ideal. Too much sun can cause leaf scald, especially in hotter climates, while too much shade can result in fewer flowers.
How to plant:
Loosen soil in the planting area and amend with compost or other rich organic matter. Dig a hole 2 to 3 times wider and the same depth as the root ball. Remove plant from the nursery container and loosen roots if potbound. Place the plant in the hole so the top of the root ball is slightly higher or level with the surrounding soil. Fill in the hole with soil, tamp down gently to remove air pockets, and water thoroughly. Provide regular water until plants are established.
Planting hydrangeas in pots:
Use a bagged potting mix rather than garden soil.
Mix in a slow-release fertilizer.
Leave 1 to 2 inches between the top of the soil and the rim of the pot for watering.
Make sure the pot has drainage holes and has room for the plant to grow.
Learn more about growing hydrangeas in pots.
BIGLEAF HYDRANGEA CARE
Temperature:
Hydrangea macrophylla is susceptible to winter damage in colder regions. One of the most common reasons why bigleaf hydrangea won't bloom is bud damage from late spring frosts. If you live in a colder area, plant bigleaf hydrangea shrubs adjacent to a building or wall in a sunny spot that is protected from winter winds. Choose reblooming types that flower on both old and new wood. See more on winter care for hydrangeas.
Soil:
Hydrangea macrophylla prefers moist well-drained soil. If desired, amend the native soil with compost or other rich organic matter. Mulch with several inches of bark or compost around the base to suppress weeds and retain moisture. Reapply mulch each spring. For containers, use a high quality all-purpose potting mix and add mulch on top.
Soil pH:
Flower color of Hydrangea macrophylla will vary depending on the soil pH. Acidic soil results in bluer flowers, while neutral or alkaline soil will cause blooms to be pinker. Add aluminum sulfate to the soil to make it more acidic, or garden lime to make it more alkaline. White flowers are not affected by soil pH. Find out more about how to change hydrangea flower color.
Amendments and fertilizer:
Use a slow release balanced 10-10-10 fertilizer or a fertilizer especially formulated for hydrangeas. Apply in early spring when plants are just breaking dormancy, again in May to boost bloom production, and finally in June or July to promote healthy growth through the rest of the growing season. Avoid fertilizing in late summer or fall. Container plants can be fertilized in early spring and again in May. Learn more about how to fertilize hydrangeas.
Water:
Hydrangea macrophylla prefers moist conditions and regular water, about 1 to 2 inches per week. Water more frequently during prolonged heat or dry spells. Plants grown in containers will dry out more quickly, so will need to be watered more often than those in the ground.
How to prune bigleaf hydrangeas:
Hydrangea macrophylla shrubs flower best with minimal pruning. Heavy pruning can result in the loss of flowers. When plants are finished flowering, remove spent blooms and lightly shape as needed. Cut branches back to just above a healthy set of leaves. Prune out dead or diseased growth in early spring when plants are breaking dormancy.
Pests and diseases:
When grown in the right conditions, bigleaf hydrangea is resistant to most pests and diseases. Pests can include aphids, mites, scale, slugs or snails. Diseases include botrytis blight, leaf spot, powdery mildew, root rot, and rust.
BIGLEAF HYDRANGEA VARIETIES
LANDSCAPING WITH BIGLEAF HYDRANGEAS
There are many ways to use bigleaf hydrangeas in your landscape. Here's how:
For borders and landscapes: Bigleaf hydrangea can be grown in mixed borders, foundation plantings, as hedging or screening, or as a stand-alone accent.
For slopes and hillsides: Mass any size bigleaf hydrangea along a slope or hillside to help control erosion.
For containers: Grow smaller specimens or dwarf varieties in containers and place along a pathway or entryway, on a deck or patio, or as a focal point in the landscape.
Use a taller variety as a background plant in a mixed border. Smaller types can be used towards the front of the border, or as edging.
Plant a medium or larger variety as hedging along a fence or to screen a property line.
A smaller variety can be planted as low hedging to divide garden rooms.
Plant a dwarf variety along a pathway for summer-long color.
Mass several specimens in a bed for extended low-maintenance color.
Place a small specimen or dwarf variety in a decorative container and plant creeping annuals such as sweet alyssum or lobelia around the base. Use to adorn a deck, patio or entryway.
Include bigleaf hydrangea in a foundation planting alongside other shrubs that bloom at different times for season-long color.
Place a larger shrub in an island bed in a lawn and plant perennial groundcovers around the base, which will help shade the roots and retain moisture.
Mass a small to medium sized variety along a retaining wall or slope to help stabilize the soil.
MORE ON HYDRANGEAS
RELATED READING