How to Grow Captivating Cleome Flowers
Add an element of surprise to your summer garden with whimsical, easy-care spider flowers.
Señorita Rosalita® cleome. Photo by: Proven Winners.
Cleome, also called spider flower, is one of those showstopping plants that I like to call "Cle-OH-MY!" because of its breathtaking beauty and towering stature. This fast grower shoots up to waist height or taller by midsummer, putting on an eye-catching display of huge, globe-shaped flower heads that bloom without pause until the first frost. Adding to its allure are the whiskery stamens and long, slender seedpods that resemble the legs of a spider.
Although cleome is traditionally used to bring height and structure to the back of the border, newer cultivars with shorter, bushier growth habits let you break with convention and grow it almost anywhere. Use it to fill bare spots in the middle of the garden, as a thriller in a container planting, or as a flowering hedge along a fence or garden pathway. Just plant them in a sunny spot, water well, and watch them grow!
On this page: Basics | Planting Cleome | Cleome Care & Maintenance | Pictures | Using Cleome in the Garden
BASICS
Botanical name:
Cleome hassleriana
Common names:
Spider flower, grandfather's whiskers
Zones:
8 to 11; usually grown as an annual in cooler climates
Bloom time:
Early summer until frost
Exposure:
Full sun
Flower colors:
Pink, blush, lavender, and white
Foliage:
Dark-green palmate leaves are lush and attractive, but sometimes have an unpleasant scent and sharp, thorny spines at the base. Look for newer cultivars bred to be odorless and thorn free.
Special attributes:
Attracts hummingbirds, butterflies, bees, and other pollinating insects
Heat tolerant
Needs no deadheading
Deer and rabbit resistant
PLANTING CLEOME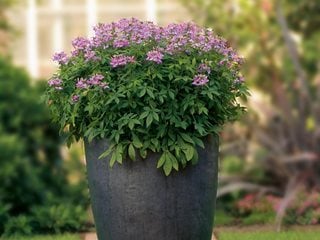 Photo by: Proven Winners.
Where to plant:
In full sun or light shade in average, well-drained soil.
When to plant:
In late spring, after all danger of frost has passed.
Spacing:
Space 1 to 2 feet apart, and plant in groups of 5 or more for the greatest visual impact.
Growing cleome from seed:
Although not all cleomes set seed, there are some varieties that can be started from seed. Sow seeds directly in the garden after the soil has warmed up in spring or start indoors 6 to 8 weeks before transplanting outside. Barely cover the seeds with soil (no more than a quarter inch) and water to keep the soil moist until germination. Thin plants to the spacing recommended on the seed packet once they become established.
CLEOME CARE & MAINTENANCE
Water:
Keep soil evenly moist, but not wet. They aren't very drought tolerant, and if allowed to get too dry, lower leaves can turn yellow and drop. Keep an eye on container-grown plants as they will dry out faster than those planted in the ground.
Fertilizer:
To keep your cleome flowering vigorously all growing season, fertilize them every 6 to 8 weeks with a water-soluble fertilizer, and in the spring with a slow-release granular fertilizer suitable for flowering plants. Container-grown plants may need more frequent applications.
Staking:
Cleome has sturdy stalks, so staking is rarely needed to support the weight of their large blooms. However, varieties that grow taller than 5 feet may need some support if they become too lanky, especially if you plant them in a windy location.
Pruning and deadheading:
They are self-cleaning, so no deadheading is needed. However, you can remove the spent blossoms if you want to prevent seed pods from forming and boost flower production.
Although the height of cleome is often an asset, it's possible to make your plants bushier and more compact by pruning or pinching them back in late spring, which will encourage more branching.
Pests & diseases:
Cleome has few serious pest or disease problems, but it can be a target for aphids, spider mites, and whiteflies. It is also susceptible to powdery mildew, which can be avoided by providing enough space between plants to ensure good air circulation.
USING CLEOME IN THE GARDEN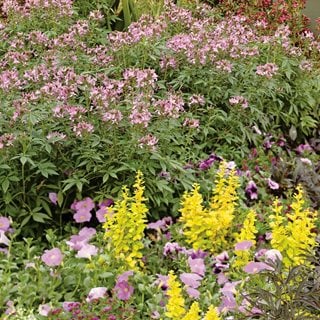 Photo by: Proven Winners.
There are many ways to include cleome in your garden. Here are a few ideas:
To add height and interest at the back of a flower bed. Because taller varieties tend to lose their lower foliage as the stalks grow, disguise those bare spots by planting shorter mound-forming plants in front of them.
As a thriller in mixed containers with other sun-loving annuals or perennials.
As one of the main attractions in a hummingbird haven or bee-friendly garden.
Around the outskirts of a vegetable garden to deter deer and attract beneficial insects.
Cleome is also a great companion plant for lettuce and cabbage because the tall flowers provide dappled shade as the weather warms.
As a backdrop in an enchanting pink and white cottage garden, behind lower-growing plants such as dianthus, pink or white petunias, white verbena and Silver Bullet® artemisia.
RELATED:
Annuals for Sun
Flowers to Grow for Garden Bouquets