Growing & Caring for Amaryllis
Tips on how to grow amaryllis well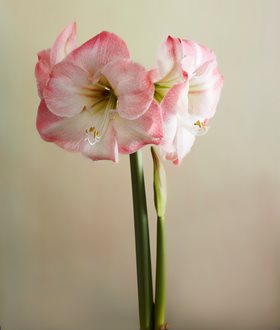 'Caprice' is just one of many stunning amaryllis that disprove the notion that all amaryllis are red. Photo by: Ngoc Minh Ngo.
Interested in trying your hand at growing amaryllis? Here are some basic tips you need to know to get these beauties blooming in your home.
Container: Get a big enough pot. Christian Curless, a horticulturist at the bulb wholesaler Colorblends, suggests 7 to 8 inches in diameter, noting, "The larger the pot, the greater the stability." And clay pots can be better counterweights than plastic. Whatever the container, make sure there are drainage holes.
Soil: Average potting soil works fine.
Planting: Leave the top third of the bulb exposed.
Water: Water well at planting, then be stingy with water until it starts to sprout. And let it dry out between waterings. Says Curless, "These are not thirsty plants."
Lighting/Temperature: Amaryllis are tropical/subtropical, so keep them warm and provide plenty of light. Keeping them at room temperature is fine, but if it's a little warmer they'll grow faster.
Growth: To keep them from leaning toward the light, turn the pot a little every day.
Fertilizer: Don't bother fertilizing unless you're planning to save the bulb and regrow it.
Wish you could get your amaryllis to bloom more than once? Here are tips for getting your amaryllis to bloom again from the University of Illinois.
This bonus content accompanies "Here Come Amaryllis"—an article all about the flower that comes in a dazzling array of colors and shades—in the Autumn 2016 issue of Garden Design magazine.
RELATED:
Forcing Indoor Bulbs
Holiday Classic Decor Elements Made Modern