Putting a Twist on Traditional English Gardens
An early start in the restoration of historic gardens imbued Tom Stuart-Smith with the ability to revisit traditional forms and draw fresh magic from old ideas
The long history and culture of gardening in the United Kingdom means that contemporary garden-makers have a diversity of directions to follow. The well-known country house gardens with their traditional extravagant follies are still an inspirational force, apparent in the playful work of the Bannermans. The popularizing effect of a TV makeover show allowed Diarmuid Gavin to use sophisticated design for shock value and challenge entrenched perceptions of what the average backyard can be. Highly idiosyncratic, visionary individuals such as Charles Jencks are always in the forefront, making gardens that lead by personal example. And most recently, the fusion of art, nature and sculpture seen at international garden festivals such as Chaumont in France and Metis in Canada has brought conceptualism to outdoor spaces and paved the way for avant-garde designers like Tony Heywood.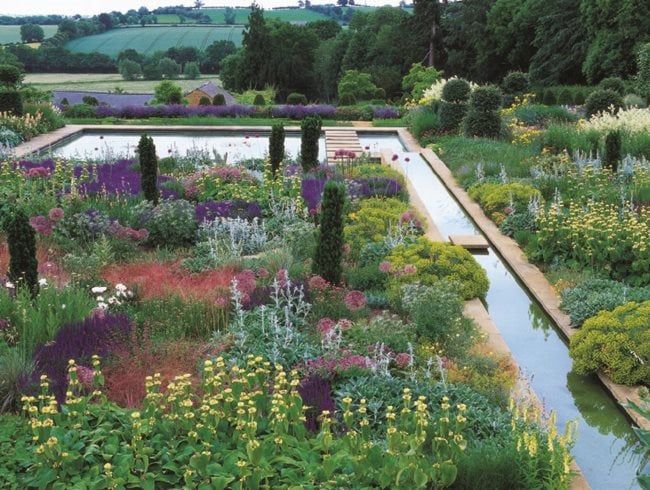 Rill and planting at Broughton Grange—the rhythm of plants repeated is a component of New Wave planting, but color is key to the English style. Photo by: Andrew Lawson.
If any designer epitomizes the state of British garden design at the moment, it is Tom Stuart-Smith. After a quiet start as a designer working on historical conservation projects in England through the 1980s and 1990s, Stuart-Smith burst to prominence after 1998 with a string of six gold-medal-winning gardens in just nine years at the Chelsea Flower Show, which really put him on the map as a designer. His diplomatic manner also made him the immediate choice for Britain's most aristocratic patrons‐including the queen herself, who in 2002 commissioned Stuart-Smith to design a new garden next to the entrance drive at Windsor Castle.
An early garden at the Chelsea Flower Show demonstrated Tom Stuart-Smith's ability to combine minimalism with the English taste for naturalistic planting. Photo by: John Glover.
His work is a good barometer of style because it unites the English "tapestry" tradition of intense herbaceous-border design, in the tradition of Gertrude Jekyll and the Arts and Crafts movement, with the influx of new naturalistic and ecological planting ideas from Holland and Germany—the so-called New Wave planting movement—with its swaying drifts of grasses and tall perennials arrayed in naturalistic fashion, particularly impressive in late summer and early autumn.
What this means in practice, as seen at Broughton Grange for example, is that Stuart-Smith's border designs tend to be composed of drift plantings of powerful plants, which are repeated through the garden and organized with all the care and panache one would expect of the British tradition. The whole is lent a clear structure that is formed by just a few species of grasses—typically miscanthus, stipa or carex. The main difference between the British interpretation of New Wave planting and the continental one is in the continued British emphasis on color, in tandem with structure, and a liking for as wide a range of plants as possible. A pared-down plant palette is emphatically not the British way, and this is echoed in Stuart-Smith's work, which unites horticultural complexity with structure.
Chelsea 2006 was another gold-medal year for Stuart-Smith, who was acclaimed for this virtuoso play on contrasting materials: Cor-ten steel, stonework, boxwood and lush planting. Photo by: Andrew Lawson.
This meeting of horticultural traditions could be seen to the most marked degree yet in Stuart-Smith's garden at the Chelsea Flower Show in London last year (shown left), where a matrix of grasses offset choice flowers such as bearded irises, salvias, verbascums, knautia, allium, euphorbia and stachys.
After the unbridled exuberance of 1990s border design, Stuart-Smith's control and sense of scale in planting has been influential. Moments of sheer flair are also his forte. In the Chelsea garden shown left, for example, the tonal relationship between the bare brown stems of the "ordinary" leatherleaf viburnum (Viburnum rhytidophyllum)—which Stuart-Smith found growing in unusual standard form in a German nursery—and a wall of rusted Cor-ten steel beyond—suggests a confidence born of Tom's years as a landscape designer working on a large scale.
For more information on the work of Tom Stuart-Smith see www.tomstuartsmith.co.uk.