Tips for a Kitchen Garden
Award-winning international garden designer Arne Maynard shares six tips for getting a kitchen garden started.
Just as the kitchen is seen as the heart of a house, I see the kitchen garden as the heart of a garden. When growing vegetables, fruit, and herbs, don't feel you have to get everything right the first time. There will be a period of trial and error as you get to know your soil and the type of produce that does well in your microclimate and aspect. Below are a few ideas to get you started.
See more: How to Start a Vegetable Garden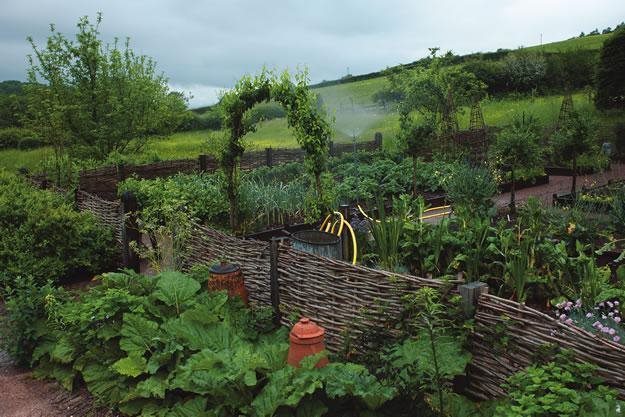 Arne Maynard's kitchen garden at Allt-y-bela. (Photo by: Tom Mannion).
1. Subdivide your plot into beds so you can more easily manage the crops and ensure they are rotated to prevent soil disease. Edge the beds to define them within the garden, and create paths between them. At Allt-y-bela, where we are surrounded by woodland, the oak edging fits perfectly, but you can also use brick, stone, or tile, and choose a path material to complement the edging. Our paths are stone chippings, which reduce slug damage and suit the simplicity of the kitchen garden.
2. Create an enclosure to protect the plot from potential predators. I used simple woven hazel panels bound on oak posts here. You can use dry stone or brick walling or even simple hedging.
3. Grow tomatoes in pots or beds. One of my earliest memories is smelling the distinctive aromatic leaves of tomatoes. They are so simple to grow, and they never disappoint. I still look forward to tasting them straight off the vine. I take a pinch of salt with me and rub my fingers on the leaves before tasting the fruit with the salt to get the full tomato experience.
4. Use step-over and arched fruit in smaller plots to save space in the main beds. We planted arched pears at the entrance to the garden. Step-over apples add year-round interest and can be used to define the beds. Standard gooseberry bushes can save on space and add structure and punctuation to the garden.
5. Plant courgettes and squash directly onto the compost heap. They love the rich material and add interest to what can be an unsightly (but essential) area of the kitchen garden. They will happily scramble and won't take up valuable room in the beds.
6. Ensuring there is a sufficient water supply for the kitchen garden is perhaps the most important. We are lucky enough to have a borehole, so we use a local natural water source. You can either set up a simple irrigation system or hand-water by dipping a watering can into a main drum. We have a combination of the two. You can just see our lovely water cart, which is filled each day for use with the can. The water warms up in the cart so it's perfect for use with the younger plants and seedlings. We also operate the sprinkler system by hand for the more robust and established crops, which don't mind a cold splash.
Read about Arne Maynard's Rustic Home in Wales.
Rhubarb, berries, pears, and more provide a long winter's worth of jams and chutneys. (Photo by: Tom Mannion).
RELATED:
How to Start an Herb Garden