Parrot Tulips
These flamboyant perennials put on an impressive show in late spring
Despite the name, the parrot tulip is no floral copycat. With its feathery petals and dazzling colors, the parrot tulip speaks a language all its own, boldly proclaiming its individuality from the standard tulip. In fact, parrot tulips are often mistaken for peonies because of their large cup-shaped blooms and ruffled edges. Most varieties are bi-colored, and some also have a delicate fragrance.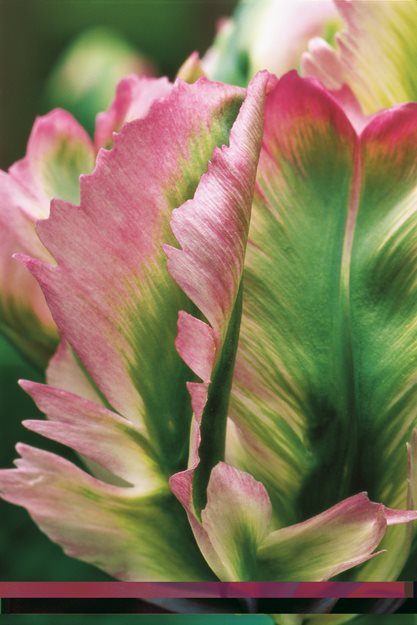 The petal of the 'Green Wave' parrot tulip is a striking contrast of bright green and soft pink. Photo by: Susan A. Roth.
REASONS TO LOVE THEM
Parrot tulips open their frilly petals in mid to late spring after most other tulips have bloomed and faded, extending the color show. Their huge blooms span up to 5 inches across, with streaks of color shooting through the petals like brilliant flames. Tall, elegant stems give parrot tulips a statuesque posture that make them a standout in the garden and a striking addition to floral arrangements.
SHOWSTOPPING VARIETIES FOR RESIDENTIAL GARDENS
Parrot tulips are available in more than 50 varieties, most of which are multi-colored. Some of the shades are revealed gradually, as the blooms fully open and flatten out, resulting in a spectacular display.
'Apricot Parrot' has large pale-apricot petals tinged creamy white and rose.
'Estella Rijnveld' has flashy streaks of red running through white curled and feathered petals.
'Green Wave' (shown) opens with bright green petals that slowly reveal soft-pink edges.
'Black Parrot' is a true showstopper, with fringed petals in deep purple and black. The sturdy stems of these flowers make them well-suited for cutting.
'White Parrot' has ivory-white ruffled blooms feathered in pale green.
See more parrot tulip varieties at Gardenia.net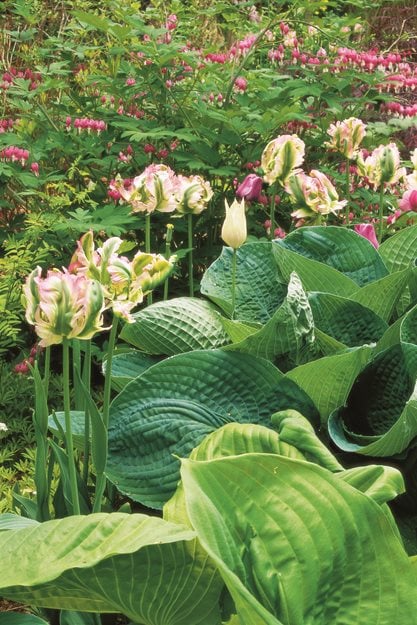 With their tall, elegant stems parrot tulips are a standout in the perennial garden and pair well with hostas and other groundcovers. Photo by: Susan A. Roth.
WHERE TO PLANT THEM Parrot tulips fill the spring garden with showy texture and color, especially when used in the border or planted in groups. In the fall, plant the bulbs in a sheltered spot, away from high winds and extreme temperatures. The bulbs can also be planted outdoors in containers or forced in pots indoors for winter blooming.
Zones: 4-7
Soil: Well-drained
Height: 12 to 26 inches
Exposure: Full sun, sheltered from the wind
Bloom time: Mid to late spring
GROWING TIPS Despite their opulent appearance, parrot tulips aren't overly fussy in their care requirements. However, they do need a bit more attention than standard tulips to protect their frilly blooms from windstorms and heavy rain. Plant the bulbs 5 inches deep and at least 3 inches apart from late September through early November, then cover the site with a thick layer of organic mulch to protect the dormant bulbs during the winter. In early spring, remove the mulch before new growth begins. After the flowers have faded, do not remove the foliage until it has yellowed and died back. To ensure repeat blooming the following spring, feed regularly during the growing season using a balanced fertilizer.
Related: Six Tantalizing Tulips to Plant Now
Tulip Planting Guide
Planting and Storing Flower Bulbs