The Craft of Interplanting with Jacqueline van der Kloet
Dutch garden designer Jacqueline van der Kloet plants bulbs in an unusual way, creating painterly results in the garden.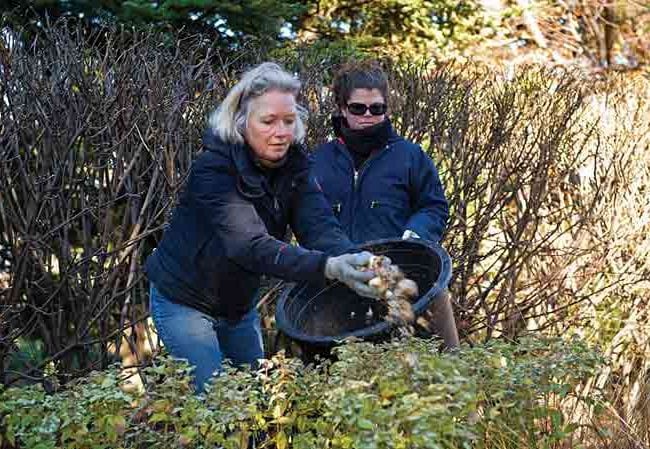 Jacqueline van der Kloet "sprinkling" bulbs at the New York Botanical Garden. Photo by: Rob Cardillo.

SEE MORE PHOTOS OF VAN DER KLOET'S GARDENS
It might be a stretch to say that Dutch garden designer Jacqueline van der Kloet saved the tulip, but she has provided the infamous bulb with a much-needed second wind. Van der Kloet doesn't go the traditional route—which is to bombard onlookers with giant, monochromatic sweeps of a single cultivar, loud bursts of color that are gone in a few brief weeks, with only limp foliage left to show for it. Instead, she harnesses the potential of tulips, and all spring bulbs, by integrating them into more naturalistic scenes. "It's the bulb's salvation," she says. "People have to see the magic of bulbs. Big blocks of tulips are great for public spaces, but that might not work for the average home. They need to see the possibilities."
Employing bulbs as part of a larger composition produces painterly results, which makes perfect sense coming from a woman who dreamed of becoming an artist. Van der Kloet completed her studies at the Institut Provincial Supérieur d'Horticulture in Brussels and spent six years at a small Dutch firm that designed public gardens. She didn't feel comfortable with their conventional approach to garden planning though, "I thought it was too stolid," she remembers. "I don't like a place with a spot of color here and a spot of color there."
Van der Kloet turned her focus to residential gardens and and set up her headqurters in Weesp, a town close to Amsterdam. There, she took a different approach in her showcase garden, which she named Theetuin, Dutch for Tea Garden—a reference to her plan to serve potential clients tea before taking them on a tour of her aesthetic.
In classically Dutch fashion, she laid out orderly hedges of clipped boxwood, privet, and beech. But within that framework, she blended perennials into ruggedly loose, Impressionistic blocks, giving Theetuin an ethereal quality, as if a meadow had grown up between hedges. "Everything is flowering through one another," she explains. "There's always something in color. The word confetti comes to mind."
At van der Kloet's home, in Weesp, a spring palette of white, yellow, and green. Photo by: Philippe Perdereau.

SEE MORE PHOTOS OF VAN DER KLOET'S GARDENS
Theetuin was where she tested out combinations of color, texture, habit, and bloom time. At first, she concentrated on mixing shrubs, roses, perennials, and grasses. But when the International Flower Bulb Centre contacted her to write an article about bulbs, she realized she knew very little about certain tulips. They sent her a giant shipment to try out, and when she discovered that many would come back year after year—especially if she let the spent foliage die back naturally rather than clipping or braiding it—a love affair was born.
Longevity is a kind of sustainability, and that may be one reason van der Kloet's designs have caught on. She's had commissions around the world, including a ten-acre renovation of beds at Holland's Keukenhof, one of the largest ­public flower gardens in the world. The projects she's done in the United States have met with resounding success. She worked alongside her compatriot, garden designer Piet Oudolf, to incorporate bulbs into New York City's Battery Park and Chicago's Millennium Park, followed by the New York Botanical Garden's Seasonal Walk. She also designed and a bulb walkway that included 116,000 bulbs, all is shades of blue, at Martha Stewart's Bedford, New York, home. The bulbs were distributed by van der Kloet's signature "sprinkling," which means handfuls of bulbs are lovingly tossed onto the ground, to be planted where they fall.
What home gardeners want to know, of course, is whether they can replicate such plantings in their own backyards. After all, Theetuin's testing ground operates in a different climate and with fewer of the bulb-munching rodents that plague so many American gardens.
A close-up of the beds at Keukenhof in bloom, in May. Photo by: Jacqueline van der Kloet.

SEE MORE PHOTOS OF VAN DER KLOET'S GARDENS
As impish and whimsical as her gardens can appear, van der Kloet is full of practical advice:
Include fritillaria bulbs in the mix, she suggests, not just for their height and charming bell-shaped flowers, but because their odor offends many animals and makes them less apt to go for the tastier daffodils and tulips.
Rather than cut back the nutrient-absorbing foliage of a spent bulb, hide it with lower-growing plants like phlox or glory-of-the-snow.
And turn off your sprinklers—the biggest problem with getting bulbs to come back is overwatering, "especially in the U.S.," she says, "where sprinkler systems rot the bulbs. They need a warm, dry period in the summer." When she planted the Seasonal Walk at the New York Botanical Garden, she insisted they turn off the sprinklers.
Getting bulbs to coordinate with their perennial brethren is a complex undertaking, one that involves considerations of timing, climate, height, and color. But van der Kloet isn't only about spring. To her, it's fine if there's a brief lull now and then. "The string should not always be tense," she says. "A garden needs slow segments." But of course, the show isn't over with spring, and the layering of subsequent blooms—alliums, then gladiolus, then lilies, then dahlias—continues through to the end of the growing season, only to start again the next year.
"My plantings have rhythm," she says. "There's lots of color, and that color repeats itself. It's through balanced combinations that perfection is reached."