Ken Druse's Inspiration Book
When I first met my friend Ellen Hoverkamp and saw her photographs, I knew I wanted to do a book with her. Ellen travels with a large cooler in the back of her minivan. She fills it with glass jars, water, and a bag of ice to transport plant specimens safely from friends' gardens to her studio, where she lays them on the surface of an oversize 12- by 17-inch flatbed scanner. Her images are more like botanical illustrations than conventional photography—she's Imogen Cunningham and Mary Delany (the botanical collage artist from the late 1700s) rolled into one. So we had the process; we just needed an idea. That's when I saw the connection between books and gardens. The point in either case is the process—I garden and I write. The question often is, what kind of book to do and what kind of garden to make?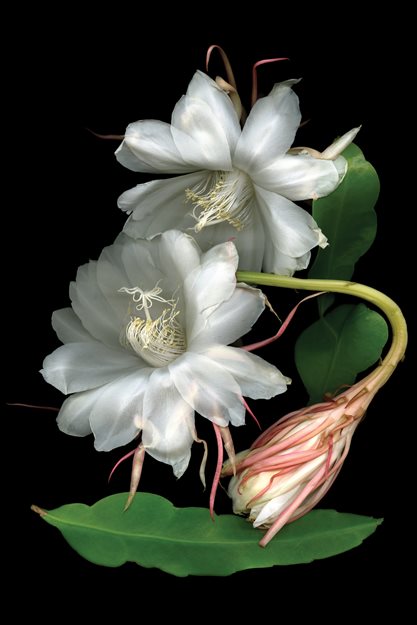 Night Blooming
After darkness falls, the lights come out, with enchanting varieties of evening time flora like this night-blooming cereus (Epiphyllum oxypetalum), which usually opens for just one late-summer evening every year. (Other plants that blossom at night—moonflower or Cestrum nocturnum, say—open with more frequency.) Its fragrant blossoms have a particular pungency that attracts the nocturnal bats who pollinate it. Photo by: Ellen Hoverkamp.

SEE MORE PHOTOS FROM THIS BOOK
Many gardeners like to play with different color combinations when dreaming up a new garden scheme. (When you go shopping at the nursery, it really helps to know you're looking for yellow or orange and white, for a Creamsicle garden.) Morphology—the study of the shape and texture of plants and the ways they grow—is another aesthetic consideration. But there are other categories: You could grow families of plants together or only herbs or flowers mentioned in the writings of Shakespeare. You just need inspiration.
With this organizing principle in mind, I made lists of themes and subjects—plant families, color palettes, and other reasons to bring plants together. I grew many of the plants for our project in my own New Jersey garden, planted on a two-acre island in the middle of a river. Ellen went to her gardening friends, list in hand, for more. We called in plants from friends in the Southeast and Southwest, on the West Coast, and in the Midwest, touching on as many regions as possible.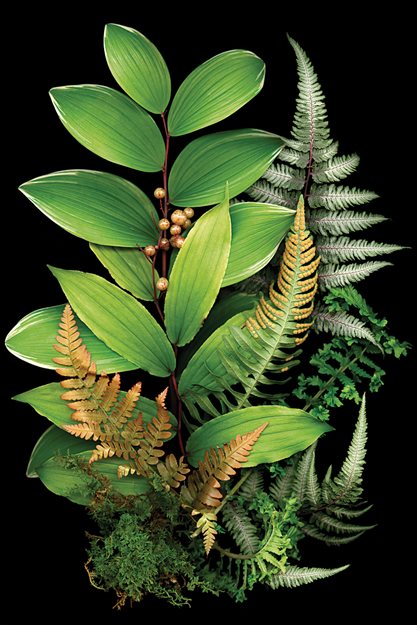 Secret Garden
Clockwise from top left: Variegated Solomon's seal, Japanese painted fern, crested male fern, autumn fern, false Solomon's seal. Photo by: Ellen Hoverkamp.

SEE MORE PHOTOS FROM THIS BOOK
The result, a book called Natural Companions (Stewart, Tabori & Chang, 2012), became a collection of garden recipes. You can pick any page and try the garden suggested by the plants we put together. The main ingredients are there: for a Shakespeare garden, a hummingbird garden, a secret garden—even a grouping of delightful toxic plants for those of us with wicked senses of humor. As much as possible, Ellen and I took care to put ground cover at the bottom, shrubs in the middle, and trees at the top.
Whatever kind of garden you make, I urge you to create a book like ours. You can definitely do it, although it may not look like the one we made. Ellen has years of experience and a scanner that is quite a few notches better than average. And it's not as easy as it looks. (When you put a lily in a scanner, for instance, the glass is suddenly covered in pollen, and you realize just how good an artist Ellen really is.) More importantly, though, you'll have a journal of your own garden. Soon after Ellen and I finished our book, Hurricane Irene churned through the Northeast, followed the next month by tropical storm Lee. A good deal of my garden was swept away. Now I have a record of things that used to be, and the book I wrote turned out to be a memory book.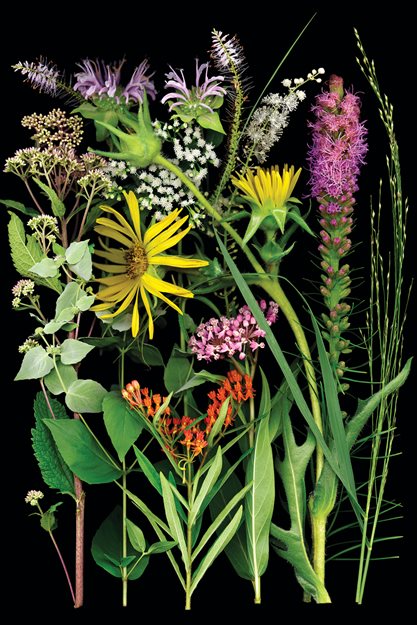 Many of these plants are known to attract butterflies. They also have long blooming seasons, sometimes lasting all summer. 1. Top row, left: Veronicastrum virginicum. 2. Middle row, far left: Eutrochium purpureum subsp. maculatum. 3. Top row, middle: Monarda fistulosa. 4. Middle row, middle: Eupatorium perfoliatum. 5. Top row, far right: Liatris spicata. 6. Far right: Panicum virgatum. 7. Bottom row, left: Pycnanthemum muticum. 8. Bottom row, center: Asclepias incarnata. 9. Bottom row: Asclepias tuberosa. Photo by: Ellen Hoverkamp.

SEE MORE PHOTOS FROM THIS BOOK
Ken Druse is an organic gardener, writer, photographer, designer, and naturalist. His website is kendruse.typepad.com. You can learn more about Ellen Hoverkamp and her art on her site, myneighborsgarden.com.