Just as a work of art can pull a room together, the right garden antique can transform a landscape. Few people know this better than Barbara Israel, who has been dealing in garden antiques since 1985 from her Katonah, New York, property, a lush swath of meadows and gardens in Westchester County. Her inventory includes more than 200 stone, iron, terra-cotta, bronze, and zinc objects, ranging in price from around $100 to $100,000. Israel is the author of Antique Garden Ornament: Two Centuries of American Taste (Harry N. Abrams, Inc.; 1999), which remains a go-to source on the subject, and recently published A Guide to Buying Antique Garden Ornament, which neatly outlines the do's and don'ts of collecting fine garden wares. In addition to providing indispensable guidance on dating pieces, repainting metal furniture, identifying irreparable damage, and confirming authenticity, Israel touches on selecting the right material for a particular climate.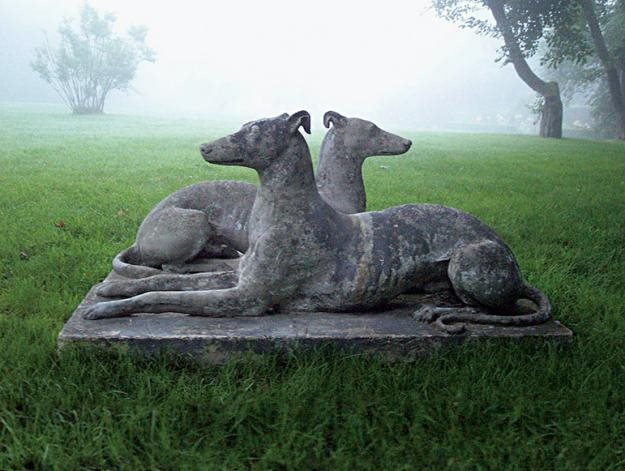 This duo of 19th-century greyhounds is a coveted "true pair" because they are not cast from the same mold, says Israel. Photo by: Barbara Israel.
Garden Design: Why did you decide to write this guidebook?
Barbara Israel: Frustration. There is such a lack of knowledge on the subject, and a well-informed customer is definitely our best customer.
Q: How can garden antiques enhance a landscape?
A: They add a touch of art to nature. But they can also make a new garden look old, or make a lonely garden welcoming.
Q: What is the biggest mistake you see buyers make?
A: Misplacement. These are pieces that need to be used sparingly, and you need to make sure they work right in a setting.
Q: Are there any particular red flags we should know about?
A: Definitely. If a cast-iron piece doesn't have a fairly thick buildup of paint it may be a reproduction. Likewise, if there is rust on the underside of an urn and it's too stridently orange, the piece may not actually be an antique.
Q: Is it difficult to find garden antiques in good condition?
A: Yes. We often have to restore pieces that have suffered from being outside. Metal ornaments are easier to restore than stone ones. The biggest problem with cast stone is exposed rebar, which means water has seeped in, and with carved stone, cracks that threaten its stability and allow moisture in. - Meredith Mendelsohn