John Greenlee's American Meadow Garden
Changing the way America gardens, one lawn at a time: Nursery sources in 24 states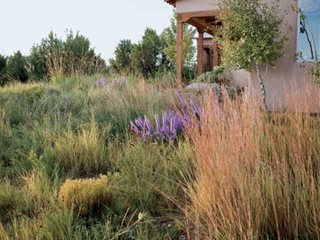 A designed meadow can be exquisitely layered with plants, just as nature is, and as horticulturally sophisticated as any fussy perennial border. Grass is the glue that holds it all together. Photo by: Saxon Holt.
Lawn. Do you really need one? Grasses guru John Greenlee answers with a resounding no! "There is no doubt that lawn culture is not good for the planet," says John Greenlee, whose mission is to change how America gardens. "I really, desperately want to help America start making meadows instead of lawns." The American Meadow Garden: Creating a Natural Alternative to the Traditional Lawn (Timber Press) teaches you how. Says John, "There are no limits. You can do this anywhere."
John has done the legwork of finding nursery sources in 24 states that are growing the plants mentioned in the book. Terms of business are indicated, along with whether the nursery offers mail order. Many of these nurseries have catalogs available either online or as hard copy. No endorsement of businesses included in this section is intended, nor is any criticism implied of any source not mentioned. Read on for nursery sources near you and a list of organizations dedicated to preservation and restoration of natural habitats.
ARIZONA
Southwestern Native Seeds P.O. Box 50503, Tucson, AZ 85703; southwesternnativeseeds.com; retail, mail order
Wild Seed P.O. Box 27751, Tempe, AZ 85285; 602-276-3536; retail, no mail order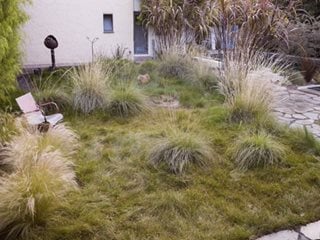 This backyard in Santa Monica, California, may be small, but it can still contain a beautiful meadow. The lawn consists of California dune sedge (Carex pansa); accent grasses include muhlys (Muhlenbergia) and sugar cane (Saccharum officinarum). Photo by: Saxon Holt.
CALIFORNIA
Annie's Annuals 740 Market Avenue, Richmond, CA 94801; anniesannuals.com; 888-266-4370; wholesale and retail, mail order
Berkeley Horticultural Nursery 1310 McGee Avenue, Berkeley, CA 94703; 510-526-4704; berkeleyhort.com; retail, no mail order
Digging Dog Nursery P.O. Box 471, Albion, CA 95410; 707-937-1130; diggingdog.com; retail, mail order
Elkhorn Native Plant Nursery 1957B Highway 1, Moss Landing, CA 95039; elkhornnursery.com; 831-763-1270; wholesale and retail, no mail order
El Nativo Growers 200 S Peckham Road, Azusa, CA 91702; 626-969-8449; elnativogrowers.com; wholesale and retail, no mail order
Emerisa Gardens 555 Irwin Lane, Santa Rosa, CA 95401-5657; 707-525-9644; emerisa.com; wholesale and retail, no mail order
Greenlee Nursery P.O. Box 885, Chino, CA 91708; 909-342-6201; greenleenursery.com; wholesale and retail, mail order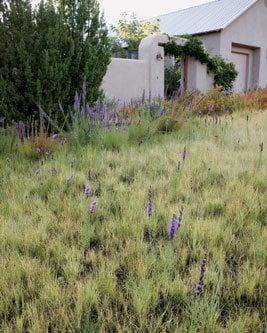 Blue grama (Bouteloua gracilis) and buffalo grass (Buchloe dactyloides) form the base grasses in this meadow; accents and background grasses grow up through them. Photo by: Saxon Holt.
Hedgerow Farms 21905 County Road 88, Winters, CA 95694; 530-662-8647; hedgerowfarms.com; wholesale and retail, no mail order
Larner Seeds P.O. Box 407, Bolinas, CA 94924; 415-868-9407; larnerseeds.com; wholesale and retail, no mail order
Mostly Native Nursery P.O. Box 258, 27235 Highway 1, Tomales, CA 94971; 707-878-2009; mostlynatives.com; retail, no mail order
Theodore Payne Foundation 10459 Tuxford Street, Sun Valley, CA 91352-2126; 818-768-1802; theodorepayne.org; retail, mail order
COLORADO
Western Native Seed P.O. Box 188, Coaldale, CO 81222; 719-942-3935; westernnativeseed.com; retail, mail order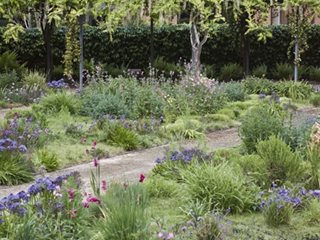 Low flowering bulbs and perennials evoke a mountain meadow in this hot Napa Valley courtyard. The garden is more heat and drought tolerant than it might seem. Photo by: Saxon Holt.
CONNECTICUT
Twombly Nursery 163 Barn Hill Road, Monroe, CT 06468; 203-261-2133; twomblynursery.com; retail, mail order
FLORIDA
The Natives 2929 JB Carter Road, Davenport, FL 33837; 863-422-6664; thenatives.net; retail, no mail order
GEORGIA
Nearly Native Nursery 776 McBride Road, Fayetteville, GA 30215; 770-460-6284; nearlynativenursery.com
ILLINOIS
AAA Ornamentals 8S953 Jericho Road P.O. Box 277, Big Rock, IL 60511; 630-556-4507; retail, mail order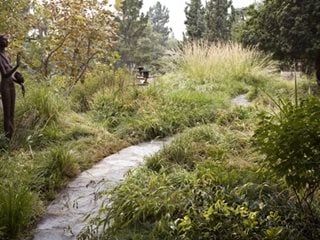 The Matus-Sheehan garden, Padadena California: This garden is perfect for strolling with drink in hand. You'd never know that it's in the heart of the city. Photo by: Saxon Holt.
INDIANA
Country What Not Gardens 7129 E. 500 N., Rochester, IN 46975; 574-353-7915; countrywhatnotgardens.com; retail, mail order
KENTUCKY
Jelitto Perennial Seeds 125 Chenoweth Lane #301, Louisville, KY 40207; jelitto.com; 502-895-0807; wholesale and retail, mail order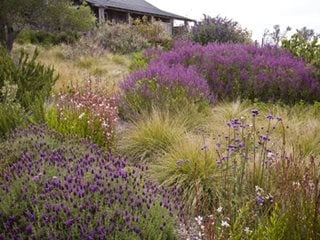 Gauras, lavenders, salvias, and verbenas lead the way in this drought tolerant meadow at a private residence in Santa Cruz, California. Have fun with color — make changes as you see fit. Photo by: Saxon Holt.
MARYLAND
Earthly Pursuits 2901 Kuntz Road, Windsor Mill, MD 21244; 410-496-2523; earthlypursuits.net; retail outlet for Kurt Bluemel, Inc., mail order
MASSACHUSETTS
Northeast Nursery Garden Center 234 Newbury Street, Peabody, MA 01960; 978-535-6550; wholesale and retail, no mail order
MICHIGAN
Amber Wave Gardens 1460 Hillandale Road, Benton Harbor, MI 49022; amberwavegardens.com; retail, no mail order
The Native Plant Nursery P.O. Box 7841, Ann Arbor, MI 48107; 734-677-3260; nativeplant.com; wholesale and retail, no mail order
Wildtype Design 900 N Every Road, Mason, MI 48854; 517-244-1142; wildtypeplants.com; retail, no mail order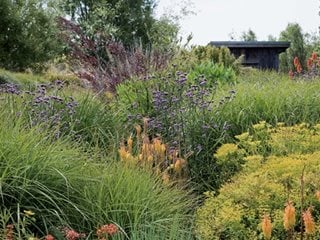 The grasses here blend the plants together almost invisibly. Photo by: Saxon Holt.
MINNESOTA
Prairie Moon Nursery 32115 Prairie Lane, Winona, MN 55987; 507-452-1362; prairiemoon.com; retail
NEBRASKA
Nature Hills Nursery, Inc. 3334 North 88th Plaza, Omaha, NE 68134; 402-934-8116; naturehills.com; wholesale and retail, no mail order
Stock Seed Farms 28008 Mill Road, Murdock, NE 68407; stockseed.com; 800-759-1520; retail, mail order
NEVADA
Comstock Seed 917 Highway 88, Gardnerville, NV 89460; comstockseed.com; wholesale and retail, no mail order
NEW JERSEY
Triple Oaks Nursery P.O. Box 385 2359 Delsea Drive, Franklinville, NJ 08322; 856-694-4272; tripleoaks.com; retail, no mail order
Wild Earth Native Plant Nursery P.O. Box 7258, Freehold, NJ 07728; 732-308-9777; retail, no mail order
NEW MEXICO
Bernado Beach Native Plant Farm Star Route 7, Box 145, Veguita, NM 87062; 505-345-6248; wholesale and retail, no mail order
Curtis and Curtis Star Route, Box 8A 4500 N Prince, Clovis, NM 88101; 505-762-4759; curtisseed.com; wholesale and retail, no mail order
High Country Gardens 2902 Rufina Street, Santa Fe, NM 87507-2929; highcountrygardens.com; 800-925-9387; retail, mail order
Plants of the Southwest 3095 Agua Fria Street, Santa Fe, NM 87507; 800-788-7333; plantsofthesouthwest.com; retail, mail order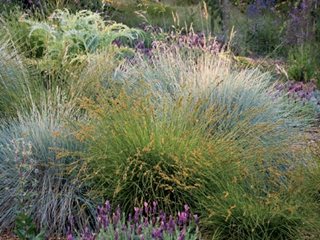 Berkeley sedge (Carex divulsa) in flower with blue oatgrass (Helictotrichan sempervirens). Dark green can really make silver and blue pop. Berkeley sedge is a dependable dark green in either sun or shade. Photo by: Saxon Holt.
NORTH CAROLINA
Plant Delights Nursery 9241 Sauls Road, Raleigh, NC 27603; 919-772-4794; plantdelights.com; retail, mail order
OHIO

Glasshouse Works P.O. Box 97 Church Street, Stewart, OH 45778-0097; 740-662-2142; glasshouseworks.com; retail, mail order
OREGON
Daryll's Nursery 15770 W Ellendale Road, Dallas, OR 97338; 503-623-0251; daryllsnursery.com; retail, no mail order
PENNSYLVANIA
Ernst Conservation Seeds 9006 Mercer Pike, Meadville, PA 16335; 800-873-3321 or 814-336-2404; ernstseed.com; retail, mail order
TEXAS
Bluestem Nursery 4101 Curry Road, Arlington, TX 76001; 800-356-9164; bluestemnursery.com; wholesale and retail, no mail order

Wildseed Farms 100 Legacy Drive P.O. Box 3000, Fredericksburg, TX 78624; 800-848-0078; wildseedfarms.com; retail, mail order

Yucca Do Nursery P.O. Box 907, Hempstead, TX 77445; yuccado.com; 979-826-4580; retail, no mail order
UTAH
Granite Seed 1697 W 2100 North, Lehi, UT 84043; graniteseed.com; 801-768-4422; wholesale and retail, no mail order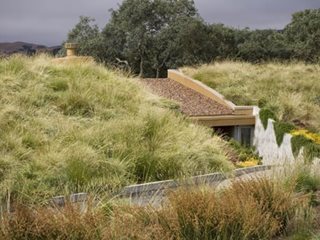 A meadow of Mediterranean false brome (Brachypodium retusum), Atlas fescue (Festuca mairei), and slender veldt grass (Pennisetum spathiolatum) forms the basis of a green roof in a fire-prone part of California. This green roof meadow needs comparatively little supplemental water to stay nonflammable. Photo by: Saxon Holt.
WISCONSIN
Milaeger's Gardens 4838 Douglas Avenue, Racine, WI 53402-2498; 800-669-1229; retail, no mail order
Prairie Nursery P.O. Box 306, Westfield, WI 53964; 800-476-9453; prairienursery.com; retail, mail order
Prairie Seed Source P.O. Box 83, North Lake, WI 53064-0083; prairiebob.com; retail, mail order
ORGANIZATIONS
California Native Grasslands Association P.O. Box 72405 Davis, CA 95617; 530-759-8458
The mission of the CNGA is to promote, preserve, and restore the diversity of California's native grasses and grassland ecosystems through education, advocacy, research, and stewardship.
California Native Plant Society 2707 K Street #1 Sacramento, CA 95816-5113; 916-447-2677
The CNPS is a nonprofit organization dedicated to the understanding and appreciation of California's native plants and the conservation of them and their natural habitats through education, science, advocacy, horticulture, and land stewardship.
California Society for Ecological Restoration 2701 20th Street Bakersfield, CA 93301-3334; 661-634-9228
SERCAL is a nonprofit membership-based organization dedicated to the purpose of bringing about the recovery of damaged California ecosystems. To this end, the organization's activities are focused on the presentation of conferences, symposia, workshops, field trips, and other educational activities dealing with the many different aspects involved in restoration of California native habitats.
California Weed Science Society P.O. Box 3073 Salinas, CA 93912-3073; 831-442-0883
The CWSS provides information exchange on weed science and technology through an annual conference, publications, and other activities; advises stakeholders on matters pertaining to weeds; facilitates cooperation among individuals, agencies, and organizations; encourages careers in weed science; and promotes professional growth and interaction for its members in California.
The Ecological Conservation Organization 120 S. Cross Street Little Rock, AR 72201; 501-372-7895
ECO is an Arkansas-based and -operated environmental nonprofit organization, whose mission is simple: "Restore natural ecosystems through research, restoration, and advocacy."
Native Habitats 17287 Skyline Blvd. #102 Woodside, CA 94062-3780
Mission statement: "We participate in and support efforts to restore and preserve native ecosystems (urban, suburban, and wild) . . . for the sake of restoring ecological process and biodiversity . . . allowing native species, both flora and fauna, to survive and thrive."
Society for Ecological Restoration International 285 W. 18th Street #1 Tucson, AZ 85701; 520-622-5485
The Global Restoration Network (GRN), a project of the society, offers the field of ecological restoration a new database and web-based portal to trustworthy and hard-to-find information on all aspects of restoration, from historic ecosystems and recent causes of degradation to in-depth case studies and proven restoration techniques. The overriding mission of the GRN is to link restoration projects, research, and practitioners in order to foster the creative exchange of experience, vision, and expertise.