Winter Gardening Tips and Chores
Get ideas for winterizing your garden and creating four season interest
Winter may not seem like the time to think about your garden. But take advantage of this break from the growing season to catch up on tasks that were put off during the rest of the year. Whether it's protecting plants from severe cold, decorating the yard for the holidays, or planning for next year, there's plenty to keep you busy while you dream of spring.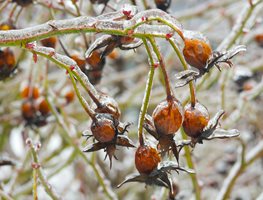 Photo by: Janet Loughrey.
Winterize the garden
To protect plants from cold winter temperatures, water the garden thoroughly before the first hard frost. Once the ground has begun to freeze, mulch around the base of more tender plants with several inches of shredded leaves, ground bark or evergreen boughs. Newly planted trees or shrubs can be wrapped with a layer of burlap stuffed with insulating material such as straw or dried leaves.
For more tips: How to Prepare Your Garden for the Winter
Swiss chard 'Bright Lights'. Photo by: Janet Loughrey.
Grow food
Just because it's winter doesn't mean you can't have fresh food from the garden. Greens such as lettuce, arugula and mustard, along with cold-weather crops including kale and Swiss chard can be grown in a cloche or cold frame. Many root crops and brassicas will overwinter for a spring harvest. For best results, check with your local nursery or extension service for winter vegetable gardening tips in your region.
Here's a unique perspective on starting seeds in winter: Seed Sowing in the Snow
Four season interest
Evaluate your garden for winter color. There's nothing like winter-blooming plants to lift your spirits during the colder months. Shrubs such as winter hazel, witch hazel and honeysuckle offer color and fragrance at a time when you need it most. Early bulbs including snowdrops, species crocus and winter aconite will even pop up through a shallow cover of snow, giving you hope that spring is not far away.
Learn more on the best witch hazels to grow.
Red-breasted nuthatch. Photo by: Janet Loughrey.
Think nature
Make sure your feathered friends have a steady source of food and water so they'll stay year-round to help with pest control and balancing your garden's ecosystem. Place nesting houses by February if you want to increase your bird population. Make sure each house has the right sized hole and dimension and is sited properly for the kind of bird you are trying to attract.
For more on wildlife-friendly landscaping: A Naturalistic Garden Welcomes the Birds and the Bees
Photo by: Janet Loughrey.
Order catalogs
Diehard gardeners look forward to those luscious mail order catalogs that begin arriving in January almost as much as they do the Christmas holiday. Poring through glossy pages filled with colorful plant photos is a great way to beat the winter blues and get inspired for the upcoming growing season. Make sure to include your favorite nurseries, and order a few plants so you have something new to try in your garden come spring.
Photo by: Janet Loughrey.
Decorate outdoors
When decorating your home for the holidays, don't forget about sprucing up the yard. Use evergreen boughs and berries from the garden, or purchase them from your local nursery to create wreaths, garlands or arrangements to adorn entryways, winter-proof containers and window boxes. Add twinkling lights or ornaments for additional festive cheer.
For inspiration: Winter Wreath DIY
Bring the garden indoors
Growing bulbs indoors such as paperwhite narcissus or amaryllis is a great way to keep your hands in the dirt and bring some living cheer into your home. Even if it's too late to buy bulbs, you can still force branches of witch hazel, crabapple and forsythia by cutting the budded branches and bringing them inside to bloom.
Find out how to force your own bulbs and see a video on forcing branches to bloom indoors.
Design by: Jane Coombs. Photo by: Janet Loughrey.
Take stock
While making your personal New Year's resolutions, take time to evaluate your yard. What are your goals for next year? Do you want to simplify so you can spend more time enjoying your yard? Tackle a big project? Whether you decide on a new pathway, gazebo, arbor, fire pit, water feature or patio, get inspired on sites such as Pinterest to see the latest trends.
Here are some winter planning tips from the experts.
Photo by: Janet Loughrey.
Educate yourself
Winter is a great time to learn more about gardening and design. Take a online class or workshop, or a course from your local college. Master Gardener training is an option for those serious gardeners who want to give back to their community. Join a garden club or attend a flower show.
See our recommendations for online classes.
Photo by: Janet Loughrey.
Catch up on reading
Now is the time to catch up on your reading. Did you get new gardening books for Christmas or subscribe to a magazine that you haven't had a chance to peruse thoroughly? Curl up by the fireplace with a cup of hot chocolate and your favorite book or magazine, and dream about next spring.
Here are a few of our book recommendations.
'Kwanzan' cherry blossoms. Photo by: Janet Loughrey.
Prune your plants
Start pruning trees and shrubs in late winter before they break dormancy. Don't prune early bloomers until after they flower or you'll lose this season's blooms. Research pruning techniques for each variety before you start in order to obtain the best results for a healthy and attractive plant.
Here are some basic pruning guidelines.
RELATED: