No-Fail Fall Crops - Gardening Advice
The best crops to include in your fall vegetable garden.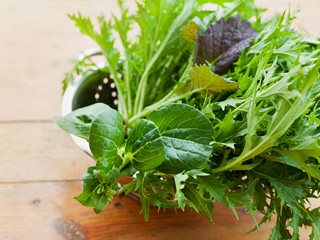 Mizuna, lettuce, pakchoi, tatsoi, kale, spinach and leaf mustard.
Q: I've never had much luck with my fall vegetable garden. Stuff grows but never gets really nice and big. Do fall veggies need extra fertilizer, or should I be planting special varieties? — Peter Calabrese, Denver, Colo.
A: It's neither your soil nor the plant varieties; you're probably just waiting too late to plant. In the northern half of the country, there are very few vegetables that you can plant in August or later and expect to get a decent crop. But if you do wait till August, there is a one-word solution: turnips. That's not nearly as boring as it sounds, and you'll have something to pick in as little as six weeks. When I say "turnips," I'm referring to a wonderful group of very closely related vegetables that includes mustard greens, broccoli rabe, tatsoi, and all the vegetables commonly called Chinese cabbages. What they do, which almost no other vegetable can, is sprout and mature quickly, even in sweltering heat. They'll reach harvestable size in an astonishing 40 to 60 days, even from a late-summer planting. The picking will continue until truly hard frosts (25º F) arrive.
Another fast starter is arugula, which sprouts in four or five days, even in hot weather. You can start picking and eating thinnings in four weeks. Lettuce is a wonderful fall crop too, but takes about eight weeks, and you'll have to do a few tricks to get the seed to grow in hot weather. Sow it in containers in a cool and shady spot, then nurse the seedlings to transplant-size for a few weeks until the hot weather passes. That takes planning; you can forget about going on vacation in August.
But what about all those other cool-weather vegetables that the seed packets say will take only 60 days? Isn't that time enough to squeeze in a quick crop of carrots, beets, cauliflower, kale, or cabbages? The truth is that the days-to-maturity numbers on seed packets tend to be overly optimistic and are more accurate for spring conditions, when soil temperatures are perfect for germination and the longer days deliver extra growing hours. These numbers represent the days until the very first picking, with the expectation of many more days and weeks of growth to follow. In the fall, when the cold weather arrives, plants stop getting bigger. For a fall garden, add about a third to the maturity days to compensate for the shorter daylight in late summer and fall. And for vegetables that you start from transplants (broccoli, Brussels sprouts, cabbage, cauliflower, endive, fennel, kale, leeks), tack on the extra four weeks it takes to raise the transplants. The reality is that all of those "fall" veggies really should be started in late spring.
Get expert plant picks for your fall garden.