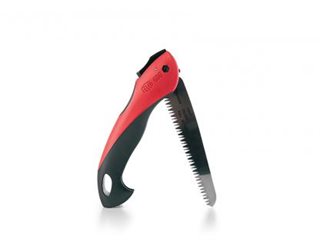 Like most garden designers, I don't own a chain saw, but I want to be able to prune branches on my own. My favorite pruning tool, the Felco F600 folding saw, is 14 inches when open and only about 7 inches when closed. You can stash it in your toolbox-it weighs less than a pound-but it's got big, sharklike teeth that make cutting through a four-inch-diameter branch like cutting through butter. My friend the Los Angeles-based garden writer Ivette Soler turned me on to the Felco a dozen years ago; I saw her use it on a garden installation, and that was it. Now I use the same saw to reveal the branch structure of the grapefruit tree in my yard, which gives it more visual interest; to remove sucker growth from my California pepper tree; to cut out old timber bamboo; and during garden installations for clients, to do a little shaping. Unlike loppers, which require so much squeezing to use, the saw is comfortable for someone with smaller paws. I'm five foot three, and it's gratifying to cut a good-size branch without straining. It gives me autonomy.
Judy Kameon, Elysian Landscapes, Los Angeles
Where to Buy
Purchase on Amazon.com for $30.99.