New Outdoor Furniture Collection Is Inspired by Nature
Grab a seat and relax in your outdoor space with nature-inspired furniture from landscape designer Nick Williams and furniture manufacturer Phillip Roth. Using reclaimed teakwood that's weather-resistant, this new collection will blend into any garden, or take center stage as the star.
Beautiful gardens and landscapes are meant to be gazed upon and savored. To create a comfortable environment for those who love to watch their gardens grow, landscape designer Nick Williams of Nick Williams & Associates has partnered with furniture manufacturer Phillip Roth to develop a line of custom-crafted outdoor furniture that practically beckons you to sit down and put up your feet.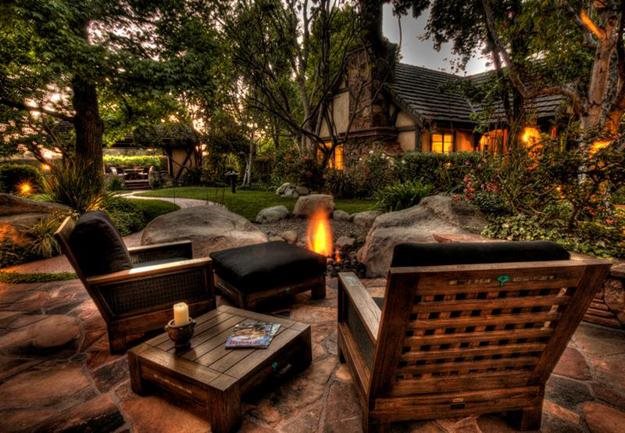 The Nick Williams Longridge Furniture Collection uses beautiful, weather-resistant teakwood reclaimed from old bridges, barns, and other structures. (Photo by: Nick Williams).
Williams has been creating innovative landscapes, hardscapes, and outdoor rooms for over 50 years, so developing his own line of outdoor furniture was a natural segue. As fate would have it, he met and became good friends with Roth, who has over 30 years of experience in the hospitality and furniture industries. The two men took a look at the existing outdoor furniture market and began brainstorming ideas for using environmentally friendly materials to create organic, functional pieces inspired by Mother Nature. Beauty, comfort, and sustainability are the hallmarks of the collection, which makes use of durable, natural materials incorporating decorative accents such as mother of pearl, turquoise, pewter, and ammonite.
Ginkgo-leaf design dining table and lounge chairs. (Photo by: Nick Williams).
"We tried to design furniture that can be used throughout the yard," says Williams. "All of the pieces are made from reclaimed and repurposed teakwood, which holds up extremely well under all different weather conditions." The collection includes couches, loveseats, club chairs, dining tables and chairs, chaise lounges, and ottomans, allowing you to convert pool and patio areas into fully furnished outdoor rooms.
Club chairs and ottoman accented with ammonite. (Photo by: Nick Williams).
The furniture can also be customized to harmonize with different settings, whether it's a cactus garden or beachside retreat. "To give style and distinction to each piece, we can use various warm-hued wood stains, add Virofiber weaving (an environmentally friendly all-weather wicker), cover cushions with beautiful high-quality fabrics, and use furniture 'jewelry' such as sea shells, ammonite, turquoise, natural stone, patina-finished accents, and custom inlaid glass tiles. There are literally thousands of different combinations that we can put together," says Williams.
All the pieces in the collection can be customized with accents such as sea shells, ammonite, turquoise, natural stone, custom inlaid glass tiles, and various outdoor fabrics. (Photo by: Nick Williams).
To view more from Nick Williams, visit NickWilliamsDesigns.com. To see more examples of Williams' landscaping work, read this GardenDesign.com article showcasing one of his recent projects (Natural-Style Pool Blends Seamlessly with the Landscape).