Farmhouse Garden is Like Walking Through a Symphony
An artfully designed composition of native and non-native plantings creates a beautiful orchestration of color and texture
The best residential garden designs seamlessly blend a home with its surrounding landscape while remaining true to the character of both. On this project, the challenge was to create a garden for a restored 1700s colonial farmhouse that would work with the lay of the land while defining new spaces designed to enhance circulation and encourage exploration.
See below for 7 Ways to Create a Garden to Explore.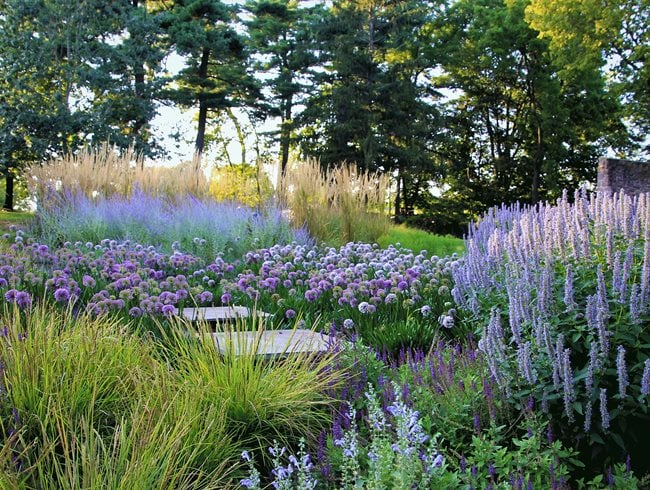 Path leading from the patio. Plantings include tea viburnum (Viburnum setigerum), Japanese forest grass (Hakonachloa macra), Karl Foerster feather reed grass (Calamagrostis auctiflora 'Karl Foerster'), Shenandoah switch grass (Panicum virgatum 'Shenandoah'), ornamental onion (Allium 'Millenium' and A. lusitanicum 'Summer Beauty'), mountain mint (Pycnanthemum muticum), Blue Hill salvia (Salvia x sylvestris 'Blue Hill'), and Heidebraut purple moor grass (Molinia caerulea 'Heidebraut'). Photo by: Karl Miller.
"The owners had restored this farmhouse over a period of 30 years. Since owning the home, they had never had a garden, but were now ready to build one, and they wanted to be able to manage it themselves as much as possible," says landscape designer Donald Pell of Donald Pell Gardens Landscape Design, Phoenixville, PA. "I composed the plantings in sweeping masses so it would be very legible, which simplified the maintenance by making it easy for the homeowners to quickly identify any species that seeded in and didn't belong."
Throughout the garden, plantings and pathways were designed to create an experience the owners describe as "walking through a symphony." Function was also built into the design to improve accessibility and to create intimate outdoor spaces for entertaining and relaxation.
"One of the owners' main goals was to remain in the home as late in their retirement as possible. Locating a new garage and an adjacent motor court within close proximity of the home's front entrance gives the homeowners easy and fluid access to and from the house and also creates a welcoming courtyard," says Pell.
Patio garden. Plantings include Karl Foerster feather reed grass, Shenandoah switch grass, ornamental onion, Blue Fortune giant hyssop (Agastache 'Blue Fortune'), eastern bluestar (Amsonia taernamontana 'Blue Ice'), Chinese astilbe (Astilbe chinensis 'Purple Candles'), purple prairie clover (Dalea purpurea), Filigran Russian sage (Perovskia artriplicifolia 'Filigran'), meadow rue (Thalictrum rochebrunianum), and Letterman's ironweed (Vernonia lettermannii 'Iron Butterfly'). Photo by: Karl Miller.
A kitchen-side terrace and patio that overlooks a nearby creek was also installed and is supported by a new retaining wall made from stone the owners had salvaged from a dismantled local barn. Salvaged fieldstone was also used for the edging and paving throughout the property, in keeping with the historical character of a 1700s farmhouse.
Terraced retaining wall garden. Plantings include sweetbay magnolia (Magnolia virginiana), Hartlage Wine sweetshrub (Calycanthus raulstonii 'Hartlage Wine', tufted sedge (Carex elata), Heidebraut purple moor grass, Blue Fortune giant hyssop, Japanese anemone (Anemone tomentosa 'Robustissima' ), perennial geraniums (Geranium macrorrhizum 'Bevan's' and Geranium macrorrhizum 'Ingwersen's Variety'), Autumn Bride hairy alum root (Heuchera villosa 'Autumn Bride'), skullcap (Scutellaria incana), compass plant (Silphium laciniatum), and prairie dock (Silphium terebinthinaceum). Photo by: Karl Miller.
Before the property was transformed, the land was nearly barren (with the exception of several mature trees) and the soil was in poor condition, creating an inhospitable environment for new plantings. The site also had high-magnesium soil, which led to a selection of plants, both native and non-native, that could thrive under those conditions and co-exist successfully. "Initially, we fractured the soil and then added minerals and amendments for the first several years, which has greatly benefitted the plantings," says Pell.
Surrounding the motor court, Pell also installed rain gardens, which are camouflaged by larger garden plantings. "One of the two rain gardens we had built was holding water, which led to rot in some of the first plantings. To resolve this, we added 2 inches of clean, crushed stone to the top of the garden. The crowns of the plants could then drain more freely, which resulted in significant success with the replacement plantings," he says.
Garage side garden. Plantings include Cherokee sedge (Carex cherokeensis), tussock sedge (Carex stricta), Karl Foerster purple moor grass (Molinia caerulea ssp. arundinacea 'Karl Foerster'), Shenandoah switch grass, Japanese anemone, Bluebird smooth aster (Aster laevis 'Bluebird'), Blue Fortune giant hyssop, Bradury's monarda (Monarda bradburiana), and Letterman's ironweed. Two types of native silphium (S. laciniatum and S. terebinthinaceum) and blazing star (Liatris ligulistylis and L. pycnostachya) were also added to the composition to generate hybridization and add to the long-term viability of the garden. Photo by: Karl Miller.
"Our goals were to create a dynamic landscape with improved ecological services while accommodating the needs of our clients. Plantings were critical in creating an experience of place that is desirable and manageable for hands-on owners," says Pell.
Since its completion in 2018, this stunning and eco-friendly garden redesign has garnered design awards from the Association of Professional Landscape Designers and the Perennial Plant Association
7 WAYS TO CREATE A GARDEN TO EXPLORE
A terrace paved with hand-cut fieldstone overlooks a nearby creek. Photo by: Karl Miller
Several strategies were used on this project to make the garden easier to navigate and to invite exploration. Most are easy to incorporate into your own garden designs.
Use sweeping drifts of plants as wayfinders to help define pathways.
Use taller plants with spiky or globe-shaped flower heads (such as salvia or allium) to draw the eye into the garden from a distance and create tall visual points of interest.
Establish continuity and flow through the use of color. On this project, perennials with blue and purple flowers were used as key unifying elements throughout the various garden beds and borders.
Use similar plants of different heights to create dimension and structural interest, such as combining Japanese forest grass with taller Shenandoah switch grass or feather reed grass (see 18 Types of Ornamental Grasses).
For garden patios and pathways, use hardscaping materials that reflect the surrounding landscape and are in character with the style of your home. The hand-cut salvaged fieldstone used throughout this project is authentic to the period of a colonial-style farmhouse and evoke the materials used in gardens of that era.
To lure visitors to take a stroll, create pathways where the destination is not immediately visible. Installing winding pathways with gentle curves is a great way to keep the destination a mystery and also looks more natural.
Favor the use of native plants that will naturalize and create the experience of walking through a meadow. Native plants will also attract local pollinators and birds, filling the garden with sound and movement.
Landscape Design: Donald Pell Gardens Landscape Design, Phoenixville, Pa.
Photography: Karl Miller
See more Pennsylvania gardens.
RELATED:
How to Create a Meadow Garden
Vegetable Garden Ideas
Backyard Landscaping Ideas
Hamptons Haven: 18th Century Farmstead