Pennsylvania Gardens
Browse stunning gardens in Philadelphia, Harrisburg, Bucks County and more
Gardening in Pennsylvania is a time-honored tradition. Despite challenging winter weather, many people in Pennsylvania chose to make the most of the other seasons by getting out in their gardens. Whether you have a tiny city garden or own a large piece of property in the country, you can create a beautiful outdoor retreat. Take a look at the gardens below to see what is possible.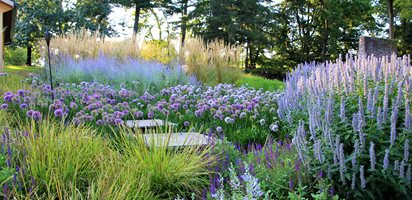 Pennsylvania Farmhouse Garden
An artfully designed composition of native and non-native plantings creates a beautiful orchestration of color and texture.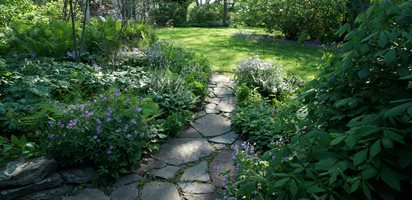 A Sustainable Strolling Garden
Tour Rick Darke and Melinda Zoehrer's 1.5-acre property in Landenberg, Pennsylvania.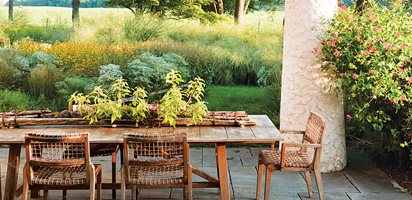 Growing Green in Pennsylvania
A Pennsylvania state representative and his wife wanted to test their theory that sustainability and style can go hand in hand.
The Art of Autumn
A garden in Pennsylvania kicks into high gear with flaming fall colors and tawny grasses that exhibit the season's remarkable changes.
Pasture Perfect: A Wildflower Meadow
Native (and extremely local) plants create stunning wildflower fields in 30 acres in rural Pennsylvania.
My Garden: A Photographer's Dream Homestead
A photographer moves to a new house near Harrisburg, only to discover that it is brimming with plant treasures that she has always coveted.
My Garden: An Affinity for Roses
With the planting bed of her Haverford front yard cleared, Casey Pradelli creates her dream garden, full of roses and inspired by Gertrude Jekyll.
My Garden: Small Garden, Big Interest
Eric Sternfels designed a shade garden in a long narrow space behind his vintage 1840s home in Philadelphia.
A Garden Built for Parties
How a blank space became a generous revelry room; ready, willing, and able to adapt to any festive occasion.
The Gardens of Philadelphia's Rodin Museum
Philadelphia's Rodin Museum just unveiled a massive renovation of its gardens by the landscape firm Olin.
Lessons from Chanticleer
On the grounds of a former estate outside of Philadelphia, a cadre of master gardeners presides over an oasis of earthly delights.
Growing a Kitchen
They set out to remodel the kitchen, and cooked up new gardens along the way.
Garden Shops: Terrain
The folks who gave us Anthropologie and Urban Outfitters open a garden store in Glen Mills, PA.
Ancient Art Form Lives on at Longwood
Each fall Longwood Gardens, located in the heart of Pennsylvania's historic Brandywine Valley, showcases chrysanthemums.
The Barnes Foundation's New Look
The garden at the Barnes Foundation in downtown Philadelphia incorporates varying textures, distinct patches of shade and sun, and the soft framing of a stone edifice.