A Sustainable Strolling Garden
Tour Rick Darke and Melinda Zoehrer's 1.5-acre property in Landenberg, Pennsylvania
For over 40 years, Pennsylvania-based ecologist and horticulturist Rick Darke has been studying and photographing North American plants in diverse habitats. Darke, who refers to his work as "landscape ethics," consults on the ethical constructs, design, and management of public and private landscapes. Here, we tour his 1.5-acre property in Landenberg, Pennsylvania that he shares with his wife Melinda Zoehrer.
As you look through this gallery of photographs of their garden, keep in mind that it is thoroughly sustainable. It is herbicide and pesticide free. Darke and Zoehrer don't rely on others for services; they do everything themselves. It's full of many natives (but the garden is not exclusively native). There is no concrete or mortar anywhere—only dry, laid stone. And, arguably one of the most impressive facts of all: Absolutely no part of this garden is irrigated.
Featured in: Garden Design's Top 9 Garden Trends for 2023 ("Using Natural Materials")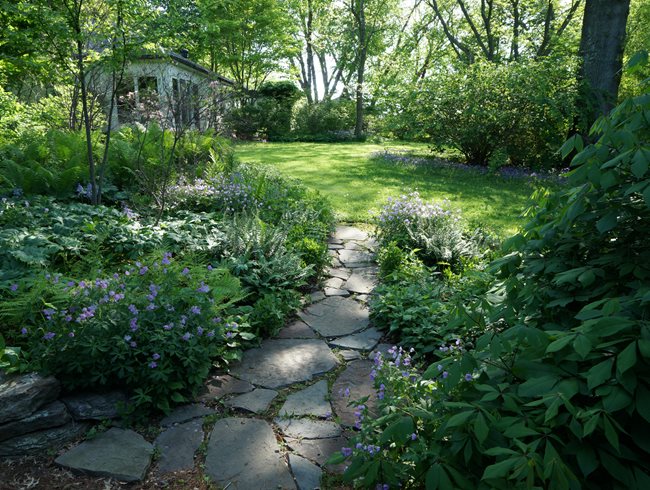 Photo by: Rick Darke.
Above: "Many years ago, landscape architect Bill Frederick told me that there are different types of gardens," Darke says. "Some are for viewing—you're meant to admire them, but don't really go out into them. The type that appealed to me was the idea of a stroll garden. That's what we've created here. We walk twice a day in our garden, and each time we experience something different. It's an extension of our house—we practically live in it."
The stonework, local Pennsylvania bluestone, in this shady spot of the garden "is an invitation to the space from where the photograph is being taken—there's a bench there and it's one of many destinations in the garden," says Rick Darke. Plants surrounding the pathway: woodland geranium (Geranium maculatum), whitewood asters, pink root (Spigelia), many ferns, and azaleas. Darke and Zoehrer's hfeire ouse is in the background. "Those are our large bedroom windows looking out into the garden," Darke says.
Photo by: Rick Darke.
Above: The stone pathway (also shown in the previous image) leads to this sitting destination. Garden strollers can continue along the pine needle path that Darke and Zoehrer maintain. "Whenever our pines drop needles heavily, I harvest about two wheelbarrows full and use them to redo the pathway," Darke says.
Photo by: Rick Darke.
Above: Though the path is not steep, there is just enough of a grade change for water to create erosion over time. "When I redid this space, I worked the ground to be sure the water would spill into the beds," Darke says. "To slow the flow of water and reduce the gradient, I added the step."
Like most elements in the garden, the bench in this spot has a story. "Sometime in the 80s, Longwood decided to replace their solid oak benches in the fountain terrace because they were worn," Darke says. "They made them available to employees for $2, so I bought one. We got 20 years out of that bench. When I redid this space, I found a local craftsman who had access to good white oak, and commissioned him to remake the bench. He used the original bracket on the back of the Longwood bench. This bench has a story. You can't buy it at Smith & Hawken."
Photo by: Rick Darke
Above: If you continue walking along the pine needle path shown in the previous image, you'll reach this moss pathway. Paw paw and beech trees stand among Tiarella, trilliums, goat's beard, and other woodland shade species.
"Moss started growing in as the paw paw and beech trees started creating shade," Darke says. "Melinda noticed that the grass was getting weaker so she hastened the process by weeding it out and letting the moss take over." Just like the rest of their garden, Darke and Zoehrer do not irrigate this area.
In the background, you can see two chairs that are part of a seating area shown in the next image.
Photo by: Rick Darke.
Above: "My wife and I have many sitting places, and each is crafted to provide a different experience," Darke says. The seats face north, and behind them is the woodland area with the moss path. "Placed with paw paws and beeches behind them, this seating area provides shelter and intimacy." Purple splendor alliums (purple/pink blooms) and sky blue theadleaf bluestar (blooms to the right of the alliums) decorate the border. Christmas fern is in the foreground, behind the seats.
Photo by: Rick Darke.
Above: "We call this structure a cabin, but sometimes I joke that it's a glorified garden shed," says Darke. An Amish carpenter built it by hand out of mostly locally sawn wood. "The porch is just deep enough for two people and perhaps a dog," Darke says. "It's the perfect spot to sit and listen to the music of the rain falling on the metal roof."
Darke and Zoehrer constructed the fire circle in front of the cabin with local stone. "A redbud tree blooms in the background. In the foreground to the right is a 120-year-old Erie Railroad tie "that I legally acquired," Darke says. "When it gets wet, the W darkens. When it snows, it becomes a white W."
Photo by: Rick Darke.
Above: This pathway is paved with regional Pennsylvania bluestone. "We selected these pavers because of their remarkable texture," Darke says. "We haven't been able to find more of it since we constructed this pathway."
The bark of river birch (Betula nigra) adds to the stunning texture of the regional Pennsylvania bluestone pathway. "There are at least 150 different species of plants in this photograph," Darke says. Some of the most evident are fothergilla and whitewood aster (right side of pathway), and a mix of Christmas fern and Epimedium (left side of pathway).
At the end of the pathway is a wooden trellis that sits off the back of the house. When in season, the deciduous vines on the trellis, which attract hummingbirds, leaf out and provide Darke and Zoehrer with shade.
Photo by: Rick Darke.
Above: "Five years ago we got this local stone from a quarryman," Darke says. "I chiseled into it to create a water source for birds." This birdbath, which barely requires any water, is about 100 yards out from Darke's home office. "There's just enough vegetation surrounding it for the birds to have refuge." A number of ferns, silverbells, asters, bulbs, and Lobelia are in this area. "This is an example of how with the simplest of mechanisms, and low impact on your budget, you can add functionality in a way that provides for wildlife, conserves, and gives you a source of entertainment," Darke says.
Photo by: Rick Darke.
Above: A locally sourced Pennsylvania bluestone pathway meanders through dense plantings in the front garden.
Darke says that there are probably 75 or more species shown in this densely planted front area of the garden. In the foreground (left) is a Polygonum-a Japanese plant. The fern near it is a very rare Polystichum that is super hardy, upright, and has beautiful texture. On the right in the foreground is an oakleaf hydrangea.
Trees shown in this image: Magnolia virginiana (left), Acer triflorum (dark stems on right); American beeches and black gums in the distance. "This isn't necessarily a themed area, but Asian plant species work together well here in the shade," Darke says.
Photo by: Rick Darke.
Above: This photograph was taken in autumn. It shows the same spot in the front garden shown in the previous image. "We garden primarily for fall," Darke says. "Our region is full of what seems like infinite hues of colors. I can't imagine not celebrating them while you live here."
Photo by: Rick Darke.
Above: Darke and Zoehrer created this garden art that they dubbed Meadow Metropololis. "Meadow Metropolis deliberately evokes a tall New York City skyscraper. The art is made of original vent sash from Longwood's conservatory. "When I was working at Longwood in the 90s, they were doing a restoration, and they replaced these vent sashes (made of hand-sheathed copper over old-growth cedar) with stainless-steel vents." Darke and Zoehrer can see this from their bedroom. "Throughout the day, the light patterns that the glass creates changes," Darke says.
Photo by: Rick Darke.
Above: "I took this image from a helicopter…with my seatbelt securely fastened, of course." Darke says. If you were to fly over existing woodlands near Darke and Zoehrer's home, you'd see similar colors and structures. "While it's not a nativist property, it has a devotion to the signatures of the place."
Photo by: Rick Darke.
Above: A mourning dove perched on a sourwood tree (Oxydendrum arboreum). "This picture was taken from inside of our glass-walled bedroom," Darke says.
Photo by: Rick Darke.
Above: A monarch on Joe pye weed (Eutrochium fistulosum) in Darke and Zoehrer's yard.
RELATED
Pennsylvania Gardens
Native Plants - How & Why to Grow Natives
Eco-Friendly Gardens
See more about Rick Darke.
This content originally accompanied "Ways to Go Wild"—a special section in the Spring 2016 issue of Garden Design magazine—in which 18 experts share tips on how to fill your garden with biodiversity and beauty.