Growing a Kitchen
Renny Reynolds and Jack Staub set out to remodel the kitchen, and cooked up new gardens along the way.
Now, as on the day I first met Renny Reynolds in New York City five years ago (we were writing for the same magazine — Renny on entertaining, I on gardening), he turns every conversation to the farm he shares with Jack Staub. Both men still work in Manhattan — Renny overseeing his three chic floral shops and concocting lavish decorations for galas and weddings, Jack writing plays for Off Broadway between stints as a creative director in advertising — but they seize any chance to flee to their Pennsylvania retreat. On those 72 acres in Bucks County, they indulge their passion for planting and design. Jack jokes about "gilding the lily," because Boxwood Farm was beautiful before they did a thing.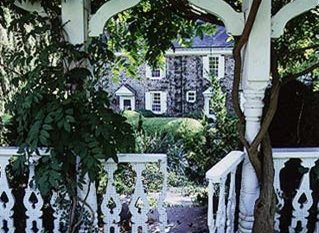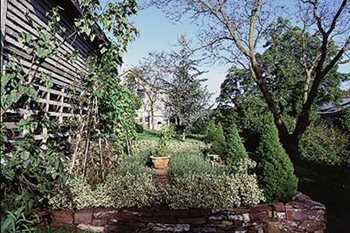 Photo by: Andre Baranowski.
Photo by: Andre Baranowski.
It was in 1980, while hunting for a weekend hideaway, that Renny fell for the 18th-century stone farmhouse, nestled among dogwoods and big, plump mounds of box, which he glimpsed across a rushing stream. "I had to have it," he quietly admits, radiating his love of the place while also recalling the apprehension he felt at the scope of the challenge he'd taken on. Since then, the woods have been cleared of debris and planted with bulbs, native shrubs, flowering trees, and ground covers; ponds have been scooped from the brook; perennial borders and a pool garden have emerged amid former fields. Walks have been cut to spots where Renny finds homes for follies, gazebos, and statues that once figured in his Philadelphia Flower Show displays. "I can't throw anything out," he says.
Photo by: Andre Baranowski.
Photo by: Andre Baranowski.
Meanwhile, inside the house, he and Jack made low-ceilinged rooms cozy with fine old Pennsylvania chests and tables on polished wide-board floors partially covered with flower-strewn hooked rugs. They have scoured local galleries for paintings by Bucks County artists to hang on the wood-and-plaster walls. Around the time I got to know Renny, he and Jack decided they needed more room for cooking. Their kitchen was cramped and dark, with two little eyebrow windows. A discreet addition, which enlarged the kitchen by half, resulted in a long, sunlit room that includes a glorious glassed-in porch full of wicker for sitting and dining among Renny's potted angel-wing begonias and yellow clivias. From another porch, recently inserted beside the kitchen, it's just a few stone steps up to the start of what has become, through Jack's enthusiasm and vision, a series of culinary garden rooms.
"I'm the cook," Jack says stoutly, "and I love to cook out of the garden." Red and blue ribbons he has won for produce entered in the Middletown Grange Fair (he picked up 25 awards last summer) hang on every wall of the kitchen, attesting to the splendor of his harvest. For years he was content with one simple patch, "homely and prosaic with vegetables in rows like little soldiers — a basic, four-bed rectangle with crisscross grass paths and a strawberry pot at the center." Then it gradually occurred to Jack that he could be creating visual treats as well, planting vegetables in dramatic clusters rather than in rows, juxtaposing colors, textures, and shapes. He smiles, recounting how a tepee of vining green and red Malabar spinach became neighbor to a patch of orange 'Turkish Gem' eggplant ("so shiny it looked varnished"). Multihued 'Rainbow' chard contrasted powerfully with "surreal sputniks" of purple kohlrabi, which in turn nestled up to a patch of yellow 'Roc d'Or' beans. "This was starting to be fun!" With at least three successive plantings during the spring and summer, Jack was able to play with different designs. And by planting close together, he could pick every other vegetable for cooking without disturbing the picture.
Photo by: Andre Baranowski.
Photo by: Andre Baranowski.
Outgrowing his one rectangular kitchen garden, Jack began to think about multiple "rooms" of vegetables aligned with various farm sheds and linked by paths. Jack plants and weeds his vegetables and herbs by himself. "I like to work alone," he says. "It's a time for contemplation." But he always consults with Renny about the design and placement of new gardens: "He's the one with the degree in landscape architecture." Chain saw in hand, Renny sees to the pruning and thinning of trees. He also supervises the eight greenhouses where he runs a nursery (Renny: The Perennial Farm) and tends the topiary standards and pots of tender flowers (heliotrope, jasmine, plumbago, abutilon) used to decorate his parties.
Jack's first kitchen garden room took shape out of necessity: Tomatoes were languishing in his original plot, the victims of nearby black walnut trees, which, he discovered, exude a toxin into the soil that stunts tomato growth. Having already framed an herb garden within the stone foundation of a former outbuilding, he set out to solve "The Tomato Problem" — and to balance his landscape scheme — by constructing another garden of the same dimensions, far from any black walnut tree. He surrounded this new rectangle with box, dwarf spruce, and a 6-foot trellis, and centered it on a stone urn. Eventually, of course, his tomatoes will need new soil. What then? "Maybe I'll grow beans in the 'tomato' garden. I love 'Kwintus' bean and asparagus bean: it's a foot long and the palest green."
Photo by: Andre Baranowski.
Photo by: Andre Baranowski.
To provide a home for his exuberant squash, Jack attached another walled plot to the corncrib, in full view of several paths. But after one season's growth convinced him that squash was too unruly a crop for so prominent a site, he replaced it with tepees of ornamental beans and 500 Asiatic lilies. Now, though, the squash were homeless again. Another room was called for, and Jack and Renny knew just the place for it: a lawn sloping up from the house to their "French" garden, a parterre surrounding a miniature Eiffel Tower (found, incongruously, in the Cotswolds) and ringed by rose arbors, which looked cast adrift in the landscape. Jack designed a circular squash garden to mirror, in a less formal way, the geometry of the French garden and to connect it to plantings closer to the house. Now four varieties of squash sprawl in pie-shaped beds, radiating from a tuteur for pole beans. Other beds knit the whole scheme together: crescent-shaped beds and trellises around a poncirus tree, joining the herb garden to the tomato patch, and twin parterres of lavender, sage, and basil, which extend an axial herb garden path.
Enlivening this scene is a no-less-colorful assortment of animals. One white clapboard barn and three sheds adjoining the house shelter Shropshire sheep and an angora goat, chickens, silver and golden pheasants, and strutting white peacocks with long, shimmering trains of feathers. The ponds are alive with black swans and exotically marked ducks. Geese are everywhere, waddling down garden paths and periodically being chased out of the swimming pool by Bob Ritchie, Boxwood Farm's manager. Peaceably surveying and enjoying the ruckus are Renny and Jack's dogs, Casper and Gracie, both adopted from the ASPCA. Most of the farm animals and birds also have proper names, a reassuring sign that they are not destined to end up with Jack's vegetables in a stew pot or roasting pan.
Photo by: Andre Baranowski.
Photo by: Andre Baranowski.
Throughout the house, sketches of dogs and other animal images add to the charm of the furnishings. Gardening, however, is an ever-more dominant theme. "All we do is garden," Jack confesses. "We rarely even invite guests in the summer, since we're out in the garden from morning till night." He and Renny have created a foundation to preserve their property and to make it available to the public as a garden and horticultural study center. "That's our legacy," says Jack. "After all, we don't have any children." Since this past winter, he has been cataloging their collection of some 2,000 garden books, housed in a restored barn now designated as the library. The erstwhile hayloft holds computers and an enormous television.
Video as well as vegetables may provide the next segment in the partners' lives. Plans are afoot for a TV series with Renny sharing his knowledge of entertaining, Jack of cooking, and the two together projecting their infectious enthusiasm for gardens and life on the farm.
See more Pennsylvania gardens.
RELATED:
Growing Tomatoes