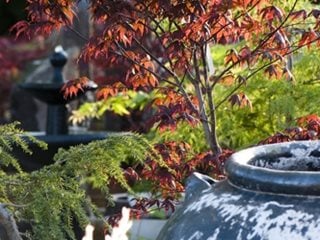 The folks who gave us the fashion oases of Anthropologie and Urban Outfitters have done it again. With the opening in April of Terrain, a new home, garden and lifestyle store, they have launched a new signature shopping experience - this time mixing and matching the horticultural world with high fashion for the outdoor room. It's a concept whose time has come.
Set on the site of a 118-year-old horticultural treasure trove called Styer's in Glen Mills, Pennsylvania, and within driving distance of Urban Outfitters' Philadelphia corporate headquarters, Terrain continues the Styer's tradition with the restoration of its historic mushroom hut and maintaining the services of its well-trained staff, while infusing the atmosphere with Terrain's design savvy and style. Already it has become a destination, as well as the newest addition to a well-trodden garden corridor that includes Winterthur, Chanticleer and Longwood Gardens.
Terrain at Styer's may be a store, but it looks like and acts like a village with a multitude of components to explore at will. Walk through a conservatory piled high with exotic plants and modern and rustic garden pavilions packed with outdoor and indoor living enticements: architectural elements from India, limestone troughs from Turkey, an oversize birdhouse of Portuguese á cork, Moroccan chandeliers and cut flowers displayed French-flower-stall style. Outside, as you choose from 3 acres of plants, make your way past pocket gardens done up in the latest must-haves, birdbaths modeled on pedestals and chic garden furnishings laid out patio-style on a deck. In between, stop by the café and find one of the best places in the area to eat a local, farm-fresh breakfast or catch up with the girls at lunch.
Sewing the traditional into a global, green style, Terrain has already proved its horticultural mettle when its design team swept a grab bag of awards at the 2008 Philadelphia Flower Show. May it be fruitful and multiply. The company hopes to open one or two more locations in 2009, and it expects a measured expansion to flower across the American landscape within the next several years. For more information call 610-459-2400 or see shopterrain.com.
See more Pennsylvania gardens.