The Barnes Foundation's New Look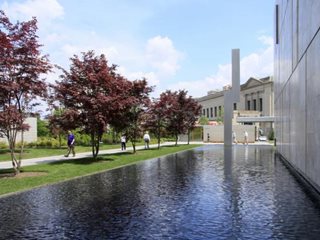 Esteemed landscape architect Laurie Olin, whose studio creates outdoor spaces throughout the world, has done some of his finest work in his home base of Philadelphia. His latest at-home project is the garden at the "new" Barnes Foundation, an art and horticulture institution that was recently moved from its original property in Merion, PA to its current site in downtown Philadelphia. I wondered: Would it be a compact version of the twelve-acre arboretum at the original property, or its own fresh expression of urban landscaping. On a recent sunny day I wandered through the Barnes Foundation to find some answers.
Olin's gardens incorporates varying textures, distinct patches of shade and sun, and the soft framing of a stone edifice which Laura Barnes, wife of the great collector/founder Dr. Albert Barnes, used in her 1940 design of the Merion grounds. A walkway lined with London Plane trees, horse chestnuts, and eye-popping red Japanese maples gently guides the visitor from the parkway curb to the entrance. On the way, you pass the long sleek horizontal water table and the sleek stainless steel Barnes Totem by Ellsworth Kelly.
Much of the landscape texture comes from vertical and horizontal juxtaposition. Climbing hydrangea, Japanese climbing hydrangea, virgin's bower clematis, Boston ivy and half dozen others are taking hold of trellising and architectural concrete walls. Arborvitae hides no-nonsense fences. It all blends down into closely planted beds of hostas and annuals (more will fill in some blanks) and small aprons of lawn.
The terrace garden connects visually with the neighboring Rodin Museum and its gardens. And, yes, there is literally a garden within the Barnes—a glass box, open to the sky three stories above, crammed with woody ferns, gingko and sweetgum trees. And when winter comes, winter jasmin will brighten things when cold weather arrives.
See more Pennsylvania gardens.