Edibles at the Atlanta Botanical Garden
Responding to its constituents' obsession with local and sustainable food, the Atlanta Botanical Garden transformed a former parking lot into an edible garden with cutting-edge style
Kevin Gillespie stoops in the cool of the evening to gently pull back the brilliant burgundy leaves of red beets, then bares an aha grin as his tattooed arms unearth a key ingredient for a favorite recipe he's about to prepare. The executive chef and co-owner at Atlanta's Woodfire Grill who was a finalist and the "fan favorite" in Bravo TV's Top Chef competition, Gillespie couldn't resist an invitation to harvest a sampling of fresh vegetables, fruits, herbs and edible flowers in the new Edible Garden at the Atlanta Botanical Garden, then cook up a lesson for guests gathered in its outdoor kitchen.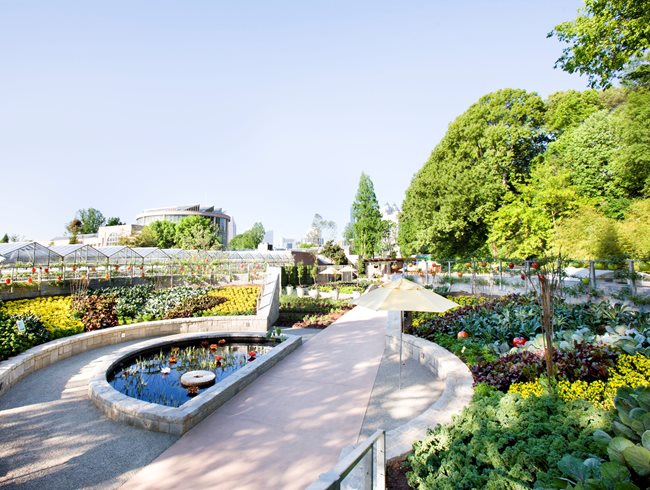 The new Edible Garden is designed in a series of three crop circle-inspired garden rooms that emphasize vertical gardening. Photo by: Erica George Dines.

SEE MORE PHOTOS OF THIS GARDEN.
After all, this kitchen is a mad scientist's culinary lab where some of the region's most acclaimed chefs will regularly demonstrate to garden visitors how they can prepare healthy meals using fresh ingredients plucked just a few steps from their cooktops. The half-dozen guests gathered, just days before the garden's May opening, hang on the charismatic Gillespie's every word as he prepares a dish of farro, bok choy and pureed beets along with a colorful pansy-garnished spring salad while explaining why he's participating in this event. "If you can get people excited, visually, about fresh vegetables, then you can get them excited about growing their own food," he says. "This place certainly does that."
The aim of the new Edible Garden is to not only demonstrate healthy choices and sustainable design, but also to prove to visitors that vegetables and herbs also make pretty landscape plants. The garden will boast bountiful vegetables 365 days a year, from red beets and orange cauliflower in late winter and spring to purple beans and burgundy okra in summer to a kaleidoscope of apples, pears, figs, raspberries and muscadines in fall. "Edible gardens are the next wave of what's becoming popular in gardening across the United States," says Mary Pat Matheson, the garden's executive director, known for her innovative leadership in creating programs that keep visitors returning to the garden. "It doesn't hurt that first lady Michelle Obama has moved the idea of growing our own food to the forefront."
The first garden room in the Edible Garden is dubbed the Vegetable Amphitheatre where seasonal crops mixed with flowering annuals and herbs are showcased. Photo by: Erica George Dines.

SEE MORE PHOTOS OF THIS GARDEN.
The $2 million project transformed a former ABG parking lot, in the heart of Atlanta's Midtown, into green space and enhances a city that's becoming a leader in the nation's local-food movement. The one-acre garden—primarily designed by Tres Fromme of Dallas-based MESA design firm—comprises three main components: vertical gardening, crop-circle-like plantings and an outdoor kitchen that becomes a stage for engaging programming that also includes lessons on wine-and-food pairings.
At the garden's entrance is an orchard of crabapples underplanted with grasses, perennials and bulbs. Turn a corner and step into the first of a trio of crop-circle-inspired designs. The "vegetable amphitheater"—named for the way the raised, sloped beds extend upward from the central walkway to a top row of "seats" that are espaliered fruit trees—is patterned in spring with red mustard, bright-green lettuce and yellow violas. The next similarly planted circle is bordered by a 55-foot-long curved herb wall brimming with more than 2,000 mostly edible plants, from sage and lemon thyme to rosemary and lavender. The final circle is the outdoor kitchen pavilion, where hanging baskets planted with tomatoes, herbs and flowers are all within reach of the visiting chefs.
Chef Kevin Gillespie of Woodfire Grill collects herbs for a cooking demo. Photo by: Erica George Dines.

SEE MORE PHOTOS OF THIS GARDEN.
"This new Edible Garden is the perfect inspiration for cooking fresh and local," says Mary Moore, CEO of the Cook's Warehouse, an Atlanta gourmet store and popular cooking school. "Visitors get to see and taste firsthand how delicious it is to pick fruit, herbs and vegetables right out of the garden and turn them into fantastic dishes. It's the perfect place to learn the concept of 'from seed to plate.'"
Perhaps that's why Chef Gillespie finds himself with a captive audience on this day in the garden. It's not all about the celebrity but about the magic of the soil as well.