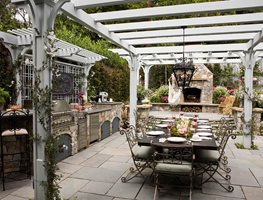 Expert advice on planning and designing an outdoor cooking space.
The ancient design of outdoor ovens fires a passion for fresh-baked pizza—here's everything you need to know about installing a pizza oven in your outdoor kitchen. Add one to your garden and you'll never get delivery again. "I think of pizza as just a starting point now," says one pizza oven owner—read on to see what else he cooks in his outdoor oven.
Ideas for designing, building and equipping the outdoor kitchen of your dreams
Raymond Jungles' Rooftop Outdoor Kitchen
Raymond Jungles designed this outdoor kitchen in a Coconut Grove, Florida, rooftop garden so that the owner could entertain guests and stay connected to her indoor kitchen below. Click here to read the full story.
Landscape architect Christopher Yates makes a small space behind this San Francisco townhouse go a long way