Slice of Heaven: Pizza Ovens
The ancient design of outdoor ovens fires a passion for fresh-baked pizza—here's everything you need to know about installing a pizza oven in your outdoor kitchen. Add one to your garden and you'll never get delivery again.
The 20 minutes it takes to cook a pizza in a regular oven might not seem like much of a wait, but it will feel like an eternity once you have the opportunity to flash cook a pie in an old-fashioned, wood-fired pizza oven. A Neapolitan-style pizza bakes to perfection in just less than three minutes in the traditional dome-shaped chamber, and the experience of pulling one, bubbling and crisp, from the oven is positively addictive.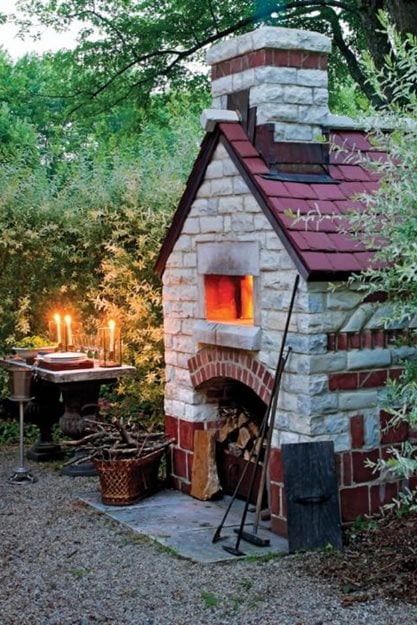 Design by Mark Mendel and Monterey Masonry. Photo by: Rob Cardillo.
Fast delivery time is just one of the benefits of having an outdoor kitchen equipped with one of these fire-breathing beauties. Pizza ovens are incredibly versatile cooking tools that can be used to make bread with spectacularly crunchy crusts, perfectly roasted cuts of meat, delicious smoky vegetables, and much more. They can also be gorgeous additions to an outdoor environment, providing a strong visual centerpiece for an alfresco kitchen as well as a natural gathering place on chilly nights.
It's no coincidence that the basic shape of today's pizza ovens has changed little since ancient times. In fact, the long-buried ovens uncovered beneath volcanic ash in the city of Pompeii, Italy, just outside of Naples (where pizza as we know it was born), are instantly recognizable as the forebears of what a modern-day homeowner might install on the patio. The construction and dimensions of this type of oven helps cook a pizza quickly (see "Ring of Fire: The Thermodynamics of Good Pizza,") so the crust does not dry out and become crackery or tough. The high temperatures generated by the fire—and the heat retained in the hearthstone—creates what bakers call "oven spring," when gasses expand in the dough and give rise to the puffy, slightly charred, blistery crust characteristic of Neapolitan pizza. It makes for crisp, satisfyingly chewy pizza tinged with a subtle smoky flavor. At the same time, the dome shape concentrates heat above the pizza, ensuring that toppings cook just as quickly as the crust.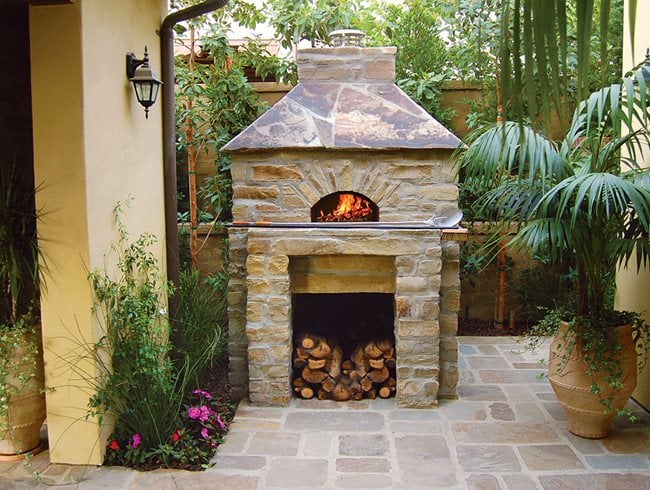 While the interior of a pizza oven must be built to exact specifications, the outside can be shaped and faced entirely at the owner's whimsy. Photo courtesy of Mugnaini.
But where those ancient ovens were painstakingly built brick by brick or stone by stone, most modern residential pizza ovens are made from a core consisting of precast components that can be assembled in as little as six hours. The exterior design is entirely up to the homeowner (see photos on opposite page), and ovens can be incorporated into an existing outdoor kitchen or built as a free-standing structure. The ease of assembling oven kits makes them a popular project for hands-on homeowners (there is a small, passionate DIY community that makes ovens from scratch), but most people hire a designer and an experienced mason.
Once you've convinced yourself—and, perhaps more importantly, whoever you share your home with—that you need a wood oven, the first thing you should do is assess your garden space and cooking habits. "It's good to buy as big an oven as you comfortably have space for," says Anna Carpenter of Los Angeles Ovenworks, a California-based oven importer. "The installation cost increases minimally the larger you go." And bigger ovens accommodate more pies and can be used to cook a wider variety of foods.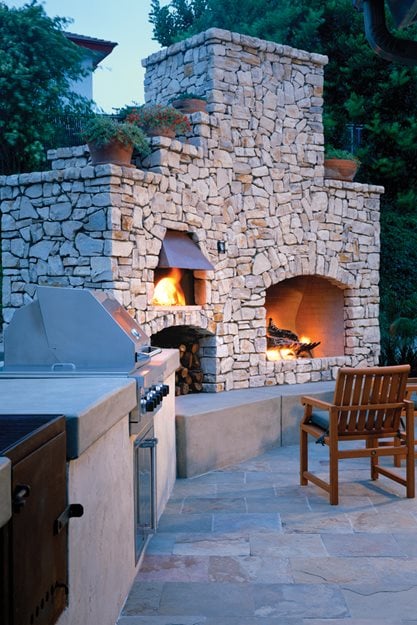 Photo courtesy of Earthstone.
A typical oven consists of a base, often made of brick or metal, which elevates the oven to a working height of about 4 feet. You can face the base with any type of decorative element, so matching an existing decor is not an issue. Ovens need at least 4 or 5 feet of clearance in front to accommodate pizza peels, those long metal or wood shovel-like tools used to place a pizza in the oven and to turn it so it cooks evenly. Those who have patio space to spare may wish to install a marble work surface on one or both sides of the oven to use for stretching dough and assembling pizzas. "If I did it all over again, I'd allow myself space for a little sink," says Nick Gladdis, a pizza enthusiast who built an oven with his wife, Robin, on their 10-acre olive farm in Paso Robles, California. Their workspace includes a gas grill they use to prep side dishes like grilled vegetables and meat and to warm other food. Their experience also highlights what many oven owners soon come to realize.
"Though we originally installed it to make pizza, I think of pizza as just a starting point now," Gladdis says. "After I'm done with the pizza, I'll put shortribs into a Le Creuset pot and let them cook overnight." It's a great way to make use of the residual heat the bricks hold. "I've been working with cazuelas, Spanish glazed pottery, to make gratins or braised vegetables," he says.
Another appeal is that pizza is the ultimate shared meal. "The oven is great for cooking, of course, but it's really a social instrument for us," Gladdis says. "It offers a chance for us to sit and relax with friends."
Adam Kuban is the founder of Slice, a website about pizza. He lives in Queens, New York.