Entertaining With Film Director R.J. Cutler
Lory Johansson uses an Earthstone outdoor pizza oven as the centerpiece of this Spanish-revival-inspired outdoor space.
It was an outdoor pizza oven at a friend's house that inspired Oscar-nominated film director R.J. Cutler to add one of his own to the garden behind his 1920s Spanish Colonial revival house in the Hollywood Hills. He commissioned Lory Johansson — of Just Joh, a Los Angeles-based design studio — who had already handled the home's interior renovations. Johansson has designed outdoor areas for Richard Branson's exclusive Necker Island in the Caribbean, but this was her first outdoor project for a private space. She took a 20-by-30-foot former parking area along the street and transformed it into an outdoor dining area, complete with an L-shaped kitchen, dining pavilion and bar area, all enclosed by a stucco wall painted terra cotta red to match the house's roof tiles. The centerpiece is a 16-foot-long trestle table made from Indonesian teak with long, wood benches that seat up to 20, anchored by a cozy fireplace. A metal arbor and Roman shade overhead along with giant Burmese honeysuckle (Lonicera hildebrandiana) in pots complete the area's Spanish-Colonial look. The kitchen fits well with the rest of Cutler's lush garden, which features a strolling lawn for badminton and croquet, a secret garden with a koi pond and a swimming pool surrounded by potted lime and lemon plants.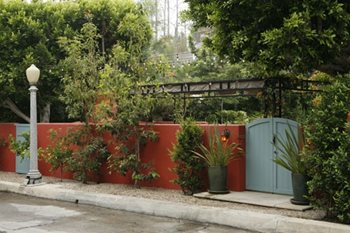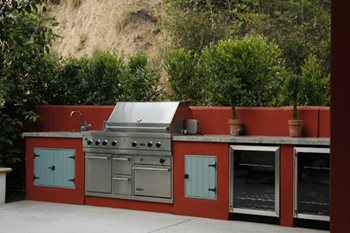 In the Hollywood Hills, the entrance to the garden of director R.J. Cutler, whose documentary film The September Issue won a 2009 Sundance Film Festival award. Seen just above the wall is the pavilion over the dining terrace. Terra cotta and teal are colors repeated inside the garden. Photo by: Jack Coyier.
Cutler asked designer Lory Johansson to create an outdoor kitchen area; she had previously renovated his indoor kitchen as well. Just steps away from the back door of the house, Cutler now has a Viking grill, side burner and rotisserie, two refrigerators and a pizza oven. Photo by: Jack Coyier.
Q: What were your client's objectives?
A: R.J. had gone to a friend's party in Venice and came back and said: "Hey! I want an outdoor pizza oven." We had been talking about expanding the garden to include a dining area where the parking area was. He was fine to give up that additional parking and capture that space as an outdoor kitchen. We designed the kitchen so he could interact with all the people sitting in the outdoor living room, which is adjacent to the cooking area. He lights the pizza oven almost every Sunday so while he's cooking, he can visit and interact with guests.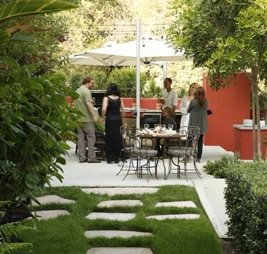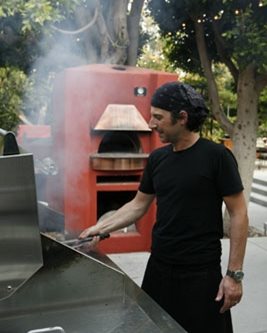 Cutler (in green shirt) enjoys cooking and frequently invites friends over for an evening of dining, drinks and industry gossip. Photo by: Jack Coyier.
The inspiration for the outdoor kitchen was initially a pizza oven that Cutler had seen at a friend's house. Now he has his own, seen in the background. In the foreground, friend and chef Alberto Lazzarino mans the grill. Photo by: Jack Coyier.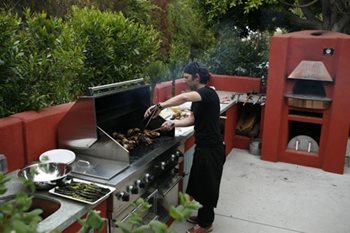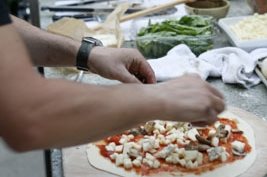 View of the entire outdoor kitchen in full use. Photo by: Jack Coyier.
Chef Lazzarino puts the finishing touches on a gourmet pizza. Photo by: Jack Coyier.
Q: What are the kitchen's main features?
A: The kitchen has a very strong connection to the house and outdoor living room. The main feature is the custom-designed EarthStone pizza oven. We bought it already made, and it looks almost like an igloo made out of cinderblocks. We chose to dress it with a smooth finish plaster and make it appear as if it were growing out of the wall.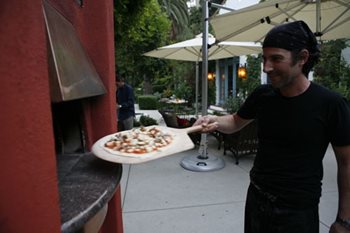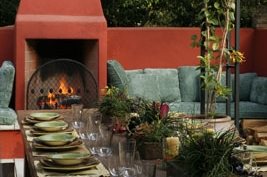 Into the oven! Photo by: Jack Coyier.
A 16-foot-long trestle table made from reclaimed Indonesian teak is set and ready for dinner guests, a fire already blazing in the outdoor fireplace to take away the evening chill. Photo by: Jack Coyier.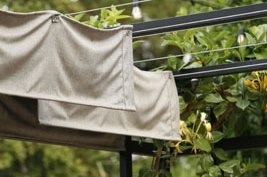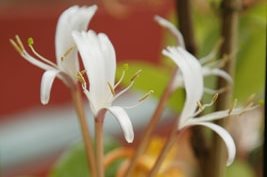 Over the dining area a pavilion was fitted with a retractable awning, created by designer Lory Johansson, to shade the area by day but reveal the star-studded sky at night. Photo by: Jack Coyier.
Climbing up the main supports of the pavilion is giant Burmese honeysuckle (Lonicera hildebrandiana). Photo by: Jack Coyier.
Q: Were there any issues/factors that helped inform the placement of the kitchen?
A: We wanted it to be close to the main house kitchen and butler's pantry (which guest chefs can use). We were fortunate that the prevailing wind comes from the swimming pool side, so all of the pizza-oven smoke goes away from the yard.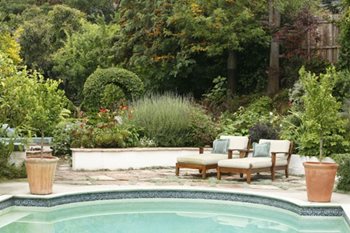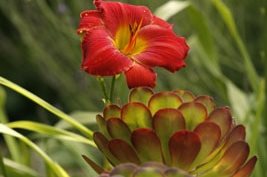 The landscape for Cutler's home was designed by Scott Daigre of Powerplant Garden Design. At the far end of the swimming pool he created a cozy seating area complete with a fire pit, surrounded by lush plantings. Photo by: Jack Coyier.
Screening the fire-pit conversation area are semiwild borders of perennials, succulents, ferns and shrubs, including daylilies and Aeonium. Photo by: Jack Coyier.
Q: Were there any challenges with space or installation? If so, how did you solve them?
A: The house is located on a really narrow street, so we needed a crane to lift the pizza oven over the existing wall. We had already prepared the foundation so it could just be dropped into place. Miraculous!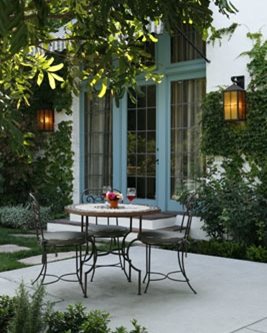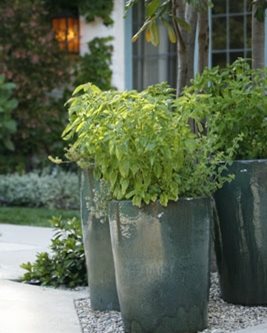 An intimate dining area between the house and pool. Photo by: Jack Coyier.
Containers of herbs come in handy for cooking, and look chic in their glazed containers. Photo by: Jack Coyier.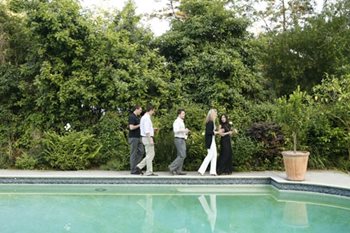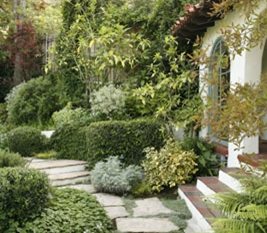 The swimming pool connects the dining terrace with the garden. Photo by: Jack Coyier.
Flanking a flagstone path, plantings emphasize foliage and texture. Photo by: Jack Coyier.
Q: Which brands of appliances did you use?
A: EarthStone pizza oven, Viking gas grill, two Sub-Zero glass-door refrigerators, Blanco stainless-steel sink with faucet, and a garbage disposal.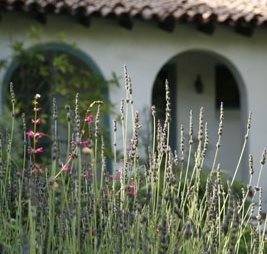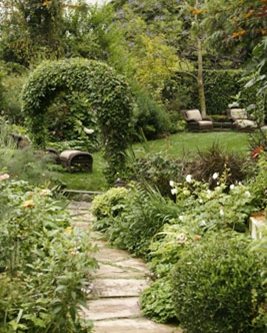 Mediterranean plants like lavender complement the architecture of Cutler's historic 1920s house. Photo by: Jack Coyier.
A vine-covered arbor leads to a strolling lawn. Photo by: Jack Coyier.
Q: How does the outdoor kitchen relate to the overall garden and house?
A: We painted the walls to match the roof tiles, and all of the handmade, teal cushions that line the banquette match the trim of the house. We took details from the existing walls on the property and used them to inform the design of all the new, red walls. We also used concrete with an exposed aggregate and a warm, not a cold gray color, to match the garden's old concrete. That was a really nice touch.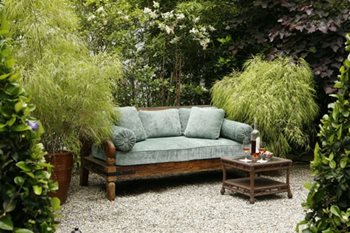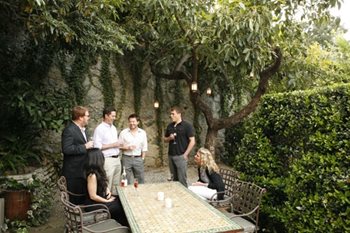 A Balinese settee is nestled into the "secret garden" part of the landscape. Photo by: Jack Coyier.
R.J. Cutler (in black suit) chats with guests around a mosaic-topped iron dining table beneath an old avocado tree. Photo by: Jack Coyier.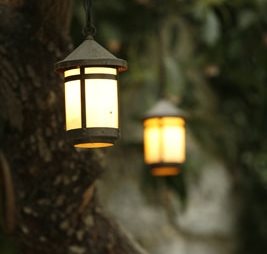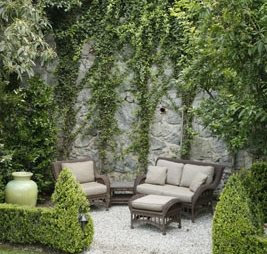 Lights hang from the avocado tree, limbed up as part canopy, part sculptural element. Photo by: Jack Coyier.
A seating niche beside a stone retaining wall original to the property. Photo by: Jack Coyier.
Q: Were there any other furnishings/décor used to complete the space?
A: Shadescape umbrellas, a teak plank dining table from Indonesia with bench seats, and a banquette built into the new stucco wall. An herb garden beneath the patio tree was planted for grilling spices, and we planted mint for mojitos in two spots flanking the staircase that goes into the house. The countertops are granite and were installed with overhead string lights and Task lighting.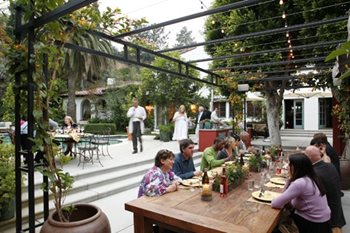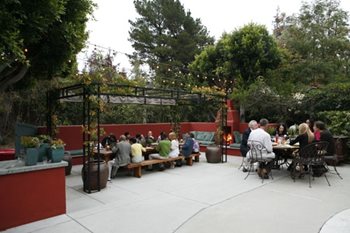 View from the dining area toward the main house, the party in full swing. Photo by: Jack Coyier.
Sometimes Cutler's gatherings make use of every table. Photo by: Jack Coyier.
For more information on Lory Johansson's work, visit justjoh.com.