A Custom Built-In Barbecue
Working on the small backyard of a Victorian town house in San Francisco's Noe Valley neighborhood, landscape architect Christopher Yates created a minimalist space complete with a dining area and built-in barbecue. The custom COR-TEN-steel barbecue shelf was mounted on a concrete wall, beside an herb planter and above an ipe-wood deck. A small amount of color added to the paving gives the space a slightly warmer tone, and low-maintenance, drought-tolerant succulents, grasses and restios surround the dining area.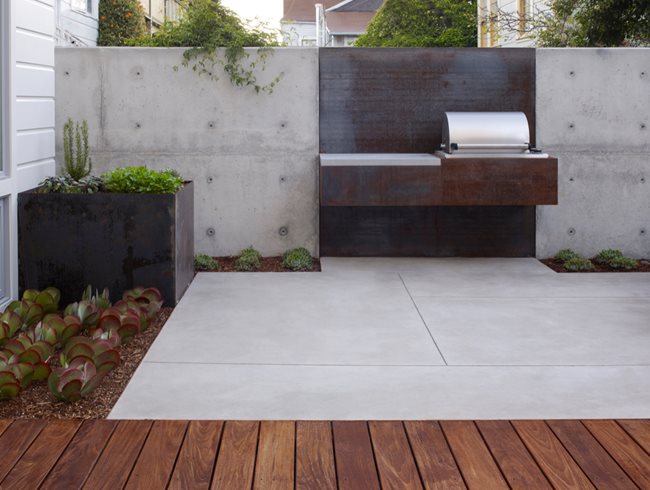 The Custom CORTEN-steel barbeque is cast into the concrete wall. Photo by: Marion Brenner.

SEE MORE PHOTOS OF THIS GARDEN
Q: What were your clients' objectives?
A: They wanted a minimalist garden that nevertheless met their living and entertaining needs: a dining area large enough for six to eight people, a built-in barbecue, a solid barrier wall on the property line, a play area and sandbox for their newborn baby, and a terrace for the guest cottage.
A close-up of the barbeque, with inset custom concrete countertop.
Learn more about how concrete countertops are made. Photo by: Marion Brenner.

SEE MORE PHOTOS OF THIS GARDEN
Q: What are the kitchen's main features?
A: The 'kitchen' is really just a built-in barbecue — it is essentially a COR-TEN-steel box that is mounted on the concrete wall at the property line, with a custom concrete countertop and a stainless-steel countertop barbecue. Of course, there is also the adjacent dining space.
Q: Where is the barbecue placed within the context of the garden?
A: It's centrally located — designed to be close to the kitchen in the main house and just off-center from the outdoor dining table.
A view of the garden from an upper balcony. Photo by: Marion Brenner.

SEE MORE PHOTOS OF THIS GARDEN
Q: Were there any challenges with space or installation? If so, how did you solve them?
A: This is a very small garden, and space was extremely tight. The challenge was to make the space feel larger than its actual size and still meet the client's goals. Thus, the barbecue was designed as a cantilevered unit that required minimal space (only 2 feet deep), and with the 2-foot-wide planter on either side of the barbecue, the unit floats above the planter.
Q: What brand of appliances did you use?
A: We used the 30-inch Fire Magic Deluxe Countertop Grille, as this was the only manufacturer we could find with a countertop unit that would fit our application.
Q: Were there any additional elements that you customized or retrofitted to work for this outdoor kitchen design?
A: We placed a custom COR-TEN-steel herb planter adjacent to the barbecue; it's designed for ease of access while cooking.
For more information on Christopher Yates' work, visit christopheryatesdesign.com.