The centuries-old patio at the Barcelona, Spain, apartment of economist Peter Fehlbaum and his family strikes an exquisite balance—classic architectural bones, modernist touches, and a healthy dose of quirk. Fehlbaum's playful sense of humor—he describes his style as "jive"—and his impeccable taste combine to form an area ripe for outdoor entertaining.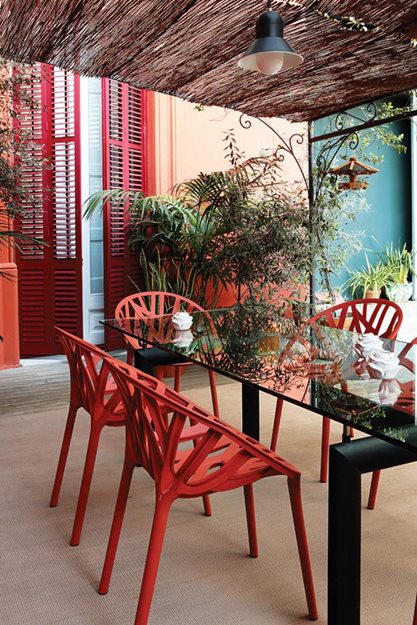 Photo by: Costas Picadas/Gap Interior Images LTD.
Working within its modest dimensions—about 850 square feet—and existing plan, Fehlbaum chose the same dark green used in the home's indoor hallway to adorn the sitting area wall, seamlessly connecting the interior living space with the exterior as well as delineating a space for reclining and relaxing (as opposed to the socializing-focused dining area). The green and red hues used throughout, a combination that can often feel garish and holidayesque, here makes an artful, subtle duo. A Le Corbusier dining table and red Maarten van Severen chaise lounge elegantly anchor and update the traditional Mediterranean design, while the plants—an array of potted specimens including fig, tangerine, lemon, olive, and pomegranate trees in addition to hibiscus and vines—stay true to the area's native climate. But it's the one-of-a-kind details that truly breathe life into the patio. Intricately patterned tile floors are original to the home; wall-mounted taxidermy, found in Saintes Maries de la Mer, France, pays homage to Fehlbaum's love of ornithology. The resulting mélange of styles and objects is comfortable and fun—just as outdoor living should be.
The red minimalist MVS chaise, designed by Belgian Maarten van Severen for Vitra in 2000, stands out against the dark walls of the sitting area. Photo by: Costas Picadas/Gap Interior Images LTD.
Get This Look
1. Studio Green No. 93: Farrow & Ball's dark green paint in an exterior eggshell finish, with just a hint of black, adds elegance and a feeling of welcome to an outdoor (or indoor) space. ($110; Farrow & Ball)
2. Vegetal Chair: French design duo/brothers Rowan and Erwan Bouroullec, inspired by the organic shapes of plants, created this dyed-through polyamide chair for Vitra. ($750; Lumens)
3. Reed Fence: Natural reed fencing doubles as an attractive, easygoing pergola topper, perfect for blocking out the sun, growing vines, and adding an earthy accent to a patio. (from $60; Gardeners)
The beauty of Peter Fehlbaum's patio lies in its mix of high-design furniture pieces and whimsical, personal touches.
4. Industrial Pendant: West Elm's industrial hanging light brings a chicly modern, streamlined vibe to an outdoor oasis. (from $19; West Elm)
5. Domed Parrots: A long, oval cloche encases two species of parrot, Melopsittacus undulatus and Forpus coelestis, presented against a hand-painted outdoor scene - a unique, quirky accessory and souvenir of the natural world. ($1,495; The Evolution Store)
6. Dazzle Tile: Mosaic House's striking Dazzle line, imprinted with eight-point stars framed by undulating lines, introduces pattern and color, instantly brightening a space from the ground up. ($163 per square foot; Mosaichse)