Garrett Eckbo's Midcentury Style
Garrett Eckbo, midcentury Southern California's golden boy of landscape architecture, was known for his then-revolutionary mantra: "Gardens are places in which people live out of doors." That idea has, of course, spread throughout the world—yet one of the best examples of that philosophy has been hidden from the world until just recently.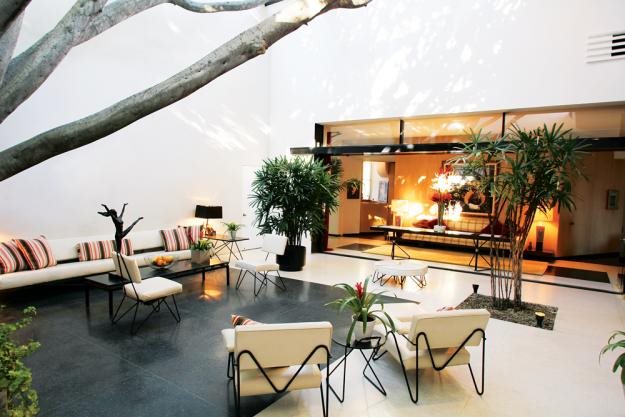 Garrett Eckbo's designs integrate indoor and outdoor living, providing "maximum pleasure with limited maintenance," says Charles A. Birnbaum, president of the Cultural Landscape Foundation. Photo by: Kirk McKoy, © 2010, Los Angeles Times.
In 2010, the Brody house in Holmby Hills, Los Angeles, came on the market for $24.95 million. For the first time, images of the 11,511-square-foot house on 2.3 acres of landscaped property were made public, giving people a glimpse into one of Eckbo's best—and one of few still intact—residential projects.
The house had been commissioned by art-minded philanthropists Sidney and Frances Brody in 1949. The Brodys turned to an all-star team of architect A. Quincy Jones and interior designer William "Billy" Haines and selected Eckbo himself a lover of the arts and greatly influenced by modern painting and sculpture—for the grounds.
But there would be no "grounds" in this collaboration. The Brody house is a successful example of architect, interior designer, and landscape architect working together toward a singular vision, and the landscape was no afterthought. It was developed alongside the structure and the interior spaces, blurring lines between outdoor and indoor living. In this shot of the courtyard living room/garden, sliding glass doors seamlessly open the house to the outdoors and to inner courtyards. Eckbo's idea that "design is the process which generates complete and convincing forms and relations in response to human demands" makes life here in an outdoor space as inviting and organized—and as easy to maintain—as an interior room.
Instill your outdoor space with a touch of midcentury style à la Garrett Eckbo with these elegant accents. (From top left, clockwise.)
Get This Look