Modern Modes
Nature does the talking in three contemporary gardens in Santa Fe, Palo Alto and Vancouver
Twenty-first century contemporary landscape design has a few commandments: There will be drama and tension, straight lines and right angles, restrained planting and innovative use of materials and, of course, killer furniture. But add the design challenges posed by differing regions of North America? That's where it gets interesting.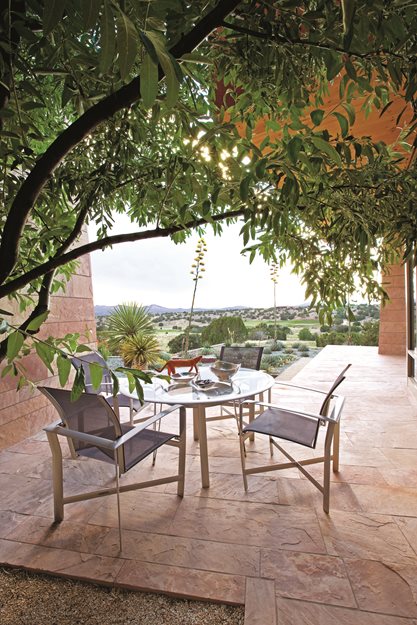 Sleek custom-made Brown Jordan furniture under a stand of Russian olive trees (Elaeagnus angustifolia) invites lingering. Photo by: Steve Gunther.
In the high desert of Santa Fe, New Mexico, designer Edith Katz of Laboratory of Landscape Architecture creates dazzling gardens that not only thrive in the region's often-harsh weather, but also hold their own against the sheer vastness of the natural landscape. Success here requires a certain philosophical viewpoint.
"I'm a contextualist," says Katz. "In this landscape, for instance, there's a golf course in the foreground and the near-infinite terrain of the foothills in the midview and distance. Rather than try and make these strong elements go away, I consciously chose instead to relate them to the garden, using them as reference points in our design."
This view just off the patio clearly shows how the carefully placed plants mirror the natural landscape of the sweeping foothills beyond. A xeriscape plant palette of soaptree yucca (Yucca elata) and santolina, wooly thyme and red hot poker is set in a bed of crushed local stone, inset with beds of crushed red lava rock. Photo by: Steve Gunther.
A perfect example of this precept is the garden on the west terrace, where close examination reveals elements slyly mirroring the loopy shapes of the golf course just beyond it. Like the late landscape designer Roberto Burle Marx, of whom she's an admirer, Katz here created distinct painterly patterns on the ground plane with the minimal plantings acting as counterpoints.
At the front of the house, an aluminum-edged interpretation of a modern parterre composed of native and exotic plants in an undulating ground plane pattern of different colors and textures of crushed stone and lava rock is a romantic element that provides color year round. The reflecting pool surrounding the soaring glass walls of the atrium was created to showcase the remarkable Dale Chihuly chandelierlike sculpture suspended inside.
Fire meets water with a Dale Chihuly chandelier suspended over an indoor reflecting pool at this Santa Fe garden designed by Edith Katz. The shallow basin continues outside, wrapping the atrium for a magical effect. Guests pass the artful installation of crushed gravel planted with Hesperaloe and sage on their way to the front door edged in a red metal frame the color of a high-desert sunset. Photo by: Steve Gunther.
"A Western landscape with its interplay of light and shadow is unlike anywhere else. Wallace Stegner said it best when describing this region: 'You have to get over the color green; you have to quit associating beauty with gardens and lawns; you have to get used to an inhuman scale.' For me, that's meant learning the value of restraint."
Restraint is a theme (though on a way-different scale) in Palo Alto, California, where tight urban lots and the midcentury modern esthetic of homes designed by Joseph Eichler requires unsentimental editing in the landscape. Eichler, a visionary developer from the late '40s through the early '70s, built some 2,700 of these clean, sleek houses in Palo Alto — more than anywhere in the United States. When the architecture is this compelling, how then to create a strong landscape that complements but doesn't overwhelm the residence?
"You have to fight fire with fire," says landscape architect Bernard Trainor, whose firm specializes in these historic properties. "When the man-made elements are this powerful, each feature in the landscape must have its own strength."
A recently renovated Joseph Eichler house in Palo Alto offers views of this garden, designed by Bernard Trainor, from every room, including the master suite seen here. The black screen behind the dining terrace is a nod to Japanese garden design. Photo by: Jason Liske/Redwood Design.
Look no further than Trainor's design for a Palo Alto client, where a long run of concrete block wall on one side and the dramatic linear fencing and black screen on the other make his point. "We used materials similar to those found inside the house as our starting point, and while we weren't completely literal, we did keep to the idea of the strict, clean lines of the building," he says. "What was important here was to continually edit and refine, edit and refine until we achieved the right balance."
To let the plants and garden features shine, Trainor used a mix of local crushed gravel, simple poured concrete pavers and a few flagstones to create the floor, and then brought in large-scale boulders to add subtle rhythm to the landscape. One of the most magical elements here is the fountain installed into the block wall. A simple stainless-steel spout trickles water onto a large rock—it looks so natural, it could almost go unnoticed if not for the sound.
The L-shaped courtyard packs a lot of living area into a small space. A low, poured-concrete wall just right of the wall-mounted fountain allows for extra seating, and the dining set (from Design Within Reach) hints at romantic dinners under the stars. Photo by: Jason Liske/Redwood Design.
Sustainability plays a significant role in the design of this garden. "Green is not only about using less material overall, but using it more thoughtfully," says Trainor. Plants are a big part of that imperative and so were chosen not only for their rich colors and strong lines but their adaptability to periods of drought. Aloes, kangaroo paws, ferns, succulents and a grove or two of bamboo are quite happy and luminous under the late-afternoon sun when this garden is most often enjoyed by the homeowner.
"This design relies on negative space. The space between the features, the way it allows the light to work its magic and the sense of serenity that breathing room brings. While the technical is important, we can never forget the therapeutic value of a garden," says Trainor.
Moving north to Vancouver, British Columbia, a region where it's frequently overcast, rain is a way of life and gardens can get drab really fast. Watermark Gardens' principal designer Kari Renaud solved the gray-day problem by front loading this contemporary garden with sparkle and greened it up year-round with hardscape elements drenched in this hue.
Behind green glass panels, a serene world awaits visitors. Japanese maples and weeping giant redwood (Sequoiadendron giganteum 'Pendulum', a rather whimsical mutation of a giant redwood) thrive in the 166-some-odd days of rain each year. The clean-lined handsome furniture is from Denmark's Cane-line. Photo by: Janis Nicolay.
Faced with a challenging site, Renaud, an award-winning designer (in 2007, two of her gardens — this and another one — received Awards of Excellence from the BC Landscape & Nursery Association) best known for her sleek, residential landscapes, decided two years ago that rather than "fix" the lot, she would rethink its entire purpose, transforming it into a frontyard lobby. "We wanted to create an 'outdoor foyer' where the homeowners can greet their guests and create an experience outside that hints at what they're about to see inside."
The theatrics begin right at the curb with a set of 5-foot-by-5-foot glass-panel walls. Snuggled right up against the city sidewalk, these panels are two sheets of tempered, sandblasted glass placed rough sides together and smooth sides out, and fitted into a custom metal frame. When one passes through these panels, the garden opens to reveal walls banked with Japanese maples, hostas, euphorbias and an impressive stand of Gunnera.
The stucco wall adds to the year-round evergreen of this Vancouver, B.C., garden, designed by Kari Renaud of Watermark Gardens, and hides the neighbor's hedge. The spilling sounds of the fountain help mute the sounds of the city street just steps away. Photo by: Janis Nicolay.
Inset into the 16-foot-by-5-foot painted concrete wall, a black-pebble fountain cascades down a stainless-steel trough into a basin filled with papyrus, iris and water lilies. The wall serves two purposes — first, to add another year-round green element and second, to obliterate from view the neighbor's just-not-right-but-immovable hedge. Below, a floor of nonslip, flamed-finished Italian Pietra Piasentina tiles (an Italian limestone that has the frost-proof, low-water-absorption quality of granite) shines and gleams under all that rain
Again, self-control and discipline rule the day. "Modern design to me is marked by simplicity in the layout and planning of a space," says Renaud. "Ultimately, it is the combination of details in materials that results in restrained drama."
These three designers consciously resist the "just because we can" trend by staying true to the conditions inherent in their region, working with rather than against their environment, and respecting water and other dwindling resources. How very modern.