Oakleaf Hydrangeas: A Growing Guide for Hydrangea Quercifolia
Add this attractive shrub to your landscape for year-round appeal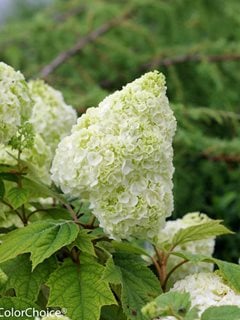 Gatsby Moon® oakleaf hydrangea. Photo by: Proven Winners.
One of the most commonly grown garden shrubs, hydrangeas are beloved for their large showy flowers and attractive foliage. Oakleaf hydrangea, named for its deeply lobed oak-like leaves, has the added benefit of four-season appeal. The large dramatic foliage unfurls in spring, followed by cone-shaped panicles that bloom for weeks beginning in early summer. The brilliantly colored fall leaves drop off the plant to reveal attractive cinnamon-colored bark, lending winter interest to the landscape.
Native to the southeastern United States, oakleaf hydrangeas are low maintenance and tolerant of a wide range of growing conditions. More drought tolerant than other types of hydrangeas, these versatile shrubs add color to mixed borders, woodland gardens, foundation plantings, and containers. Here's how to grow and use oakleaf hydrangea in your landscape.
On this page: Basics | Planting | Care | Pictures | Landscaping with Hydrangea
On this page:
OAKLEAF HYDRANGEA OVERVIEW
Botanical name:
Hydrangea quercifolia
Plant type:
Multi-stemmed deciduous shrub
Zones:
5-9
Height/Spread:
Upright bushy or compact habit; 3 to 8 feet tall and wide
Exposure:
Full sun to part shade
Bloom time:
Late spring to summer, with flower heads lasting into fall
Flowers:
Cone-shaped flower panicles consist of clusters of small florets with rounded or pointed petals in single or double forms. Blooms start out creamy white, fading to pink, red, green, or beige as the flowers age. The long-lived blooms can be used for fresh or dried flower arrangements.
Foliage:
Leathery textured foliage is deeply lobed, resembling the leaves of oak trees. The green foliage develops brilliant fall color in shades of red, mahogany, burgundy, and purple.
Bark:
Stems on mature specimens have peeling cinnamon-colored bark that adds winter interest to the landscape.
Are oakleaf hydrangeas poisonous?
Hydrangea shrubs contain a compound called hydrangin, which can be toxic to pets or children if any part of the plant is ingested. Call your doctor, veterinarian or poison control center if there is any sign of adverse effects. Keep indoor fresh or dried flower arrangements out of reach of pets and children. See more Common Poisonous Plants for Dogs and Cats.
Are oakleaf hydrangeas deer resistant?
Deer will graze on all types of hydrangeas and are partial to the buds and flowers. If you live in an area with deer, provide protection around plants, use repellent, or substitute with other shrubs that are more resistant to deer damage.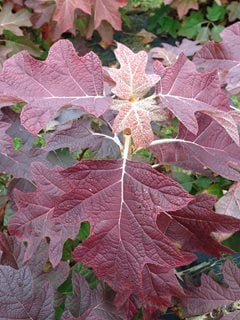 Fall color of Gatsby Pink® oakleaf hydrangea. Photo by: Proven Winners.
PLANTING OAKLEAF HYDRANGEAS
When to plant:
Plant oakleaf hydrangea during milder months in spring or fall to avoid transplant shock.
Where to plant:
Place in a spot that receives at least 4 to 6 hours of direct sun. Provide afternoon shade in hotter climates.
How to plant:
Loosen soil in the planting area and amend with compost or other rich organic matter. Dig a hole 2 to 3 times wider and slightly shallower than the root ball. Remove the plant from the nursery pot and loosen the roots if potbound. Place in the hole so the top of the root ball is at or slightly above soil level. Fill in the hole with soil, tamp down gently to remove air pockets, and water thoroughly. Provide regular water until plants are established.
OAKLEAF HYDRANGEA CARE
Pruning oakleaf hydrangeas:
Hydrangea quercifolia bloom on old wood and don't need much pruning. Trim out any dead or diseased branches in early spring. If the plant needs shaping, prune back stems just above a leaf node. After blooming, you can remove the faded flowers. Learn more about how to prune hydrangeas.
Temperature:
Oakleaf hydrangea is hardy in Zones 5-9. In colder regions, plants may experience flower bud damage due to extreme cold. Protect plants during cold spells and site in a sheltered spot to reduce the risk of cold damage.
Soil:
Oakleaf hydrangea prefers rich well-draining soil with a slightly acidic pH of 5.5 to 6.5. Apply several inches of compost or shredded bark around the base of plants in early spring to suppress weeds and retain moisture. For containers, use a high quality all-purpose potting mix.
Amendments and fertilizer:
Apply a slow-release granular fertilizer in early spring that's especially formulated for trees and shrubs. Reapply each spring.
Water:
Plants prefer moist soil and regular watering. Oakleaf hydrangea is more drought-tolerant than other hydrangea types.
Pests and diseases:
When grown in the right conditions, oakleaf hydrangeas are free of most pests and diseases. Pests include aphids, Japanese beetles, and spider mites. Diseases include bacterial leaf spot, leaf blight, and powdery mildew.
VARIETIES OF OAKLEAF HYDRANGEAS
LANDSCAPING WITH OAKLEAF HYDRANGEAS
For borders and landscapes: Oakleaf hydrangea can be grown in a woodland setting, foundation plantings, mixed borders, as hedging or screening, or massed in the landscape.
For slopes and hillsides: Mass any variety of oakleaf hydrangea along a bank or hillside to stabilize the soil and help stem erosion.
For containers: Compact or dwarf varieties can be grown in containers. Use as a decorative focal point in a border, on a patio or deck.
There are many ways to use oakleaf hydrangeas in your landscape. Here's how:
Use a larger variety as a background plant in a mixed border or woodland setting.
Plant a medium to large-sized variety along a fence or property line for privacy screening.
Combine oakleaf hydrangea in a foundation planting with evergreens and other shrubs that bloom at different times for year-round color.
Plant a larger specimen in a bed or border where the attractive peeling bark can be enjoyed in winter. Combine with other plants with winter interest such as hellebores, witch hazel, snowdrops and crocus.
Mass along a slope or hillside by itself or in combination with other plants to help stem erosion.
Use a small to medium-sized variety to divide garden rooms.
Plant a row of oakleaf hydrangeas alongside a pathway for four-season color.
Place a smaller variety in a container and display at the end of a pathway, on a deck or patio for a showy focal point.
FREQUENTLY ASKED QUESTIONS
How big do oakleaf hydrangeas get?
The average size of most oakleaf hydrangeas is 6 to 8 tall and wide. Dwarf varieties grow 3-4 feet tall and wide.
Can oakleaf hydrangea take full shade?
Plants need a minimum of half day sun to thrive. Too much shade can result in leggy growth, fewer blooms and less intense fall color.
Do oakleaf hydrangeas lose leaves in winter?
Hydrangea quercifolia is a deciduous shrub, dropping its leaves in fall.
Do you cut back oakleaf hydrangeas?
Hydrangea quercifolia blooms on old wood and does best with minimal pruning. Remove dead or diseased branches in early spring and cut off spent flowers when plants have finished blooming. When pruning oakleaf hydrangeas, cut branches to just above a leaf bud and lightly shape plants as needed.
MORE ON HYDRANGEAS
RELATED READING