Cutting Edge: 9 Gardening Tools the Experts Are Using
We did a little scouting and found the best gardening tools recommended by expert landscape designers, horticulturalists, and nurserymen interviewed in the pages of Garden Design magazine.
While lists of must-have tools for gardeners exist, we went straight to the source and asked the experts what they grab on their way out to the garden. Their fields of expertise vary as each have different intentions and techniques for working with plants, soil and even foraging in the wild. Here are the favorite hand tools, pruners, and other gardening essentials these landscape designers, horticulturists, and nurserymen shared with us.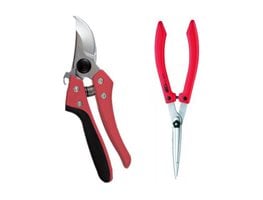 Photo by: ARS Corporation
CB-9 Pruning Shears & K-800 Hedge Shears
CB-9 Pruning Shears, buy now on Wood-Avenue
K-800 Hedge Shears, buy now on Amazon
As a self-described "hortiholic," Dan Heims is a speaker, author and plant breeder. He's founder of Terra Nova Nurseries, Inc., of Canby, Oregon, and ships and licenses plants around the globe. When it comes to tools, Dan's favorites are ARS pruning shears and hedge shears. "Everyone who has ever laid hands on ARS pruning shears knows they have the sharpest blade made of the strongest steel. They are so lightweight, yet durable. They feel like part of your body. My favorite model was recently discontinued, but their CB-9 hand pruners and K-800 hedge shears are currently the best on the market," he says. Editor's note: The newer design is HP-VS9Z
Photo by: Barnel USA
Professional Stainless Steel Scissors
This model is no longer available, buy a similar model on Amazon
Growing up in the horticulturally-rich Kennett Square region of Pennsylvania, plant explorer and breeder Darrell Probst's youth was spent tromping through the fields, and his preteen penchant for plant breeding was precocious. Thanks to his subsequent breeding program—he is the owner of Garden Vision, a plant-breeding business marketed for the trade—gardeners now have 150 types of Epimedium and a host of perennial Coreopsis to choose from. His tool of choice is stainless-steel floral scissors. "I buy 12 at a time," says Probst. "Looking similar to the late Chef Joyce Chen's Original "Unlimited" Scissors, an 8-inch stainless-steel scissor is now available from Barnel USA. It's model B20SS; it has soft-gelled handles, so I can sterilize them between dividing Epimedium and taking cuttings. The only problem is that they're too sharp to put in my pocket, so I lose them regularly. That's why I buy them by the dozen."
Photo by: W. W. Manufacturing Co., Inc
King of Spades
Before becoming executive director of the Coastal Maine Botanical Gardens in Boothbay, Maine, William Culling was the director of horticulture and plant curator, plus author of several books on wildflowers and their propagation. His go-to tools include Japanese weeding knives and a unique spade for digging. "I love the Japanese weeding knives. Basically, they look like a hunting knife but they're not sharp. A trowel sometimes makes too large a hole, so I use the weeding knife as a transplanting tool, to saw roots, and lightly scuff up the soil. For digging, I use my King of Spades. It's made entirely of steel and it's indestructible. You can run a car over it," he says.
Photo by: Florian Pruners
Florian Pruners
Connecticut-based artist and former art teacher Ellen Hoverkamp creates evocative and artful photographs of botanicals and edibles which have been profiled in The New York Times, exhibited in museums, and have graced the covers of numerous books and periodicals. When it comes to selecting and cutting flowers for scanning, she reaches for her Florian pruners. "I love using Florian pruners. They are handy, dependable and made in the U.S.A.," she says.
Photo by: Foxgloves Inc
Foxgloves Gardening Gloves
Ellen Hoverkamp also reaches for her favorite gloves from Foxgloves. "I like wearing Foxgloves which are made of a soft nylon-and-Lycra fabric and are perfect for flower picking. They were created by my friend Harriet Zbikowski, a landscape architect and professional horticulturist," says Hoverkamp.
Photo by: Dramm Corporation
Dramm Watering Wands
Buy now on Amazon
As a French-trained cook, it made sense that Jeanne Kelley's passion for fine cuisine would evolve into tending her own kitchen garden. Her recipe development, food writing, and food styling culminate in her book Salad for Dinner: Complete Meals for All Seasons (Rizzoli, 2012). When she's out in the garden, Kelley tells us her most dependable tool is her Dramm watering wand. "Water conservation has become a huge issue in California, as we have endured several consecutive years of extreme drought. My Dramm watering wands are indispensable for irrigating beds, pots, and hanging baskets. The simple yet durable design allows me to control and direct the flow, and the gentle spray is easy on plants."
Photo by: A.M. Leonard
A.M. Leonard Soil Knife
Colin McCrate is co-founder of Seattle Urban Farm Company, and is a leader in Seattle's booming urban agriculture scene. From tending over 70 home vegetable gardens to greening rooftops in Seattle's trendy South Lake Union neighborhood and building food gardens atop big residential buildings, McCrate also stays busy growing food for Seattle-area restaurants at the company's multi-acre Urban Fringe Farm. As for his favorite tool he tells us, "I use the A.M. Leonard Soil Knife every day for weeding and cultivating soil."
Photo by: The Felco Store
Felco 2 Pruner
Santa Fe-based author, educator, and foraging expert Ellen Zachos knows the edible qualities of nature and encourages beginning foragers to start in their own gardens, where they know what they're eating. On her foraging expeditions, we asked what necessities she carries in her backpack. "You don't know when you're going to find something like a huge stand of boletes, a porcini-like mushroom found in the wild near Santa Fe and elsewhere in the Rocky Mountains. That's why I always carry essentials: Felco pruners, a Swiss Army Knife, multiple bags (paper and plastic), latex gloves, and leather gloves."
Photo by: Territorial Seed Co.
Garden Sickle
Buy now on Territorialseed.com
Glenn Roberts, founder of the organic heirloom grain company Anson Mills says, "I practically live in a rental car or an airplane, so I don't have a garden I tend regularly. But someone gave me a Japanese hand sickle that I use a lot. It's razor-sharp high-tensile steel, with a slightly hooked blade set at a 90-degree angle to its wooden handle. It's perfect if you're harvesting by hand, especially rice and wheat. You can gather so much in one hand and hook with your other."