Terracotta Truths: An Interview with Kirk Laing of Tuscan Imports
Kirk Laing, owner of Tuscan Imports, Inc., answers all of our questions about terracotta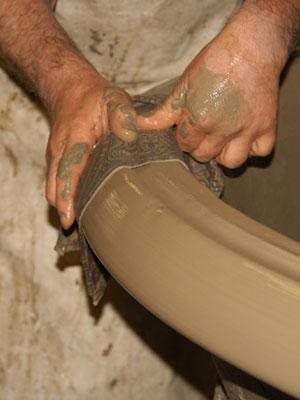 Kirk Laing's affinity for terracotta began in an 800-year-old Italian farmhouse tucked into a hill outside of Florence, where he and his wife—a native Italian—lived and worked as missionaries for eight years. The couple was enamored with the charms of their centuries-old home: the rustic stone walls; ancient fireplaces; and the stunning, pastoral views from their doorstep. They knew then that the Italian traditions of simplicity and craftsmanship would always be an important part of their lives.
When Laing and his wife returned to the United States, they tried to incorporate a sense of Italian design into their home. Says Laing, "We applied stucco to our walls, built old brick arches, put a wood-burning brick oven in our yard, and bought a large assortment of terracotta so that we could recreate Italy in our home and garden." When friends who visited noticed—and admired — the couple's terracotta collection, Laing realized that there was a true market for simple, beautifully designed products. Tuscan Imports, Inc. was born.
Today Tuscan Imports, helmed by Laing, a full-fledged terracotta expert and arbiter of Italian culture, carries extensive collections of terracotta planters, jars, fountains, urns, and more, all created in workshops scattered throughout Italy. Tuscan Imports' products are crafted by hand using time-tested firing techniques and the world's finest materials: Laing's terracotta comes from the small Italian village of Impruneta, an area famous for high-quality, frost-proof clay. The end result? Individual works of art that add natural, Italian-inspired ambience to landscapes throughout the United States.
When asked to name his favorite products, Laing—still true to his Italian roots—favors the simple over the ornate and stresses that his company is built on a combination of quality products and excellent customer service. Tuscan Imports, Inc. offers trade discounts and can commission pieces for customers in search of specific items.
In addition to his Impruneta and a Siena line, Laing also offers lightweight options, glazed terracotta, and an assortment of wood-burning ovens. To view the full Tuscan Imports product line, visit tuscanimports.com.
We sat down with Laing to get all of our questions about terracotta, one of our favorite classics, answered. Read on for insider tips, plus learn how to spot quality terracotta.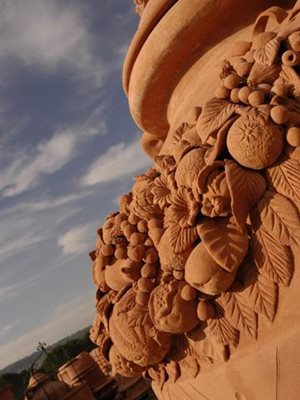 First of all, why choose terracotta?
Terracotta is timeless. It's not trendy—it's been around for thousands of years and has withstood the test of time. What worked ages ago still looks great today. Terracotta is a true classic, and that's why people love it. Plus, quality terracotta is highly durable. If you buy a high-quality piece of terracotta, it will last a lifetime.
How can you tell if a piece of terracotta is high quality?
There are two factors that affect the quality of terracotta.
The first and foremost is the quality of the clay. You might see two similar items made from clay from different regions, and these two items may be drastically different from a quality perspective. This happens because different clays have different chemical compositions. The clay in Impruneta, Italy is the best in the world. It's high in iron and makes incredibly durable terracotta.
The second factor is craftsmanship and detail. True artisans have a keen eye and pay close attention to proportion and detail. Less accomplished workshops produce items that have wrong proportions and mediocre detail work.
It's important to purchase your terracotta from someone who knows and sells quality products.
What exactly makes a clay more refined?
The mineral composition of clay is everything. The clay from Impruneta is high in iron and is ground onsite, which makes it unique. Other regions use clay purchased in blocks from huge factories which produce very consistent processed clay. Impruneta clay is a natural clay that is mined locally. That's what makes it exceptionally beautiful—no two pots will be alike.
Do you have any insider tips for terracotta care?
If you buy quality terracotta, then you don't have to do anything to make it last. Impruneta pots, in fact, are guaranteed for life not to flake or crumble. The one recommendation I do have is to make sure that you have proper drainage holes in your pots. Standing water in freezing temperatures is terracotta's worst enemy.
Should you clean terracotta?
This question makes me cringe, because most people dream of beautifully aged terracotta pots, and that sort of weathered look takes years to achieve. That's the beauty of terracotta: you can have it for years, and it changes as it ages. The older a piece of high-quality terracotta, the more beautiful, in my opinion, it can be.
For more information on Tuscan Imports, Inc., or for specific requests, email info@tuscanimports.com or call (843) 667-9101.