Saipua Container Cutting Garden
We are so thrilled to introduce a post from one of our Advisory Board members. We'll be running regular columns about inspiration and gardening tips from our advisory board throughout the year. (If you missed it, our first column was by Frances Palmer, about planting dahlias.)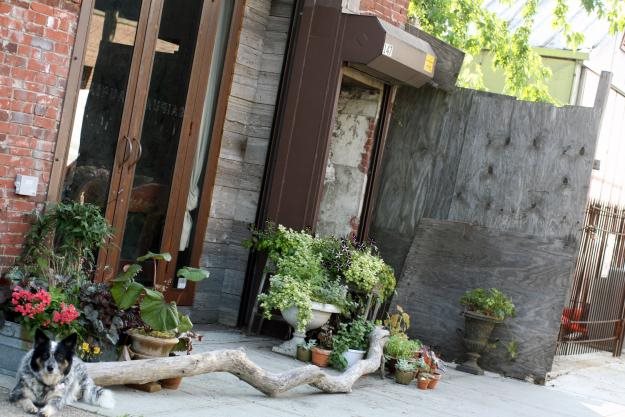 The front of Saipua, the flower shop owned by Sarah Ryhanen, in Red Hook, a district in Brooklyn, New York. Photo by: Sarah Ryhanen.
Today, Sarah Ryhanen, perhaps better known to wedding and style blog readers as the force behind Saipua, an amazing flower shop in Brooklyn, New York, writes about how she became a gardener, and what types of plants she grows in her small container cutting garden. Read more about Sarah Ryhanen (and take a peek at her drop-dead gorgeous bouquets) on our design board page and be sure to check out her blog, too.

I came to the floral arts rather circuitously. And then I came to to gardening some short time later. Most of you probably know without me telling you-the two are inextricably linked. So it goes.
Photo by: Sarah Ryhanen.
I live in Brooklyn on the top floor of a three-story brownstown. No backyard access, no rooftop. To most, my gardening prospects would seem rather dim. I am, in fact, limited to a strip of concrete sidewalk in front of my building.
So I've had to adopt a sort of "shake what your mamma gave you"—approach and taken my gardening to my little strips of the concrete jungle. The realm of container gardening is always championed by the city dweller and born of necessity.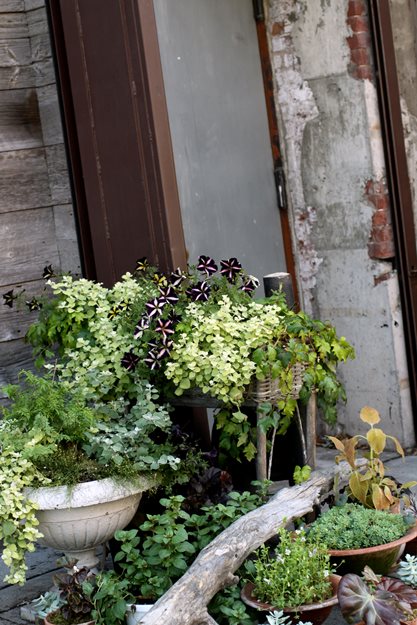 Photo by: Sarah Ryhanen.
My little gardens (the one in front of my apartment and the one in front of my studio) are really a motley crew of mismatched pots and buckets and a rather modest, mixed-up. and crammed scenario. Who cares? The little gardens allow me to go through the yearly gardeners cycle, with the March melt (hellebores faithfully reappearing), the spring onslaught of nursery visits (Epimediums, auriculas, and Heuchera were among this year's splurges), and the deeply felt June satisfaction when everything fills out. During these summer months, I finally take to my containers as a florist—clippers in hand and no-holds barred—cutting material for the most special of orders: a bride's bouquet or a carefully planned photo shoot.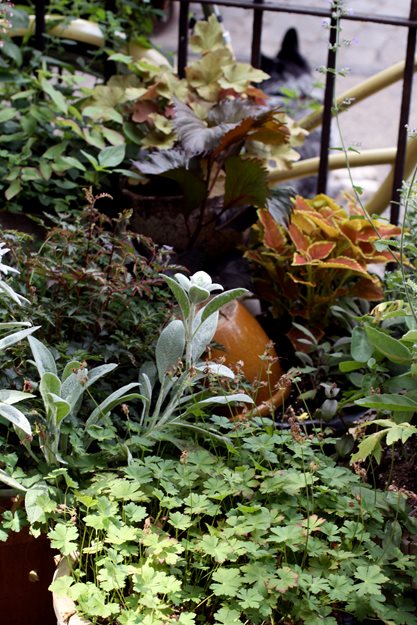 Photo by: Sarah Ryhanen.
I've learned with practice what makes a good cutting plant. Heuchera, clematis, licorice plant, and hellebores (if cut later in their bloom time) are all fantastic additions to arrangements, often providing that bit of unexpected color and texture to what can be a rather ho-hum fixing of roses and lilac. I cut begonias, grape ivy, and Coleus all year round, gently relocating the plants in my apartment for the winter months.
Maybe one day that I'll get my act together and have a real garden. And when that day comes, I'll lovingly transplant my sedums, my astilbes, my favorite coleus, my hellebores, my irises, my valerian, and my lamb's ear to greener pastures; they'll be like stray dogs taken from the kennel to the country to live out their better years.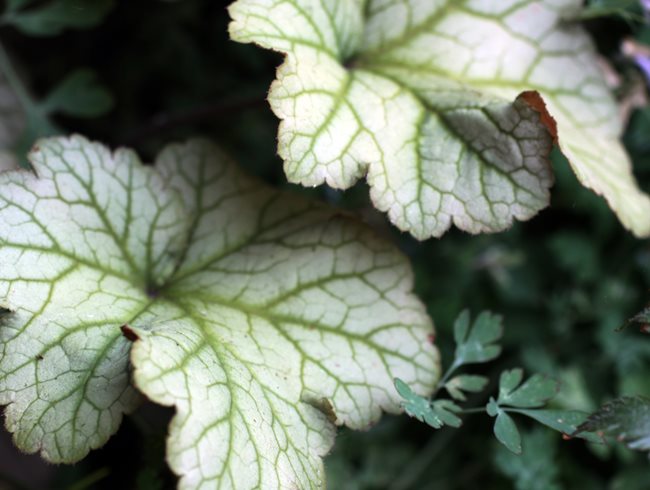 Photo by: Sarah Ryhanen.