How to Create a Container Planting
Containers are as complicated as they are chic—and worth every minute of your effort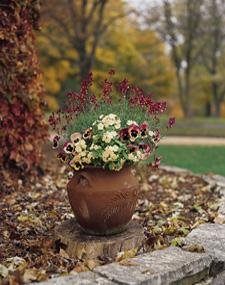 Don't think of containers as mini gardens for the simple-minded. They're as complicated as they are chic—and worth every minute of your effort. Once you've sorted through the complexities of drainage, soil mixes and fertilizers, containers become tools for design. Here, we share some of our favorite ways to bring fresh style to your garden with plants we love, matchmaking principles for pots and plants, color themes that work, tips on using planters as design features, and cheater's guides to getting the most out of your pots.
MATCH GAME
Matching the right plant with the right pot offers so many possibilities, from the most chic pairing of Tuscan terra-cotta and topiary to the accidental meeting of geranium with old rusty can. Mistakes are harmless and can be charming.
When choosing containers, use the materials and architectural details of your house as a starting point. Match warm brick walls with terra-cotta pots or a white colonial-style frontage with classic lead (or faux-lead finish) planters. For a rustic timber house, seek out beaten copper tubs or weathered wooden troughs.
Small pots dotted about the wider garden tend to look lost, so, as a general rule, keep these close to the house in places where you have a chance to stop and admire small plants. Large containers work well anywhere.
Use small pots (less than 12 inches in diameter) to create changing displays of small plants such as bulbs, herbs, sempervivum and alpines. Single pots allow you to mix and match your display easily, according to what's in bloom.
Think outside the container and incorporate other natural elements into a pot garden—if plants need staking or tying use raffia, twine, bamboo or twigs to help create a sense of visual consistency and style.
Or, take your planting cue from the pot. Glazed oriental-style planters suggest bamboo or the architectural leaves of hostas. They also make good water gardens—plug the drainage hole and grow papyrus and miniature water lilies.
Experiment with different styles. To introduce a formal look into a wild garden, use a series of identical containers filled with identical topiary trees or standards. Try citrus, box or bay in classic Versailles tubs or square lead planters.
Cheat's Guide: Place a couple of bricks in the base of a deep container to raise the plant to the correct height. (Why bother to plant the pot when you'll want to swap out your display again in a few weeks?)
COLOR AND STYLE

Don't wrinkle your nose at "instant gardening." Pots can go full throttle even when the rest of the garden is sulking. Fill large containers to overflowing with what's in season at the garden center. Cram plants in as if you were making a bouquet, starting with a tall one in the middle and filling in with trailing and mounding types. Keep up the feeding and deadheading, and don't be afraid to edit ruthlessly.
A little forward planning is also smart—choose plants or bulbs with a color theme (yellow and white, for instance). Seek out containers to complement the theme, and add interesting objects like shells, pebbles, old garden tools or weathered empty pots to make a living still life.
Tone down cheap orange terra-cotta pots by rubbing them with damp soil. With cast concrete pots, brush on a good coating of yogurt—it is said to encourage moss.
If you don't like the look of bare soil in pots, top dress around plant stems with gravel, crushed shells, attractive pebbles or some other quick-draining layer. This looks more "finished" and also helps retain moisture.
Start the season early with containers. In spring, delicate miniature bulbs such as Iris reticulata, grape hyacinths or snowdrops on a window sill will lift your spirits.
GROUP SHOTS

Different levels are the key to good group displays. Buy an inexpensive florist's stand (tiered shelves that stand in a corner or against a wall) to lift pots closer to eye level and create a composition of varying colors, textures and shapes. Or, turn empty pots on end and use them as stands or hide bricks or wooden blocks behind other pots.
Think collectible. Cacti look great grouped on a tabletop where you can admire the mosaic of shapes and textures. Family groups work too—try ferns for infinite shades of green, rex begonias for variegated leaves.
The repetition trick is popular with interior designers, but it works in the garden, too. Put an identical plant in identical pots—an agave in a terra-cotta pot, for example—and use them evenly spaced to emphasize a linear feature, such as a low wall, a flight of steps or the edge of a pool.
Don't worry about having a decorative pot for every plant. Keep most of your container plants in regular black plastic pots. If you keep the decorative pots to the front of the display, black plastic ones just recede into the background.
When watering closely grouped containers, use a watering can with a long spout to deliver water straight to the pot and avoid splashing the foliage.
Incorporate attractive plant stands and pedestals of metal, terra-cotta, stone or wood into displays. These provide distraction and variety for the eye and allow you to put one pot in the spotlight when it's really performing.
A tall, narrow pot is less stable than a squat, low one. Use tall pots for trailing plants, which are not usually top heavy, and let them cascade over. Shallow containers, such as alpine pans, work best at the front of a group to anchor it.
Create a centerpiece near a window or eating area for containers—a patio table is the ideal place to show off one small, perfectly formed plant or a small cluster.
Avoid planting into a narrow-necked pot (e.g., an Ali Baba shape with a body larger than the neck), as it is difficult to get a plant out once its roots have spread. That's why flowerpots are always wider at the top than the bottom.
A large, ornate container works well empty. Use it as a focal point at the end of a path or as a sculptural element in a border. Similarly, think of large container plants as design features that can reinforce the permanent structure of your garden. Use a pair of clipped boxwood or bay to flank a doorway or entrance; delineate a seating area with a living wall of laurel in troughs; place pots of lavender on wide steps where you can catch the scent as you walk past.
Use containers as a low-key way of directing visitors around the garden, for example, to edge a worn patch of lawn where you don't want people to cut through or to direct the eye to seating or pathways.
If you are planning an extension to your house or are remodeling outdoor steps or terraces, consider incorporating planters into the design, using the same materials. Before you commit to any design, be sure the planters will look as good empty as they would planted to the hilt. You can't do container gardening by halves.
It's possible to plant directly into any container so long as you create drainage holes. Drilling through wood, plastic or fiberglass is relatively easy. You can make a drain hole in a clay pot by using an electric drill with a masonry bit, but work carefully.
Use terra-cotta saucers under pots where possible to prevent staining floor surfaces. Large saucers can be a feature in themselves—place a layer of attractive pebbles in the saucer and stand the plant on these. This way, collected water won't rot roots and will raise humidity levels around the plant.
When you pot plants, don't forget to leave room for the water—an inch between soil surface and rim of pot.
Containers free you from the tyranny of your local conditions (soil type, exposure, frost dates and so forth). So experiment. Dabble in tender plants that can be moved inside when frost threatens, or try fragile or picky subjects in a pot before risking them in the garden.
To plant or to hold? Many large containers are really plant holders or cache pots; that is, they do not have drainage holes so are not suitable for planting into directly. The answer is to cheat: slip plants already in plastic pots into the container. As long as you can't see the rim of the plastic liner, who will know? But don't allow pots to sit in water.
If you are investing in large containers, buy the best you can afford as they will be around for some time. For the same reason, go for classic shapes and styles that will fit in with any garden. Brightly colored pots will restrict your planting choices, and you may soon tire of a one-off fashion statement.
Get more spring gardening ideas