Cut Stems for High-Reaching Flair
In Central Ohio, Nick McCullough, owner of Red Twig Farms, creates spectacular container arrangements using the season's finest greenery and twigs.
As winter rushes in with falling leaves and cooler temperatures, a new landscape emerges with subtle hues and gray skies in Central Ohio. I find myself searching for a punch of color and textural design. Fall planters with cut stems are a great way to add a new layer of interest to container design. I use cut stems for their contorted shapes, vibrant colors, and to add height and drama as a centerpiece to fall planters. The additional benefit of the stems is their ability to transcend seasons by swapping out the base greenery.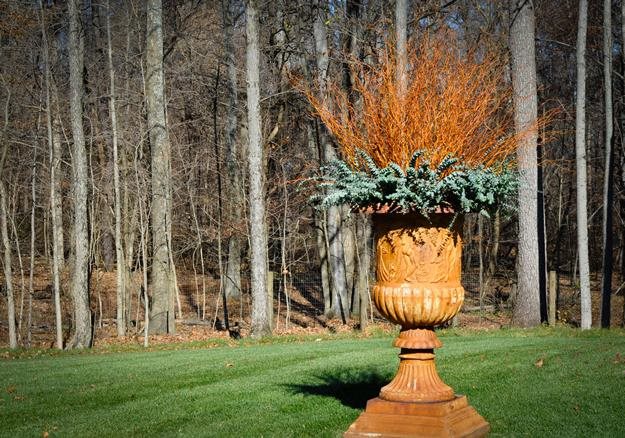 A classical urn is filled with willow stems and evergreen cuttings.
The stems are taken from Dogwood (Cornus) and Willows (Salix) that we grow specifically Red Twig Farms for use in floral and container designs. The branches are trimmed fresh every fall at the peak of their vibrant hues. I prefer to use the branches that are between 4 and 6 feet tall in containers and in large quantity; however, they can be used in many other ways. Below are a few containers we created using a variety of fall greenery and twigs.
A bunch of red twig dogwood (Cornus sericea 'Baileyi') act as a centerpiece to a planter filled with seeded eucalyptus (Ecualyptus ssp.), white peacock kale (Brassica oleracea 'White Peacock'), and black mondo grass (Ophiopogon planiscapus 'Nigrescens').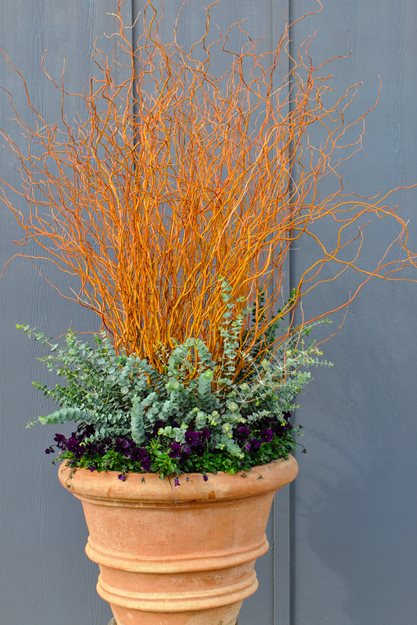 Scarlet Curls willow (Salix matsudana x S. alba 'Scarlet Curls') stems paired with spiral eucalyptus (Eucalyptus ssp.) and purple pansies (Viola x wittrockiana) in an Italian terra-cotta container.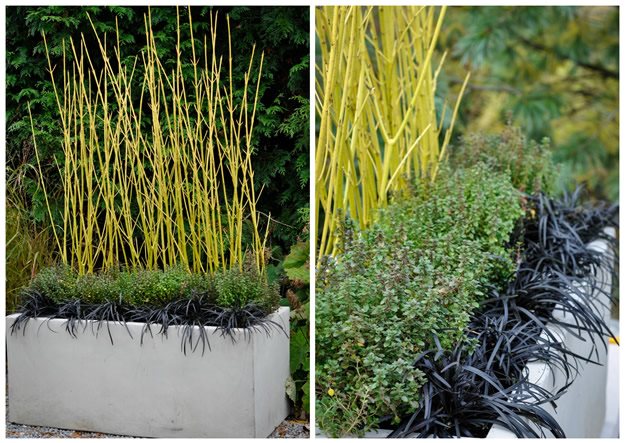 Yellow twig dogwood (Cornus sericea 'Flaviramea') paired with lemon thyme (Thymus x citriodorus) and black mondo grass (Ophiopogon planiscapus 'Nigrescens').
Source:
Red Twig Farms
Visit their blog
Shop at their Etsy store
614-855-1288