Texas Gardens
See incredible gardens in Austin, Houston and Dallas, plus learn about the state's famed wildflowers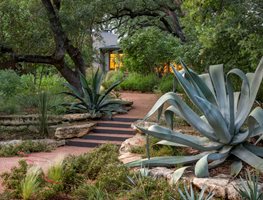 Tour this half-acre residential landscape in Austin, Texas, where Christy Ten Eyck created a spot for its residents and local wildlife to enjoy
John G. Fairey, a flora collector with a rare eye for design, transformed a Texas landscape into the famed garden Peckerwood. His vision for Peckerwood, which includes a light-dappled woodland, several shimmering dry gardens, and a parklike arboretum, developed not gradually but in a transformative awakening during a trip to Mexico. This is the story of a plant man and his garden.
Developed between 1930 and 1950, the organically maintained gardens at Bayou Bend Collection and Gardens in Houston are nationally recognized as among the most significant in the South
With more than 19 lakefront acres designed to nourish body and soul, plus more than 1,000 species of trees, flowers, herbs and vegetables, this is a destination you don't want to miss.
This modern sculpture garden in the Dallas' Downtown Arts District opened in 2003.
Botanic Notables: Texas Bluebonnets
The bluebonnet is a smart, strong flower, and, thanks to a state's embrace, a true Texan. And because they love them so, there are six bluebonnets recognized as state flowers.