Way Out West: Gardens of Marfa, Texas
Residents of Marfa, Texas, have created vibrant gardens that bring life to the desert plains.
After ten years of weekend gardening in New York State's Mid-Hudson Valley, where my wife and I lovingly tended our peonies, our bleeding hearts, several rows of garlic, and a few other plants that were unappealing to the local fauna, the economy imploded and we both found ourselves unemployed. What had seemed such a necessity—a place where we could get our hands in the dirt and breathe deeply—was suddenly an extravagance.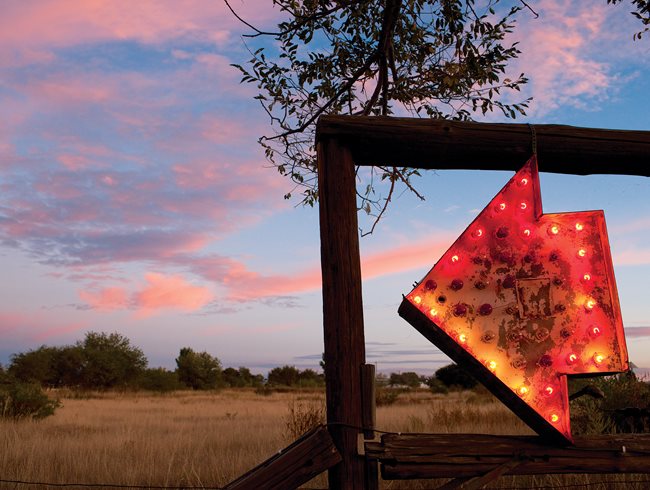 The entrance to El Cosmico, a hotel that offers lodging in vintage trailers, yurts, tepees, and tents. (Photo by: Landon Nordeman)

SEE MORE PHOTOS OF THIS GARDEN
I'd been the drinks editor at Gourmet magazine, which folded in October 2009, and my wife, Marella, was an independent curator and arts administrator. Six years earlier, she'd taken a trip to Marfa, a town on the high plains of West Texas that had been revitalized by the remarkable artist Donald Judd, who first moved there in 1972. Through the museum he established, Judd, who died in 1994 at 65, planted the seeds that helped turn Marfa into one of the country's great art destinations. It was on our radar, but when Marella visited, her first e-mail had "We're moving to Marfa" between every line. Not right away, but someday. She was smitten. When she got back to New York, we spent some invigorating hours discussing what we might do there—someday.
That someday came last December, a few months after we'd lost our jobs, when Marella was offered the position of director of administration at the museum, now called Chinati. Everything about this new chapter in our lives felt right. Sure, it would be an adjustment after New York, but Marfa was full of fascinating people, and the high-desert landscape was spectacular.
It was also forbidding, at least to hobbyist gardeners like us, accustomed to the comparatively forgiving soil and climate of the Northeast. Even more distressing were the lettuce options that I found on my first trip to the local grocery store: iceberg and frozen. But my iceberg melancholy melted away when I discovered that Marfa is home to a community of gardeners who not only coax delicious fruits, vegetables, and other plants from the arid landscape but also create surprising outdoor spaces that add color and texture to the West Texas expanses while still feeling of a piece with their surroundings.
The Hudsons' ocotillos. "It's a living fence," says Harry, who got them from a friend's ranch. (Photo by: Landon Nordeman)

SEE MORE PHOTOS OF THIS GARDEN
Among the first gardeners Marella and I met were Bob Schwab, a transportation planner, and his wife, Leslie Wilkes, a painter who works with vibrant colors and hypnotic geometric patterns. Their arugula got Marella and me through the long weeks when our own lettuces were working their way up through the dirt, cotton burr, and compost. Back in 2005, Bob and Leslie went to a nursery in Alpine, a half hour away, and bought two varieties of peach tree—Rio Grande and Red Baron—and a cherry tree. "It was very windy," Bob recalls. "We had to dig three holes in that very hard ground. We knew we'd lose a year if we didn't plant them that weekend. It punctuated our presence here. It made this abstract thing we'd done real: we plant these trees, we'll have to take care of them." Last summer, a few months after our move, the trees bore fruit—mouthwatering fruit. "The Rio Grande bloomed first," Leslie says. "It had pea-size fruit when we had a freeze in April. The Red Baron was just starting to bloom. The freeze burned its petals, but we ended up getting something like 230 pounds of peaches off that tree." I made a lot of peachy drinks this summer.
Although they can sell whatever they don't eat, Bob and Leslie's garden is a labor of love. One of Judd's goals was to establish a business that, in his words, would "sell produce, sell bottled water, the local tequila called sotol, and whatever else can be made here." But with the population shrinking, from a high of 5,000 during World War II to under 2,000 today, there isn't much of a local market. Even the restaurants—and there are three where on any given night you might find a $30 entrée—can't sustain the town's few growers. What's more, in a place that gets about 12 inches of rain a year and has had a series of serious droughts, every growing season is a tightrope act.
Valerie and Robert Arber, who moved to Marfa in 1998, sell some of what they grow to local restaurants. They have one of the best gardens in Marfa, started when Robert planted tomatoes, chiles, and garlic to make his own salsa. Since then, they've turned a chunk of a city block into an oasis. A stand of Zinnia Orange King, Snow Puff cos-mos, and gray-green flowering kale keeps company with a small jungle of tomato plants supported on metal-wire cages. Beyond the unruly foliage lies a series of raised beds cocooned in row-cover fabric to keep the insects off the lettuces and the German Giant radishes. And climbing a fence that separates the garden from an alley is one of the strangest things I've ever seen: a green gourd, almost two feet long, whose veiny countenance would not be out of place in a science-fiction thriller: Revenge of the Caveman's Club Gourd!
Valerie Arber and cardboard friend.(Photo by: Landon Nordeman)

SEE MORE PHOTOS OF THIS GARDEN
As quickly became clear to me, many of my new neighbors aren't strict about using native plants or xeriscaping (creating low-water-consumption landscapes). Water is expensive, but it's available, delivered through the local public utility. In fact, Harry Hudson, who, with his wife, Shelley, bought the old Marfa bus station in 2002, decided not to follow the advice of the plant consultant he'd hired. "She was really smart," he says. "She picked all native plants. But I told her I wanted to see things grow in my lifetime." Instead, the Hudsons planted fast-growing cypress and ash trees, for privacy, as well as a gorgeous cactus garden inside the walls of their quirky compound. Yet when the couple bought a second building—a small adobe structure formerly known as the Tire House—to turn it into an office and guest room, Harry chose a traditional low-water, low-investment technique for fencing: rows of spiny ocotillo branches. "Ocotillo is incredibly strong," Harry says. "And it's a living fence." After he replaced the building's metal roof, which had been held down with the namesake tires, he used some of those old tires to create retaining walls to define garden plots.
The first people to invite Marella and me over for dinner in Marfa were Buck Johnston, the 44-year-old co-owner of a new-media company, and her partner, Campbell Bosworth, 46, a painter-sculptor-woodworker with a wry sense of humor. They live and work in what used to be Marfa's oldest church and parsonage and have been here almost ten years, making them old-time newcomers. The meal they made—grilled lamb, local okra, roasted vegetables—was a great big welcome-to-Marfa hug. Their backyard is an exuberant fantasyland, with an old trailer that serves as a guest room, homegrown gourds hanging from an ash tree like so many giant pears (or lounging Shmoos), and singing lovebirds in cages. In the middle of it all are several faxon yuccas, native plants that usually bloom annually (they're mirrored by a sculpture made from blue glass bottles arranged upside down in a spiky crown). "It's our favorite plant," Buck says. "We have nine or ten of them, and they've grown beautifully. The strange thing is, not one of ours has ever bloomed. In nine years!"
Though their yard is among the more ornate ones I've seen, there's a permanence to the plantings and the outdoor art that makes the space feel right; "I am here," each element seems to say, "and this is where I belong." Something about walking through Buck and Camp's yard brought me back to Judd's outdoor installation at Chinati: 15 groupings of concrete works extending in a straight line across the property's eastern edge. Behind them is a row of cottonwoods, planted by Judd as a backdrop for the art. Each concrete work is placed precisely—whether the individual shapes appeal or not quickly becomes beside the point. You take in the trees, the native grasses, the mountains beyond, perhaps even the antelope wandering in front of them—that's the piece. The more I looked at it, the more Judd's artistic impulse seemed akin to the motivation of the gardener. His most radical artistic innovation was to leave off the pedestal, or base, and place his work directly on the floor or ground; that sounds a lot like the difference between a potted houseplant and a well-made garden.
Also related: 7 Water-Wise Plants for Desert Regions