10 Gardening Activities for September in the Southwest
Here are a few garden reminders, inspiring ideas, and maintenance suggestions for this month.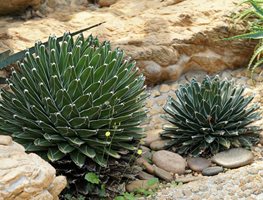 1. Transplant Agaves and Other Succulents
Fall is a good time to cut agave pups from the mother plant and replant them. Be sure to use a sharp, clean knife to cut the underground branches. Let branches callus over before replanting (it's good to do this in a shaded location so plants don't dry out). After 2 to 3 days, the pups can be planted in pots filled with cactus mix to establish roots. Be sure to keep new plants watered regularly after replanting. Once roots are established, after 4 to 6 weeks, the new plants can be planted in your garden. Learn more about growing and caring for agaves. If you want to add new agaves and succulents to your garden you can find interesting varieties at Moon Valley Nurseries, Plant Delights Nursery or a local nursery.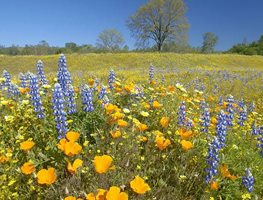 Photo courtesy American Meadows.
2. Plant Other Southwest Natives
There are a wide range of beautiful native plants in the Southwest. Many are available at local nurseries while others may need to be grown from seed. Some of the best Southwest natives include creosote bush (Larrea tridentata), Joshua tree (Yucca brevifolia), Perry's agave (Agave parryi), red yucca (Hesperaloe parviflora), ocotillo (Fouquieria splendens), desert willow (Chilopsis linearis), spineless prickly pear (Opuntia ellisiana), pink muhly (Muhlenbergia capillaris), blue grama (Bouteloua gracilis), and beaked yucca (Yucca rostrata). You can include native wildflowers in your fall planting, too. Many seed suppliers sell mixes to scatter: try Native Southwest Wildflower Seed Mix from American Meadows.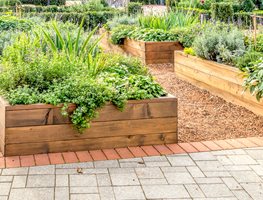 3. Plant Herbs
Most herbs can deal with heat quite well as long as they get plenty of water. Plant herbs in raised beds, garden beds, or containers this month. Herbs should produce through the fall if you live in a frost-free zone. If plants begin to flower, pinch back flowers so plants continue producing tasty foliage. Some herbs can grow perennially in gardens with year-round warm weather: rosemary, sage, lavender, oregano, lemon verbena. Find herb seeds and plants online at Burpee.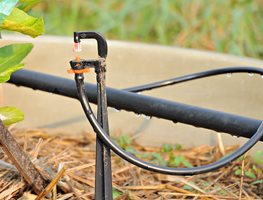 4. Adjust Irrigation
Cooler temperatures in fall mean some plants need less water to thrive. You do need to continue deep watering trees and shrubs, though. Check your irrigation schedules to make sure you're not overwatering—if you're getting consistent rainfall then cut back on watering days. There are also smart timers such as Rachio that adjusts watering schedules automatically based on local weather data. You can also adjust the schedule manually from an app if you prefer.
For more helpful information, see Irrigation 101.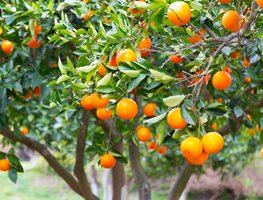 5. Fertilize Citrus Trees
You should fertilize your citrus trees in September for the last time. The University of Arizona Cooperative Extension has a helpful chart on how to fertilize citrus trees based on tree size. This chart also notes that grapefruit and pummelo take less than the recommended amount, while lemons and limes take roughly 10% more than the recommended amounts. You should spread fertilizer throughout the root zone and not just pile it next to the tree trunk. If you're looking to add more citrus trees to your garden, planting in late-September through early November is recommended. This timing provides cooler weather for the trees to get established before next year's spring and summer heat. If you want to order online, check out Nature Hills (although they don't ship to Arizona or Texas due to agriculture restrictions). If you live in Arizona, try Greenfield Citrus Nursery or Whitfill Nursery (they have three locations around Phoenix). If you want a variety of citrus to pick in your backyard, plant varieties that ripen at different times of year. This chart shows average ripening in Salt River Valley, Arizona, but it applies to all of Phoenix as well as location with similar climates and elevations.
Don't miss what to do in the garden each month, make sure you're getting our weekly newsletter.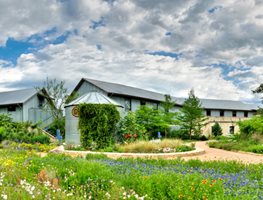 Photo courtesy Lady Bird Johnson Wildflower Center.
6. Visit the Lady Bird Johnson Wildflower Center
If you live near Austin, Texas, or plant to visit this fall, be sure to stop in at the Lady Bird Johnson Wildflower Center. Though it's gorgeous and filled with flowers in the spring, fall is also a beautiful season. There are plenty of late-season wildflowers and grasses in bloom into the fall. You'll see flowers such as rock rose, antelope-horns, Mexican hat, echinacea, and many more. The center is also a terrific resource for wildflower information across the country. They've compiled useful lists of recommended native plants for each state as well as different regions of Texas.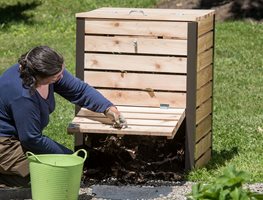 Photo courtesy Gardener's Supply Company.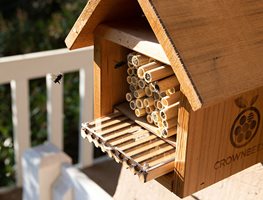 Photo courtesy Crown Bees.
8. Attract Native Bees
There are around 4,000 species of native bees in the United States. While honeybees tend to get all the glory, it's native bees that do much of the pollination of crops and other flowers. In a study published in Science magazine, researchers found that honeybees don't pollinate crops as efficiently alone, and that native bees along with other native insects are needed to improve fruit production. You can attract native bees and other wild insects to your garden by including more native plants (a mix of trees, shrubs, and perennials is best), installing native bee houses, and leaving some bare soil for ground-dwelling bees. If you're interested in learning more about native bee and honey bee populations, this article from Wired provides a good introduction.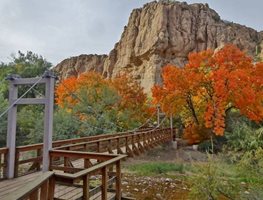 Photo courtesy Visit Chandler.
9. Visit the Boyce Thompson Arboretum
Located in Superior, Arizona (about an hour from downtown Phoenix), the Boyce Thompson Arboretum is a great place for hiking among beautiful trees and botanical collections. The arboretum is the oldest and largest botanic garden in Arizona. Encompassing 323 acres, the arboretum has a number of trails of varying distances so there's something for everyone. You'll see plants from the world's deserts, towering trees, cactus specimen, wildflowers, and great views of the desert. Check out the trail map for more information.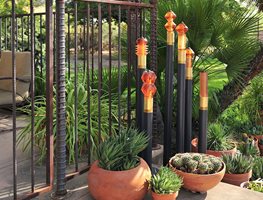 Photo courtesy Design Collaborations.
10. Light Up Your Garden & Support a Local Artist
As fall comes, days will get shorter and you'll want to be sure your garden lighting is functioning properly. Lighting along paths and around the garden not only makes it safer, but it can also be beautiful. Check your lighting system and tag lights that need repair or replacement. If you need to add outdoor lights to your garden, check out the glass work of artist Margaret Joplin at Design Collaborations. Her LED Light Poles, Totems, and Chandeliers are gorgeous and functional. She also makes glass for fences, decorations, and rain chains.
If you enjoyed this information, sign up for our weekly newsletter. Each week, you'll get Garden Design's best delivered right to your inbox including design tips, plant picks, great gardens, outdoor living products, and events to enjoy — along with monthly gardening checklists just for your area.
Do you know someone who would enjoy this Southwest Region gardening information? Why not share it with them?
When you purchase products through links on our site, we may receive an affiliate commission. Thank you for your support.