10 Gardening Activities for August in the Northeast
Here is a collection of garden reminders, inspiring ideas, maintenance tips, and places to visit this month.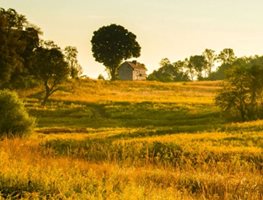 Photo courtesy Longwood Gardens.
1. Visit Longwood Gardens
There's so much to love about Longwood Gardens in Kennett Square, Pennsylvania. For one, the garden is home to spectacular fountain shows (they run until September 29th). There are also conservatories to meander through when you're ready to escape the direct sun. You can wander through woodlands, see ponds with giant lily pads, and admire exquisite borders bursting with plants. The best attraction, though, might be the Meadow Garden designed by landscape architect Jonathan Alderson. It's 86 acres of grasses, perennials, and native wildflowers. Paths and boardwalks throughout make exploring the garden safe and fun.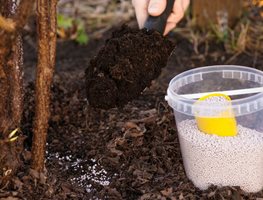 2. Fertilize Trees and Shrubs One Last Time
After mid-August, you won't want to fertilize your trees and shrubs again, so make sure you get it done in time. Freezing temperatures are just a few months away, so you don't want to promote soft new growth on trees and shrubs too late in the season. The young branches won't have time to harden off in preparation for cold temperatures and winter elements.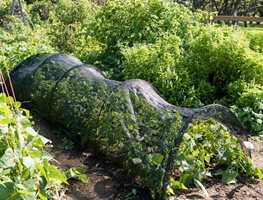 Photo courtesy Gardener's Supply.
3. Protect Crops That Are Still Producing
August is often peak harvest for summer vegetables, so you should be harvesting daily or at least several times per week. If you experience extreme heat this month, cover your crops with shade tunnels. You can also buy a pre-made shade structure. If you're getting an abundance of produce, make salsas, purees, and sauces. Check out this salsa and mole cookbook or this marinara sauce recipe from gardener Kevin Lee Jacobs.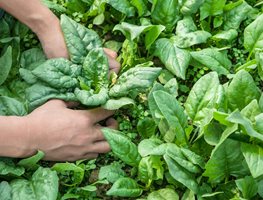 4. Sow and Transplant Fall Crops
It's time to sow beets, carrots, kale, dill, mesclun, spinach, tatsoi, winter squash, gourds, and other cool-season crops. At this point, if you want to plant broccoli, cabbage, and cauliflower, it's best to use starts instead of seeds. Keep plants well watered in the heat. If you want your crops to ripen throughout the cool season, plant them in succession weekly. For more, see 15 Picks for Your Fall Vegetable Garden.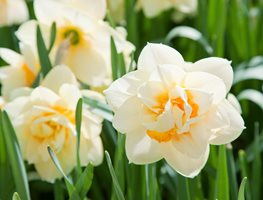 5. Plan Your Bulb Garden and Order Bulbs Now
The early shoppers will get the good bulbs. Bulbs are extremely popular these days because many don't require much water, they're easy to grow, and some varieties naturalize or spread in the garden, so every year you get more bulbs. Alliums, daffodils, and species tulips are examples of especially tough bulbs. Bulb suppliers also provide lists of bulbs that naturalize well and spread in the garden. There are also lists of deer-resistant bulbs and much more. Old House Gardens and Brent and Becky's Bulbs are both good sources.
Don't miss what to do in the garden each month, make sure you're getting our weekly newsletter.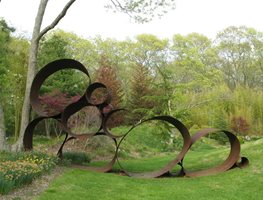 Photo courtesy The Garden Conservancy.
6. Take a Trip to LongHouse Reserve
Located in East Hampton, New York, Longhouse Reserve is a private estate turned public garden is a jewel in the garden world. Created by the textile designer Jack Lenor Larsen, the garden is not only beautiful but houses incredible artwork throughout its grounds. Many are large standalone sculptures, while other pieces have been carefully tucked into nooks among plants that were specifically chosen to display the artwork in the best way possible.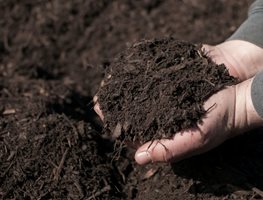 7. Mulch Your Garden
If you have spots of open soil that haven't been filled in with plants, then add mulch. Mulch helps retain moisture in the soil until plants fill in. It also helps soil microbes develop, which are good for plant roots. You typically need mulch for the first year or two after planting to help minimize weeds. After that, plants will shade out most weeds. Try to fill in open spots in the garden with enough groundcovers, low grasses, and other perennials so that no soil or mulch are showing. Learn more about the types of mulch and how to mulch properly.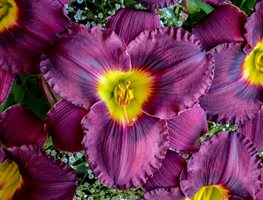 Photo courtesy Proven Winners.
8. Order Daylilies
If you still need to order daylilies, like Rainbow Rhythm® Nosferatu from Proven Winners (pictured), it's not too late. You can also try Oakes Daylilies for some fun varieties: small purple 'Little Grapette' with flowers that are only a few inches across, large red 'Spider Man' with flowers that are 7 inches across, and 'Siloam Double Classic' with a double form that looks like a peony. We also recommend checking out Colorful Chaos Daylily.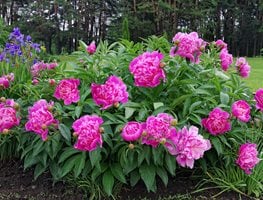 9. Plant and Divide Peonies
From late August through September you can divide and transplant peonies and plant new varieties. It's a good idea to get them in roughly 6 weeks before your first frost. Itoh peonies, a hybrid between tree peonies and herbaceous peonies, are particularly good to plant. They have a longer flowering season than other peonies with as many as 50 flowers on a single plant throughout a season. After flowering, Itohs keep their large, green foliage. Good sources for peonies include Adelman Peony Gardens and I Love Peonies. Learn more about growing peonies.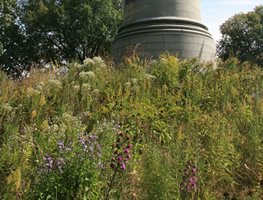 Photo courtesy Tower Hill Botanic Garden.
10. Tour Tower Hill Botanic Garden in Boylston
Tower Hill Botanic Garden is a 171-acre public garden located in Boylston, Massachusetts (a little less than an hour west of Boston). Within, there are a number of smaller gardens including an orchard, edible garden, cottage garden, moss steps, wildlife pond, and more. One attraction that's particularly enjoyable to visit this time of year is the meadow (pictured) designed by master horticulturist Larry Weaner.
If you enjoyed this information, sign up for our weekly newsletter. Each week, you'll get Garden Design's best delivered right to your inbox including design tips, plant picks, great gardens, outdoor living products, and events to enjoy — along with monthly gardening checklists just for your area.
Do you know someone who would enjoy this Northeast Region gardening information? Why not share it with them?
When you purchase products through links on our site, we may receive an affiliate commission. Thank you for your support.