10 Gardening Activities for August in the Midwest
Here are a few garden reminders, tips, inspiring ideas, and maintenance suggestions for your garden this month.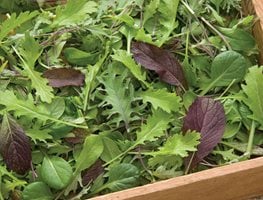 Photo courtesy Johnny's Selected Seed.
1. Plant Cool-Season Crops
August is the time to plant cool-season crops such as snap peas, broccoli, cabbages, cauliflower, carrots, fennel, kale, mustard greens, spinach, Swiss chard, and radishes. You can also plant lettuce and mesclun mixes. For mixes try an heirloom mix, stir-fry mix, or an Asian greens mix. For lettuces and mesclun, water lightly but consistently daily or every other day. If it's still hot in your area, try growing greens and vegetables in partial sun or filtered light from trees or a shade cloth (you can buy shade-structure kits for raised beds online). Before planting cool-season crops, make sure they will mature before your first frost date. For more, see 15 Picks for Your Fall Vegetable Garden.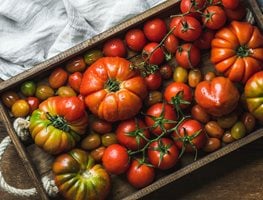 2. Harvest Tomatoes
Tomatoes will ripen throughout August and often into September, so continue harvesting. As fruits ripen and get larger, cut back on watering a little so they don't split. Harvest in the morning while tomatoes are cool to help preserve their flavor. Let larger tomatoes such as beefsteak and heirlooms ripen on the vine. Pick cherry tomatoes when color develops so they don't split. If you're overwhelmed with too many tomatoes, make pasta sauces (bonus points if you use herbs from your garden!). Infuse sauces with more flavor by putting a few tomato leaves in the simmering pot (only do this if you grow organically without sprays). Remove the leaves before eating the sauce or freezing it. Freezing sauces is often easier than canning because all you need are plastic freezer bags.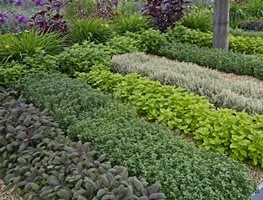 3. Pick Herbs & Store for Winter
Herbs are delicacies of the summer garden, and they are generally easy to grow. Preserve herbs to use in recipes in fall and winter by harvesting them regularly then drying part of each harvest. Most herbs grown for their leaves will continue to produce and push new growth as you harvest, so pick them often. If your herbs start to flower, pinch off the flowers. Herbs will typically lose flavor if you leave them to flower. Read more about how to preserve your harvest.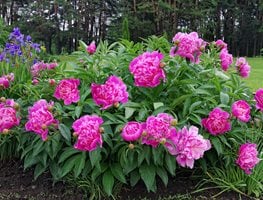 4. Plant Peonies
Peonies need to be in the ground about 6 weeks before your first frost date so they have time to settle in before it gets too cold. Look for peonies at your local garden center or buy them online through Adelman Peony Gardens or I Love Peonies. Learn more about how to grow peonies.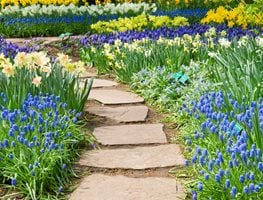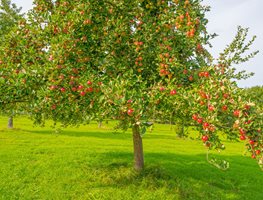 6. Water Fruit Trees Regularly
Consistently deep watering fruit trees, such as citrus and apple, results in the best fruit development. If you leave trees in dry conditions for too long, they may drop their fruit and not produce a crop. Using soaker lines around tree root zones or bubbler sprinkler heads will help ensure adequate watering. With fruit trees, it's better to water deeply once a week than to water just a little bit every day or two.
Don't miss what to do in the garden each month, make sure you're getting our weekly newsletter.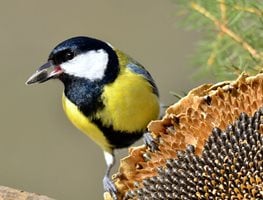 7. Leave a Little Snack for the Birds
Birds love the seeds on dried flower heads. At the end of the month don't deadhead all of your flowers or cut everything back. Instead, leave some flower heads on plants to dry in place. The birds will enjoy the seeds in fall and into winter when food is most scarce. Some great flowerheads to leave in place to dry include astilbe, black-eyed Susan, coneflower, coreopsis, globe thistle, Joe Pye weed, sunflowers, and more.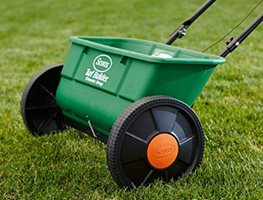 Photo courtesy Scotts.
8. Overseed Lawns
August is the ideal time to overseed your lawn to fill in bare patches and stifle weed growth. Prepare bare or damaged areas of the lawn before overseeding the entire lawn. Consider using a whirl hand-held seed spreader, drop seeder, or a spiked drop seeder that automatically drops seed into small slits made in the soil. For lawns in climates similar to northern Illinois, the Chicago Botanic Garden recommends a mix of Kentucky blue grass, perennial rye, and fescue. If you're seeding a lawn in a shady spot, use a shade-tolerant mix. Generally, it's better to wait to fertilize lawns until temperatures are cooler.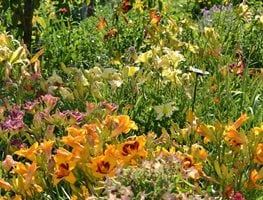 Photo courtesy Oakes Daylilies.
9. Clean, Plant, and Divide Daylilies
When it comes to daylilies, August is a great time to clean up foliage and remove spent blooms. This is also when you should plant or divide daylilies. If you're dividing them, dig up the clump in the morning when it's cool or on a cool or overcast day. Using a clean garden spade or shovel, divide clumps into individual plants and replant, spacing them roughly 10 to 12 inches apart. Daylilies prefer full sun, well-draining soil, and some organic matter. Keep newly planted or replanted daylilies watered well. Read more about growing daylilies.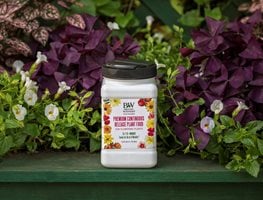 Photo courtesy Proven Winners.
10. Keep Container Gardens Watered & Fertilized
Container gardens can get dry in the August heat, so keep an eye on them. Water them regularly—this could mean daily if temperatures spike. When you increase watering, fertilize more. Water leaches nutrients, and plants in active growth and flowering will use nutrients rapidly. Use a water-soluble fertilizer or continuous-release fertilizer.
If you enjoyed this information, sign up for our weekly newsletter. Each week, you'll get Garden Design's best delivered right to your inbox including design tips, plant picks, great gardens, outdoor living products, and events to enjoy — along with monthly gardening checklists just for your area.
Do you know someone who would enjoy this Midwest Region gardening information? Why not share it with them?
When you purchase products through links on our site, we may receive an affiliate commission. Thank you for your support.