How to Water Your Houseplants
Get the basics on houseplants: How to water them, where to buy them, and what to put them in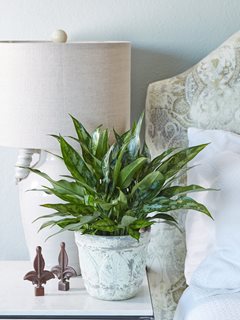 Lush green tropicals can bring tranquility to relaxation spaces, such as this bedside Aglaonema 'Emerald Beauty'. Photo courtesy: Costa Farms.
WATERING HOUSEPLANTS
A dilemma many houseplant parents face is figuring out how much water their houseplants need. Depending on your experience, you may or may not be surprised to know that the number one killer of houseplants is too much water. Most houseplant owners are overzealous with the watering can, but many houseplants actually benefit from drying out a bit between waterings.
So how can you tell when a plant really needs water? Here are some tips.
Stick your finger in the soil. In general if you go in an inch or two deep and you feel moisture, the plant does not need watering.
Watch for changes in leaf color and sheen. A shift from deep green and glossy to bluish green and dull can signal oncoming wilt.
Use the "weight trick": Lift the pot and gauge its heft. If a potted plant feels feather-light, it's dry; if it feels heavy, the soil is probably still damp. Of course this doesn't work if the pots themselves are heavy, or with large containers that are too unwieldy to hoist.
A super-dry plant can be difficult to rehydrate. Try "double watering"—water well, wait awhile, then repeat. It helps to set the plant outside or in a sink or bathtub during drenchings.
WHERE TO PURCHASE HOUSEPLANTS
Here are some of our favorite places to buy houseplants.
Logee's
Air Plant Design Studio
Bromeliad.com
Selective Gardener
Yucca Do Nursery
Stokes Tropicals
WHERE TO PURCHASE CONTAINERS FOR YOUR HOUSEPLANTS
Here are just a few places to purchase beautiful homes for your houseplants.
PAD Outdoor
Potted
BKB Ceramics
Steel Life
Terrain
Modish
digs inside & out
Newd
Stabilis (for air plant stands)
Flora Grubb Gardens
This bonus content accompanies "Houseplant Chutzpah"—an article about adding oomph to your home's décor with houseplants—in the Winter 2017 issue of Garden Design magazine.
RELATED: